Access doors, floor doors, and attic doors are crucial for home construction or maintenance, providing safe and convenient access to walls, ceilings, and floors for various purposes. Choosing the right access door for your home can offer several benefits, including saving money from having to return or re-purchase the wrong door. Here are some benefits of choosing the right access door for your home:
Tips for Choosing an Access Door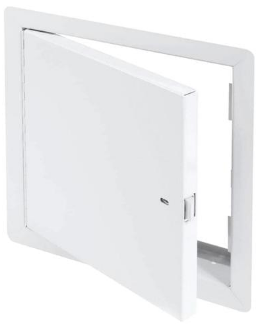 Quick Access
With the right door installed, you can easily and quickly access essential parts of your home such as plumbing, HVAC, electrical cords, and gas pipes. This makes repairs and maintenance tasks behind the door a breeze, thanks to its safe and convenient access features.
Protected Components
Having the right access also protects the components behind them. They help keep essential parts secure and safeguard them from unauthorized entries, heat, cold, and corrosion.
Types of Access Doors
There are different types of doors available, each with its unique features and applications. Some of the commonly used types of access doors include:
General Purpose Access Doors – As the name suggests, general-purpose access doors are versatile and can be used for various purposes. They are easy to mount and suitable for both indoor and outdoor use, making them a popular choice for many construction projects.
Examples of General Purpose Access Doors:
BA-ADWT-PC-24-24 – 24″ X 24″ Airtight / Watertight Panel – Prime Coated
BA-DRD-22-30 – 22″ X 30″ – Draft Stop Door
BA-FLE-PRO-10.5-12 – 10.5″ X 12″ Adjustable Magnetic Flexipro Door
Fire-Rated Access Doors – Fire-rated access doors are designed to protect against fire. They are used to conceal flammable elements such as electrical wires, plumbing, HVAC, and gas pipes and can withstand fire for a certain duration, typically ranging from 20-120 minutes, giving enough time to deal with the fire.
Examples of Fire-Rated Access Doors:
BA-PFI-14-24 – 14″ X 24″ – Fire Rated Insulated Door With Flange
BA-PFI-SS-24-24 – 24″ X 24″ – Fire Rated Insulated Door With Flange – Stainless Steel
BA-FW-5015-12-12 – 12″ X 12″ Fire Rated Uninsulated Recessed Panel For Drywall
Exterior Access Doors – Exterior access doors are designed for use on the outside of homes or buildings and are built to withstand natural elements such as wind, water, heat, and snow. They are ideal for providing access and protection to mechanical, plumbing, and electrical components outside the home.
Examples of Exterior Access Doors:
BA-MX-PL-36-36 – 36″ X 36″ – Exterior Insulated Door For Stucco
BA-BXTA-H-18-18 – 18″ X 18″ – Coastal Zone Exterior Door with Non-Locking Handle
BA-PAL-8-8 – 8″ X 8″ – Insulated Aluminum Door
Security Access Doors – Security access doors are designed to provide maximum security for the areas behind them. They are commonly used in schools, universities, banks, mental institutions, and hospitals due to their high-security capabilities. However, they can also be installed in homes for added security.
Examples of Security Access Doors:
BA-MDS-12-12 – 12″ X 12″ – Medium Security Door
BA-PHS-12-12 – 12″ X 12″ – High-Security Door
In conclusion, investing in the right access door for your home can provide you with convenience, protection, and peace of mind. It ensures quick and easy access to essential components, protects them from unauthorized entries and harmful elements, and enhances the overall security and functionality of your home. Consider your specific needs and requirements when choosing an access door, and enjoy the benefits it can bring to your home and household.
Other posts you might enjoy:
Glass Interior Doors, Types and Styles
Replacing Cabinet Doors – A How-to Guide
Share This Story, Choose Your Platform!