A carbon brush is an essential component found in most power tools like drills, circular saws, trim routers, electric planers, dust extractors, angle grinders, and so on. Carbon brushes are located on the static part of a motor, transmitting electric current to the dynamic part of the motor (also known as the rotor). These parts work in pairs and may wear and tear over time through constant friction. 
However, not all power tools feature carbon brushes. Some motors are brushless, meaning they don't quickly wear and tear over time.
Guide to Buying Carbon Brushes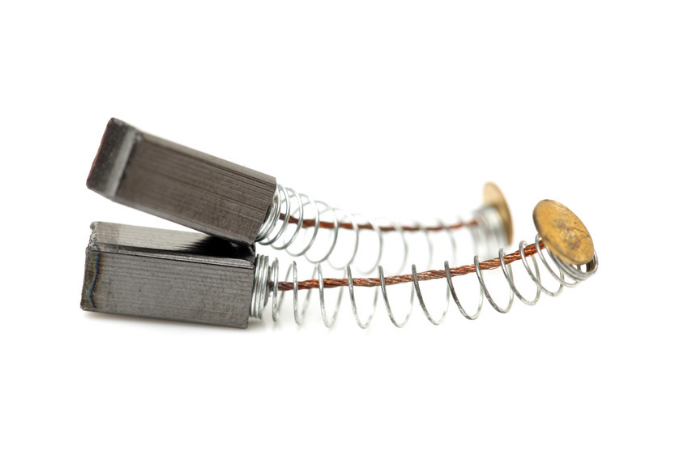 If you're looking for a carbon brush, the right one should match the brand and model of your tool and its specifications. Read to learn how to choose the perfect carbon brush for your devices.
How Do Carbon Brushes Work?
How do carbon brushes work? Experts such as the following weigh in. According to TDO Carbon, a carbon brush conducts electricity between moving and stationary parts of an electric motor, which is particularly useful in power tools. 
They are often made of one or more carbon blocks, such as natural graphite, electro-graphite, pitch-bonded carbon, silver graphite, and bonded carbon. But why carbon? 
Carbon is a good conductor of electricity; at the same time, carbon is said to be soft enough to produce a constant contact point. Yet its soft property is the reason a carbon brush wears off over time. So, it's important to replace it occasionally or when the need arises. 
Why Electric Motors Need a Carbon Brush
A carbon brush alternately carries electric current between the rotating and the stationary motor parts. This process allows the brushes to absorb the damage that's supposed to hurt the integral parts of the motor. 
In other words, carbon brushes are designed to protect a motor from wearing away due to constant use. And you need to have them replaced regularly or when the need arises. 
When To Buy A Carbon Brush Replacement
Replacing carbon brushes is inevitable as they're designed to absorb damage and wear away over time. Yet how will you know when to replace your carbon brushes? Here are some signs to look out for:
Reduced Tool Performance:

This is a common sign of a damaged carbon brush. Your device will stop performing, and you may need to shake it to make it work. Also, it may not perform well as it used to.

Power Inconsistencies (Or No Power At All):

If your power tool suddenly stops and then resumes its work during use, its carbon brushes are most likely worn out. This calls for immediate carbon brush replacement. 

Burnt Smell:

If your power tool starts to produce a burnt smell, it might have something to do with its carbon brush. But before replacing them, call a professional to verify the problem. 

Arches And Sparks:

Small sparks are common in power tools, but not large ones. Frequent sparks might be a result of excessive brush wear, an incorrectly installed brush, or an incompatible brush.

Old Carbon Brush:

Old carbon brushes probably have a small amount of carbon left in them due to continued use. Sometimes, there's no carbon left at all. This means you have to replace your carbon brushes as soon as possible.
If you've observed any of the following signs above, you may need to start your car, go to the nearest hardware store, and buy a carbon brush replacement. 
Nonetheless, can you do the carbon brush replacement on your own? Yes, you can, and it's simple. All you need to do is remove the worn-out carbon brush and replace it with a new one. Don't worry; there are no extra tasks that'll make the process complicated.
Buying Carbon Brushes 101
Carbon brushes come in different sizes and kinds, depending on the manufacturer. Most of the time, power tool makers also offer carbon brushes that work well with the former. 
Professional-grade power tools have specific carbon brushes. There's usually a reference number on the device indicating the type of carbon brush it requires. In addition, you can check the manufacturer's instructions in the box or on their website.
To avoid any headaches, you can go to your nearest hardware or electrical supply store when buying carbon brushes. Just bring your power tool with you on your visit and let the shop owner take care of everything, from removing the old brush to installing the new one.
How Much Does It Cost To Purchase A Carbon Brush
The price of a carbon brush depends on the model and brand of your power tools. Typically, it only costs a few bucks – much cheaper than purchasing a new replacement tool. 
Final Thoughts
Carbon brushes are essential to power tools. They ensure a spark-free transfer of electric current and protect the integral parts of the motor from wearing. When they become worn out, you have to replace your tools' carbon brushes immediately. Otherwise, your power tools won't function properly. 
Use this quick guide to learn when to buy a replacement carbon brush and find out tips on buying the right carbon brush replacements for your high-powered tools. 
Other Posts You Might Like:
What Are The Signs That Power Tools Need To Be Repaired?
Essential Tools For Your Home DIY Projects
Home Repair – 10 Must Have Tools
Share This Story, Choose Your Platform!