To complete the functionality of your home, you need to buy the right electrical supplies. When your house construction is almost over, you will need to purchase supplies such as electrical fuses, bulbs, outlets, switches, boxes, and power strips and extensions, among many others.
But making the choices for these supplies may be tricky if you don't have a solid plan. However, with a plan, you can save time, money, and energy.
A Guide to Buying Electrical Supplies for Your Home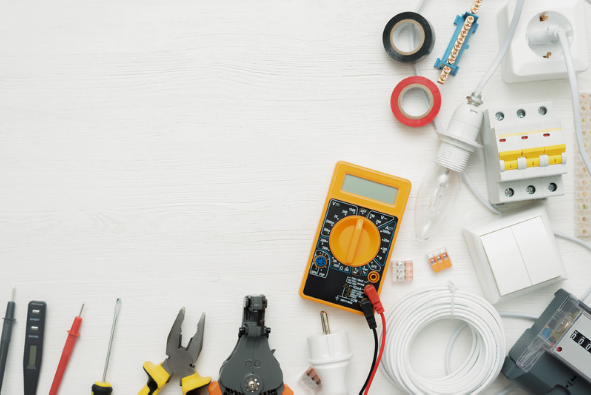 There are several considerations you should have when buying electrical supplies. If you're unsure about the equipment, consult a professional before you purchase.
To ensure a seamless shopping experience, here's a complete guide to help you:  
Plan And Budget
Before going into the store, you need to plan the various electrical equipment you will purchase. Consider the purpose and use of each product. Remember, a well-made plan ensures you buy just what you need in the right amounts. Also, knowing what you're looking for saves you time while shopping.
You need to have a reasonable budget as you begin shopping. The price of electrical equipment will differ based on their supplier and brand; ensure your budget is flexible enough to accommodate these prices.
Choose The Right Vendor for Your Electrical Supplies
There are many electrical supply vendors near you. You should consider carefully who you're going to buy from. Ask your friends and family for references to a reliable vendor. If they don't know, go online and check out the various websites the companies have put up, such as https://www.electricalwholesale.com, which offers high-quality products.
Look at the reviews left by previous customers and choose a company with good reviews and star ratings.
Select A Store With A Wide Product Range
Getting goods from different sellers and shops will be a hassle if you're buying many electrical products. Hence, you must select a shop with a comprehensive product range to buy everything you need at one shopping destination. 
Also, having supplies made by the same company makes compatibility with the equipment easy, and you're sure of the same product quality. Although small businesses are okay, it'd help to visit a wholesale or large retail shop to get all the products under one roof.
Tips For Buying Secondhand
You may have considered buying secondhand electrical supplies because of your limited budget. These don't come with the protection of new equipment. If you're getting secondhand electrical appliances, the following are some tips you should consider:
Ask the seller to test the device for safety and see if it works well  

Buy from established secondhand sellers rather than private ones  

Online reviews can be faked, and you shouldn't rely on them entirely  

Ensure the appliance comes with the parts and instructions you need

Use a product checker to ensure the device isn't subject to recall  
Select Energy-Efficient Electrical Supplies
Everyone is moving towards sustainability with their actions. So, you can also embrace this idea by buying energy-efficient and eco-friendly supplies.
When selecting a device, check its technical information on power consumption. If you're buying physically at a store, the specifications will be written at the back or bottom of the device, and if it's on an e-commerce site, the specifications will be listed.
Also, check the energy label on your appliance and select one that has the best rating for the size you need. Choosing energy-efficient supplies cut down on your utility bills, and you can contribute to saving the earth by reducing your carbon footprint.
Consider Modern Electrical Supplies
The current makes and models of electrical equipment have been modernized and upgraded to improve their functionality and quality. Modern electrical devices have also been made multifunctional, which means you can get one appliance for more than one task.  
Don't Compromise On Safety
As you choose electrical devices, you should consider your safety. The following are safety regulations you should consider:  
Buy a point-of-action surge protector.  

Get safety shutters that cover the gaps in the electrical sockets

Get water-safe products with either an IPX6code which withstands water jets, or IPX7, which can resist water immersion. It ensures you're protected from electrical shock.  

Get flame-retardant electrical accessories for your lamp holders, switch plates, and sockets.
If you have children, consider buying childproof devices.
Make Use Of Technology
Today, companies, including electrical suppliers, have embraced online shopping. You don't have to shop manually for your electrical supplies. Instead, you can use internet and have the products delivered right to your door. 
Buy The Right Electrical Equipment
Since you're buying the supplies on your own, ensure you get the right ones. You can consult your electrician to give you directives and even images of what you should buy. If not, ask the sales representative for help and advice when shopping; they know more and can help you.
Google search is also a great source of information, especially regarding pictures of the devices you need. If you can't explain to the salesman what you need, show them the image, and they'll help.  
Choose Quality Over Quantity for Your Electrical Supplies
Electrical supplies can be expensive, and you may attempt to substitute a costly one for a cheap one. Having a lot of the same equipment at a more affordable price is eventually more costly than a quality product. A quality product will save you money on constant repair bills.
Other Posts You Might Enjoy
How to Prepare for a Renovation
3 Reasons Your Air Conditioner is Broke
Share This Story, Choose Your Platform!