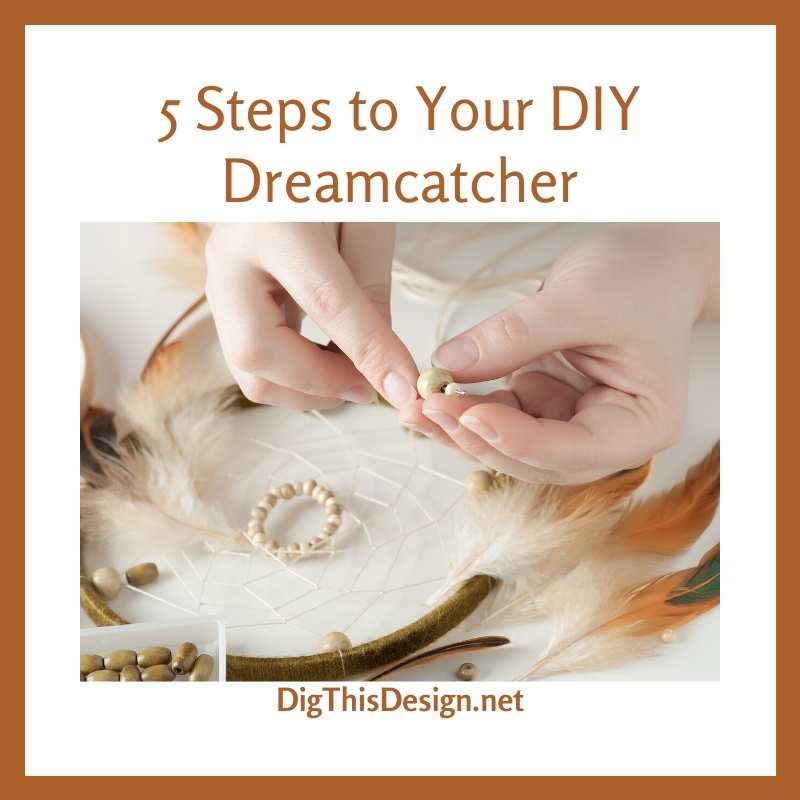 If you love the delicate, bohemian nature of dreamcatchers, you'll love today's DIY dreamcatcher tutorial! They're beautiful, trendy, and ever-classic. Before we dive into the tutorial though, let's take a look at the history of the dreamcatcher so we can better understand their significance, as well as their aesthetic appeal.
Dreamcatchers have traveled far and wide, greatly dispersed from their origins and purposes. Originally, however, dreamcatchers were used by Native American Cultures. In the Ojibwe culture, dreamcatchers were created to hang delicately over baby cradles as protection. Utilized as protective charms, dreamcatchers resembled spider webs, delicately woven to capture evil spirits.
Today, dreamcatchers are admired for their beauty by a wide range of cultures. Furthermore, their use goes far beyond their traditional purpose, and today, many of us use them for solely aesthetic purposes. Here's how you can create your own DIY dreamcatcher from scratch.
5 Steps to Your DIY Dreamcatcher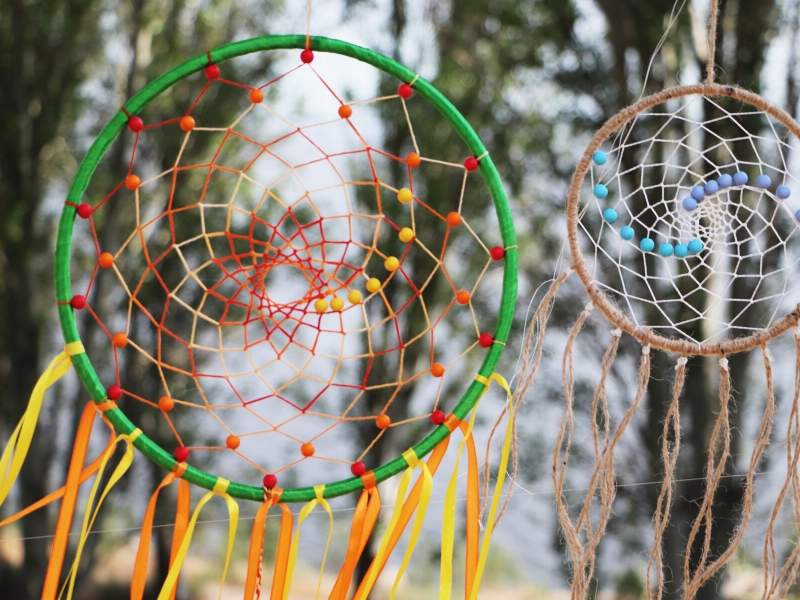 Seek Inspiration Before You Start
Dreamcatchers can be as simple or as ornate as you want them to be. Perhaps you'd like a soothing, neutral palette. Or, perhaps you'd like a dreamcatcher with many colors and adorning details. Choose which style works for you before you begin, and seek inspiration online. Watch a collection of DIY dreamcatcher tutorials to get an idea of how the process works. Then, once you've chosen your desired colors and style, you can start the process.
Gather Your Supplies
The supplies for your DIY dreamcatcher are actually pretty easy to come by. Make note, however, that you should always buy slightly more than you need. That way, if you mess up, you'll have plenty of extra materials to fix it. Plus, if you like the process, you might want to create more!
Hoops or bracelets: Wooden and metallic hoops are the easiest to work with. Remember, the size of the hoop you choose will be the whole diameter of your dreamcatcher, so choose wisely. If this isn't your first dreamcatcher, and you're ready for something new, consider a different shape for a more modern twist.
Thick thread: You will use this thread to create the weaving pattern inside the dreamcatcher. Purchase natural, nylon or artificial silk hoop which is flexible. You'll need at least 10 times the diameter of the dreamcatcher hoop.
Decoration elements: Select elements like feathers, colored beads, gemstones, fabric, silk ribbons. These will be the hanging elements of your dreamcatcher
Colored yarn or faux suede: This will wrap the outside hoop or bracelet. You want it to be wide and sturdy enough to catch anyone's eye. You can find a lot of metallic and bright-colored choices at your local craft store. Just make certain that you choose the right color for your overall design.
Other tools: Make sure you have scissors, a needle, thread, and glue.
Build Your DIY Dreamcatcher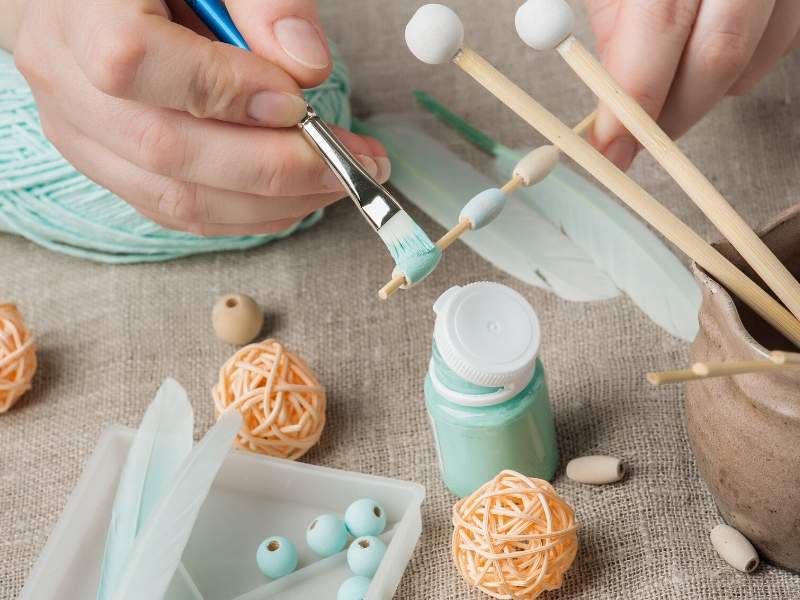 Building your dreamcatcher is a fairly straightforward process. Follow the steps carefully, and if you get hung up, don't be afraid to refer to video tutorials for assistance.
Wrap the Hoop. Pick your starting point, and start by knotting your yarn or thick suede. Secure it with a bit of glue, then proceed to wrap the entire hoop with careful, even lines. A dot of glue along the way will help keep things in place. Once you're about an inch from your starting point, cut your material, and knot it on the hoop again. That one-inch gap in the bottom of your dreamcatcher and it's where you'll add the trailing elements like feathers at the end.
Weave the Pattern. First, you need to tie a knot in the aforementioned bottom part of the dreamcatcher to secure your thread. Go in a clockwise direction, and stretch your string in about two-inch sections inside your hoop. Each time you stretch your string, make sure to secure it with a knot. As you continue, you'll see the start of a spider web design.
Continue Designing. Use the end of the string to continue weaving it. Begin with the first and second looped peaks. At this point, you can begin to add gemstones or beads for every loop. Continue the pattern until you create a complete circle. The last knot needs to be in the same place as the first one.
Weave Some More. Continue to the second, third, fourth (and so on) layers, following the same technique, until you leave a circle in the middle of the dreamcatcher.
Decoration Time. Tie a few feathers with a string. You can also hang leather or lace, together with the feathers. Then, tie the decoration to the bottom of your dreamcatcher with a double knot.
Hang your brand new dreamcatcher in a place of prominence. Some people opt to hang them above their headboard, while others choose their living areas. There's no right or wrong place. Choose what speaks to you.
Your Beautiful DIY Dreamcatcher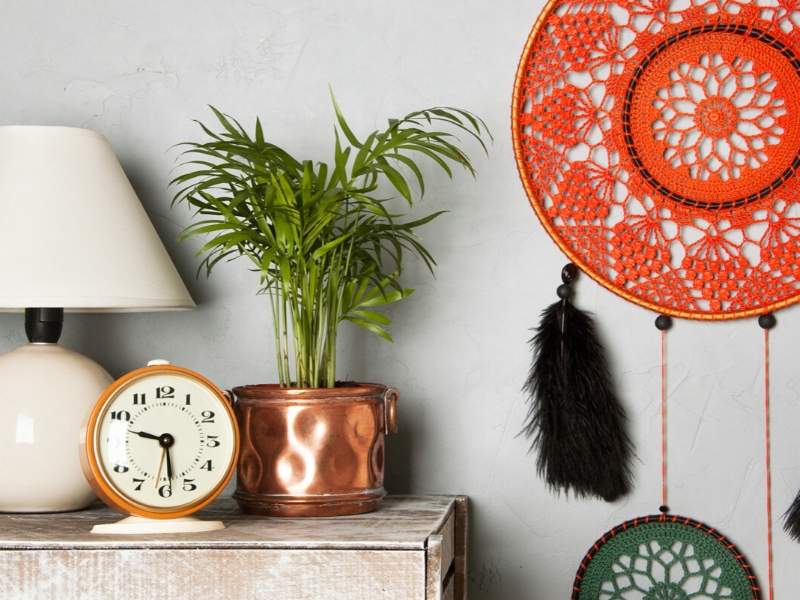 There's really only one rule when creating your dreamcatcher. Be patient. Creating your perfect design often takes about an hour, and the more time you take, the better it will look. You want to make sure each string, knot, and connection is fully-anchored before you begin with the next rows. Though it sounds complicated, the process is actually quite easy, and a lot of people find it therapeutic. Better yet, you can go as bold, or as simple as you want. Some people even opt for designs that are more modern or aren't circular in shape.
We love a good project, and this DIY dreamcatcher can't be beaten. It's an opportunity for you to flex your design muscles and create something both beautiful and personal; something that you can keep for years to come. We can almost guarantee – once you've done one, you'll absolutely want to do more. Whether for your bedroom, the living room, or beyond, it's sure to be an inspiring touch for your home.
Images Courtesy of Canva.
Other Posts You Might Enjoy:
DIY Made Easy with 4 Simple Tips
4 Coastal Design Tips for Your Home
6 Budget-Friendly Design Ideas to Improve Your Home
How to Achieve the Ultimate Relaxing Bedroom Design
https://digthisdesign.net/wp-content/uploads/2018/03/5-Steps-to-Your-DIY-Dreamcatcher.jpg
800
800
Melissa Moore
http://development.digthisdesign.net/wp-content/uploads/2016/11/OLD_DigThisDesign_logo.jpg
Melissa Moore
2018-03-28 08:02:53
2021-01-16 10:54:21
Make a DIY Dreamcatcher in 5 Simple Steps