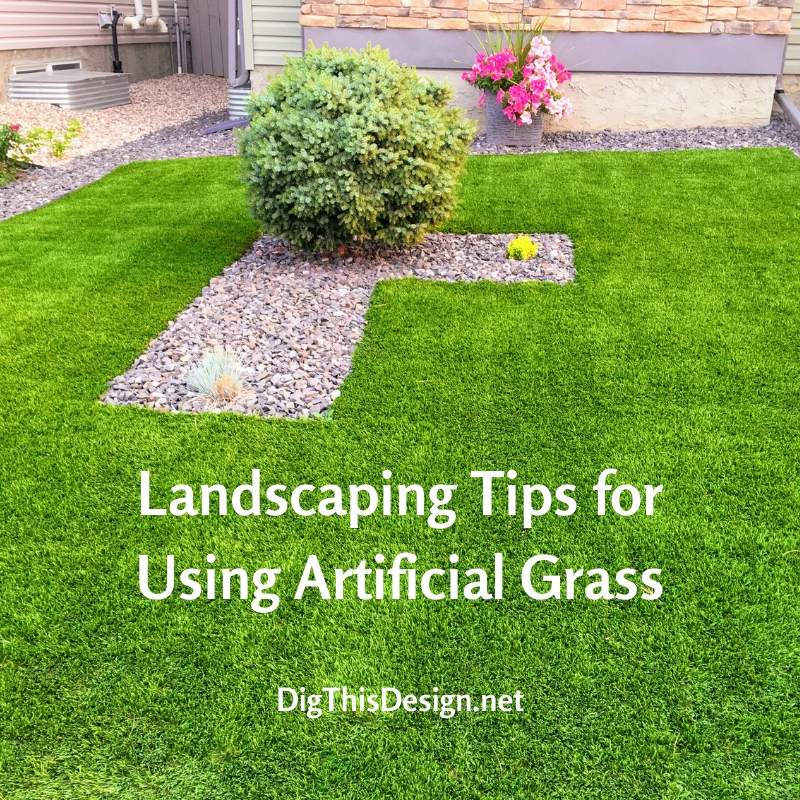 Most homeowners invest a good deal of time and money in their landscaping. However, growing and maintaining a lawn can be both expensive and time-consuming. You need to consider water, grass seed, weeding, and more – and it adds up. This is a large reason why many homeowners are turning to artificial grass. Artificial grass makes landscaping easier. It's a low-maintenance way to get the green look you desire for less time and money.
If you're considering artificial grass for your landscaping needs, you might be wondering where to start. First, know that you'll likely need a few people, depending on the size of the area. Furthermore, the cost of laying artificial grass will depend on the size of the garden area, as well as the number of people it requires for installation. Don't let that deter you though. Here are a few great tips to get started – whether you choose to DIY it or not.
Artificial Grass & The Landscaping Tips You Need to Know
⎆
Measure & Prepare the Landscaping Area
This is actually pretty simple and straightforward. You can easily measure the area by drawing out a graph or simply using a measuring tape. We highly recommend ordering extra artificial grass in the event of miscalculation.
After measuring the garden, it's extremely important that you thoroughly clean the current surface, as well as all surrounding areas. You'll also need to dig up enough depth for the proper installation of your artificial grass. Finally, you need to lay a smooth, solid layer of sand or finely-crushed stone as a base for the grass. This is one important landscaping tip you don't want to forget. It will keep out weeds and provide a well-draining surface.
⎆
Laying Your Artificial Grass
When laying your grass, you want to ensure that your grass is perfectly aligned to all necessary straight edges. If it pushes up against a patio, the last thing you want is for the grass to come apart and start buckling over time. Push it right into all corners and, if necessary, use landscaping pins to discreetly keep it in place. Remember, if you do use these pins, use them wisely. Correct placement will keep your landscaping in its proper place for years to come.
⎆
Watch Your Angles
If you have angles in your landscaping, use a utility knife to cut the edges. You'll want to use a bubble level as a guide if you don't have a proper edge from which to work. Also, as you finish laying your grass, make sure that each slide of the row faces in the same direction. This ensures the natural look that most homeowners want.
⎆
The Finishing Touch
If you didn't use landscaping pins before, now is the time. Once your turf has been laid, you'll want to secure each corner with a nail or pin. Then, continue along the outside edge of the area using nails every 12 to 16 inches.
Finally, you'll apply a thin layer of silica sand directly to your new lawn surface. Using a spreader or soft broom, you want to sweep it out from the center and edges until it discreetly blends into the lawn. This offers a stabilizing effect and helps prevent slipping over time.
Over time, your lawn will require some upkeep. If the blades of grass flatten, simply pull out the broom and sweep them back up. If necessary, warm and soapy water can revitalize the surface, too.
⎆
Don't Want to DIY? Call an Expert
We'll admit, the thought of laying our own artificial lawn might seem a bit daunting. If you're not up for the challenge, or you're simply not sure you can do it properly, it's a great time to call in the experts. Simply search online for a contractor, get an idea of the cost from several sites, and find the one that works best for you.
Images Courtesy of Canva.
Other Posts You Might Enjoy:
Fall Entertaining: Cozy Outdoor Gatherings
Making Your Outdoor Living Space More Enjoyable
Sprucing up Your Home's Exterior for Fall
Decorative Fences That Make a Statement
https://digthisdesign.net/wp-content/uploads/2018/02/Landscaping-Tips-for-Using-Artificial-Grass.jpg
800
800
Melissa Moore
http://development.digthisdesign.net/wp-content/uploads/2016/11/OLD_DigThisDesign_logo.jpg
Melissa Moore
2018-02-08 01:00:16
2021-01-16 11:25:51
Landscaping Tips for Using Artificial Grass