The real estate sector across America is relatively unscathed by the coronavirus pandemic. Long Beach is a city in California famous for arts, culture, and the Grand Prix auto racing. That's why homes in Long Beach are highly sought after, and sellers can cash in on their property.
If you plan to sell your house quickly for cash in Long Beach, especially if you are a first-time seller, there are some things you must know. This guide gives you an overview of how to sell your house quickly.
Companies that buy homes for cash.
If you wonder how to sell my house fast for cash, continue reading. Real estate firms that buy properties for cash provide the easiest way to move your property. Other people who quickly pay for your property include iBuyers and local real estate investors.
These companies also pay for your property even if it needs significant upgrades. You can sell a house for cash quickly – as little as seven days in some cases – to a real estate investor. You also eliminate the need for a realtor when you sell a house quickly for cash to a real estate company.
However, the ease and convenience associated with these real estate firms come at a cost. You will not be able to sell your property at the price you want. In fact, property buyers and other real estate investors offer way less than the market value of the property. These companies are in business for profit and can offer as low as 50 to 70% of the property's market value depending on how much upgrade the house requires.
If you are not willing to sell your house quickly for cash in long beach at a significantly reduced price, there are other options you can consider.
The need for a real estate agent.
The law does not require anyone to use a realtor when trying to sell a house. Any determined person can sell a property and save thousands in commission fees. Selling a house, however, is not such a straightforward matter. Hiring a real estate agent more often than not is the better course of action.
Real estate agents use their skills to help you get an excellent bargain for your property. Their vast network also means that they can help you find a buyer for your home in a relatively short time. An agent places your property on Multiple Listing Services and other platforms with large audiences.
A realtor guides you through the process of analyzing different offers and negotiating with buyers. You also receive guidance on staging and marketing your property to look more appealing to potential buyers. YIn addition, your agent coordinates with other professionals such as property inspectors, lawyers, and title agents.
The only argument that you can make against hiring a realtor is the commission you will have to pay. Agents charge around four to six percent of the selling price, and this sum is rather significant. However, you can opt for an agent who offers services for a lower commission.
Once you find a real estate agent, you can sell your house quickly for cash in Long Beach by following the steps listed below.
Steps to Selling Your Home in Long Beach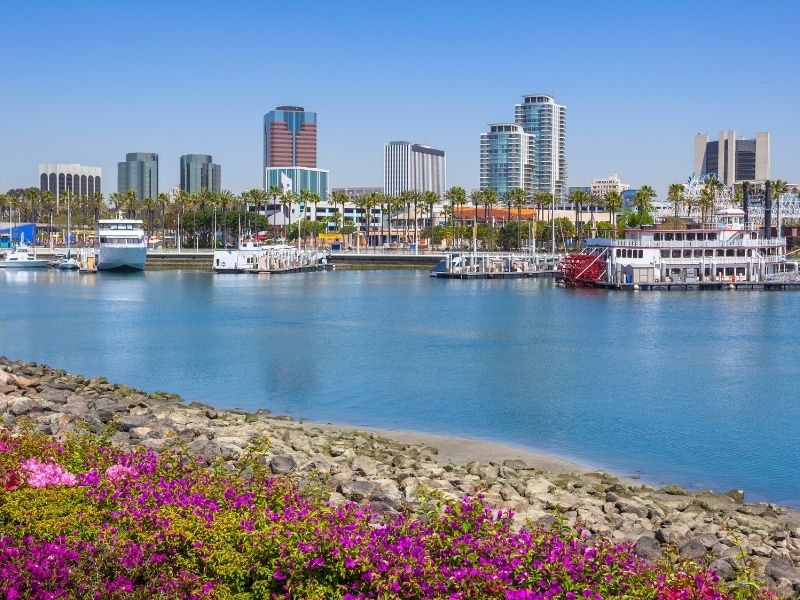 1. Set a selling timeframe
Selling a home can take a while, depending on the prevailing market conditions and the state of the property. Speak with your realtor about structural issues and required repairs, if any. You may also get a pre-sale inspection done on your home. Then, be sure to deep clean and stage the property in advance. In addition, take professional photos and videos and prepare for a sale.
2. Set a price and put your property up for sale.
It is crucial to get your pricing right from the start. For example, if you price too high, you might lose buyers. Or, if you set the price too low, you may undersell the property. Your realtor provides you with real estate comparables in Long Beach, which helps determine your property's worth.
3. Negotiate with potential buyers.
Ideally, you are getting offers for your property at this point. Of course, your realtor helps you navigate this process. A sellers' market will see you get several offers that match or even exceed your asking price. A buyers' market may mean you get fewer offers and have to do a lot of negotiating.
4. Accept an offer.
You can respond to an offer in three ways: accept it, reject it, or make a counteroffer. A counteroffer opens negotiations between seller and buyer. You may offer to leave the furniture without lowering your asking price.
The highest offer you receive is not necessarily the best one. A seller should consider how the buyer intends to pay. Therefore, since you want to sell your property for cash, you will prefer a buyer who offers cash over one who comes with financing even if the cash buyer is offering less.
You also want to factor in closing costs such as recording fees, transfer fees, taxes, liens, and your real estate agent's commission. Your real estate agent will furnish you with a list of fees you will pay.
5. Close the sale.
Closing a home sale involves a lot of filing. You will need to get documents related to the property's original purchase, taxes, insurance, home inspection, and others, to close a deal. Speak with your realtor to know what you will need to bring to a closing meeting.
You may also wish to hire a real estate attorney to help you deal with the transaction's legal details. If all goes smoothly at the closing meeting, both parties will sign relevant paperwork, and you'll receive your funds. Transfer the property title to the buyer and deliver the keys at the agreed date and time.
In conclusion.
Selling a home for cash can be a tedious process if you do not know what to do. A "we buy houses in Long Beach" sign in front of a building offers ease but less money. An experienced realtor will help you sell your house for a reasonable sum at a cost. A third option is to try to sell the property yourself. However, you should only take this third route if you are sure of your ability to research and handle the real estate market. For more information on selling a Long Beach property for cash, visit https://propertyescape.net/california/long-beach/.
If you have any questions or suggestions, we always love to hear from you in the comments below. Also below are links to more informative and unique articles about ALL things DESIGN for your home or business.
Images Courtesy of Canva.
Other Posts You Might Enjoy:
What Home Sellers Need to Know About HVAC Systems
3 Things to Fix Before Selling Your Home
5 Simple Changes That Help Sell Your Home Fast
Share This Story, Choose Your Platform!