Creative Ways to Use Leftover Tiles

Ceramic and porcelain tiles are a beautiful addition to the home in more ways than one. While they make excellent floors and countertops, these vibrant tiles can be used all over the house if you have any leftovers from your last renovation project. It can feel like a waste to throw them out, so why not get creative with them?
Repurposing Leftover Tile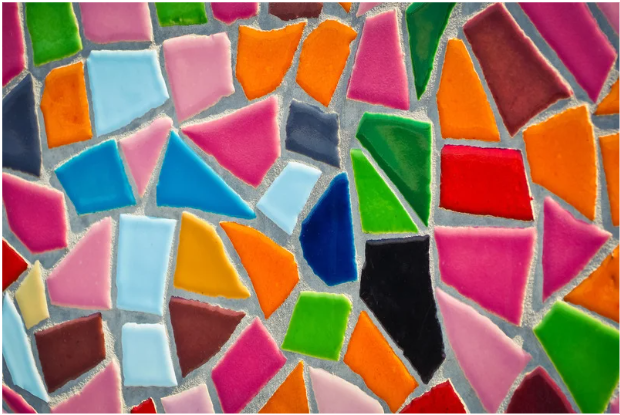 From accent art pieces to porcelain coasters, we have a few fun ways that you can use leftover tiles to decorate your home. 
Use Leftover Tiles for frames for Pictures and Mirrors

 
Colorful folk art and sleek minimalist designs alike use leftover tiles or found materials to create a pleasing and unique aesthetic. If you have smaller pieces of leftover tile, you can add them to pieces of plywood or scrap metal to create unique picture frames or a frame for an old mirror. Just use a strong adhesive so you know for certain that the tiles won't fall apart. You can also use a tile cutter to cut awkward pieces that wouldn't fit on the board. 
This art project can be super fun and easy to do, especially if you have young children. Just be sure to wear the proper eye safety equipment and gloves. Try to do this either outside or in a place where you're not too concerned about mess. 
A Leftover Tiles for Collage Backsplash

 
While you can order tile specifically for a backsplash, you also have the option to use leftover tile and create a collage with it. Combining pieces of leftover tile that have been used in different parts of your house is a creative and even poetic way to add a sense of cohesion to your home, bringing different elements together in one place. 
If you're working with a designer or a tile supplier, ask them if this would be a possibility. They can help you plan the actual process and lay down the tile in an expressive yet clean way, which can be tricky, especially on vertical applications. They can also make sure that the mix of colors works well together and incorporate additional pieces to enhance the overall design. Depending on the colors you have, you might be able to create specific designs, like flowers or leaves. Play around with the pieces you have and map them out on a countertop before you begin gluing—just to be sure you know you're going to be happy with the final product. 
Matching Coasters and Placemats 
Tile coasters have been around for a while, but they made a comeback in the past 10 years, showing up in home decor shops and independent stores. Tile coasters are a fun addition to any table setting and are great because they stand up to wear and tear. They protect your table from stains and water rings. 
If you have leftover tile, why not have them cut into small pieces for coasters? You can add sticky felt to the bottom of them so they don't scratch your table when moved—which can be found at pretty much any craft supplies store. If the leftover tile is white and you don't mind something that's a bit more folk-art, you can turn it into a fun craft time for your kids. Grab some paint, glue, felt, and other fun materials and start creating! The same can be said for placemats, especially if you have larger pieces of leftover tile. Just add a thin layer of velvet to the bottom and upgrade your place settings.
Outdoor Leftover Tiles for Tables 
Don't throw out that old piece of furniture—upcycle it! Revamping an old table with pieces of leftover tile is a great way to bring any piece of furniture back to life. We recommend turning these tables into outdoor pieces of furniture for a few reasons. One reason is just that porcelain and ceramic hold up very well under extreme weather conditions, so they're functional for an outdoor setting. Another reason is that the material is super easy to clean, so after a garden party or BBQ, you don't have to spend too much time worrying about messes and cleanup. 
The third reason is that both ceramic and porcelain tiles are durable. Other outdoor furniture might be susceptible to scuffs and cracks, but tile is fairly solid and can last you a very long time. And while leftover tile is great for this, you can also purchase small glass, ceramic, or porcelain tile specifically for this application. Small, round or square tiles that are usually used for backsplashes are perfect for this and also make for a great conversation piece to show guests your creative side. Update your garden space with color and texture with gorgeous tile. 
Reuse & Recycle

 
Whether you're doing a DIY renovation, or you're working with a professional designer, there's a chance that you'll have some leftover tiles, but don't let them go to waste! Leftover tile scraps can do a lot of heavy lifting when it comes to adding small and delightful objects to your home or larger statement pieces
If you have lots of leftover tiles, but they're larger than you want or need them, invest in some tile cutters and tools that can shave them down. If you're not comfortable doing this step yourself, you can work with a designer or a supplier to help you break up leftover tile into smaller pieces—just make sure you ask them to ensure they offer this service. Last but not least, you can really exercise your creative brain and let the size of the leftover tile guide your project. Larger pieces can be turned into a table, for example, and smaller pieces can be added to frames or backsplashes. 
If you want to bounce ideas off of a professional, reach out to a local tile supplier today!
Other posts you might enjoy:
Casa Batllo – Atour of Antoni Gaudi's Architectural Masterpiece
How Allison Eden Studios Creates Daring Mosaic Art Interiors with Tile
DIY Garden Crafts for the Whole Family
https://digthisdesign.net/wp-content/uploads/2022/08/Tips-for-Repurposing-Leftover-Tile.png
788
940
Patricia Davis Brown
https://digthisdesign.net/wp-content/uploads/2022/11/OLD_DigThisDesign_logo-300x225.png
Patricia Davis Brown
2022-08-20 00:30:19
2022-08-19 15:43:18
Creative Ways to Use Leftover Tiles