If your home has polished concrete floors, you already know how attractive and long-lasting they can be. Polished concrete floors are low-cost, durable, and aesthetically pleasing. However, like any other flooring material, polished concrete needs regular cleaning and upkeep to preserve its luster.
A Guide For Maintaining Your Polished Concrete Floor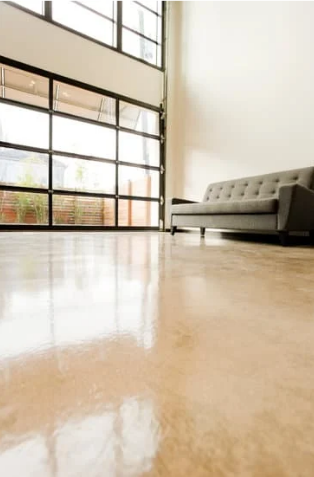 Here are the top five maintenance tips for caring for your polished concrete floor.
Prevent Scratches
Protective mats and pads should be placed under the legs of sofas, appliances, and other heavy objects to avoid scratches and further damage. These can cause scratches and other damage to polished concrete floors without proper protection. Find mats and pads designed for polished concrete floors, and ensure they are of appropriate size and thickness. Hardware stores and the Internet offer a wide selection of safety matting and places.
Regular Sweeping and Mopping 
The best thing you can do to maintain the beauty of your polished concrete floors is to sweep and clean them frequently. Floors must be frequently cleaned since dirt, dust, and other debris can scratch the surface.
Sweep your floors once daily or twice, depending on how often people walk on them, using a dust mop or broom with soft bristles. You can use a dry vacuum or a moist mop to clean your floor, but only if you use a pH-neutral cleaner that is safe for polished concrete. Cleaning products with acid or abrasives should be avoided because they can ruin the floor's finish.
Remove Scuff Marks and Stains
Foot activity, spills, and other sources can all cause scuff marks and stains on polished concrete floors over time. Spills are very common in the kitchen area, from pastes to cooking oil spills. Clear these off using a soft bristles brush and a mildly abrasive cleanser or polishing powder. Use the brush to lightly scrub the afflicted area after applying the cleanser or powder. You should wash the area with fresh water and pat it dry with a soft towel.
Reseal
Your polished concrete floors may need to be resealed if they have lost their luster or show signs of wear and tear. A concrete floor can be damaged by several issues, such as fire, flooding, and humidity. For instance, climate impact on concrete floors can be devastating. High temperatures in summer and cold in winter can damage your concrete floor, thus requiring a resealing coating. By resealing your floors, you can bring back the glow and safeguard them from wear and tear. Sealing your concrete floor is an easy way to improve its appearance and extend its life. 
Sealing a concrete floor improves its appearance by bringing out its natural color and adding shine. Sealing the concrete prevents the surface from being worn down by abrasions and stained. A new coat of sealant should be applied after the floors have been meticulously cleaned. Consider hiring professional services.
Clean Spills Immediately
If spills aren't cleaned up right away, they might ruin your polished concrete floors. Cleaning up spills as soon as possible is important to avoid permanent stains or other damage. Blot up spills with a soft cloth or paper towel, and then wash the area with a pH-neutral cleanser and water. Never use caustic chemicals or abrasive cleaners to protect your flooring' finish.
Using a concrete floor might be a cost-effective substitute for more luxurious options. As for the stereotype that all structures constructed of concrete are uninviting and featureless gray surfaces, that's no longer the case thanks to the proliferation of decorative concrete treatments. To suit your personal taste and design scheme, concrete can be polished, stained, stamped, and even colored.
Other posts you might enjoy:
Concrete for Floors, Shower Walls, and More!
How To Add and Maintain Epoxy Floors In Your Home
Share This Story, Choose Your Platform!