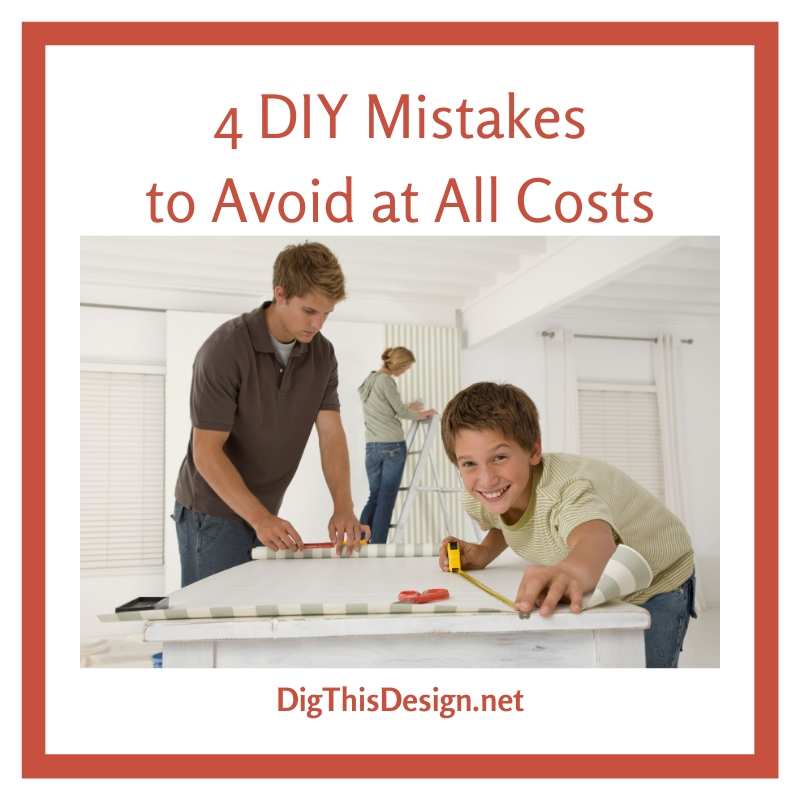 We're all about a good DIY home project, but without the right prep and materials, DIY mistakes are inevitable. Luckily, there are ways to prepare yourself so that you can have a successful DIY project. Rather than find out about potential hazards along the way, it's better to know the risks beforehand. Today, we're talking about four of the most common DIY mistakes to look out for and avoid. By doing so, you can experience the real joy of a DIY.
How to Avoid Costly DIY Mistakes with Your Projects
⎆
Measurement Errors
There are few things in life more frustrating than getting halfway through a project to find out you don't have enough materials. This is one of the most prevalent DIY mistakes and it even plagues DIY veterans from time to time! We always recommend that you sit down and read the instructions properly before you jump into any project. Don't gloss over this step. Yes, it might seem mundane at the time, but it can help you avoid a lot of frustration in the end. Make sure you measure exactly what you need, have a little extra on hand, and only then get started. I always advise working with a professional first to develop a plan and that way you know what and how much material you need before you begin.
⎆
Choose the Right Tools
Half the reason people like to DIY is to save money. We get it. However, the last thing you want to do is cause DIY mistakes that make you pay more money in the end. Remember, always value quality over a cheap price. If you use cheap tools and materials, the end result is often shoddy. Before you choose your products, make sure you take the time to read reviews and ensure you've picked the right tools. For example, check out Straight Kerfs. They offer in-depth information on the sort of tools that you should be using for your DIY endeavor.
⎆
Don't Rely on Guesswork
Your DIY project is not the time to be playing a guessing game. There is absolutely no shame in asking questions and preparing yourself for potential issues. While asking lots of questions might leave you feeling silly and unprepared, if you don't ask, you'll never know. Think of it this way; would you rather ask a few questions or end up with uneven shelving? Take your time to do proper research, search FAQs and ask the questions. Start your DIY off on the right foot. This is especially important for large home improvement projects.
⎆
Try Not to Go Too Big
One of the worst DIY mistakes and offenses you can make is simply biting off more than you can chew. Take a good hard look at your strengths and weaknesses before you start. Should you really be plastering the entire wall when you've never patched a simple hole? Are you actually qualified to tackle an electrical project? There are great things to DIY, and then there are silly ones. Always know your limits, and remember that there are professionals out there for a reason.
You Can Avoid These DIY Mistakes
Anyone who has embarked on a DIY adventure knows that there are risks involved. However, when you're prepared and aware of the challenges, it's easy to avoid these risks. Ultimately the reward of having successfully completed a DIY project is well worth the time and energy spent doing it.
Images Courtesy of Canva.
Other Posts You Might Enjoy:
DIY Made Easy with 4 Simple Tips
DIY Fixes for Your Water Pressure Problems
4 Commercial Building Projects Not to DIY
Electrical Projects 3 Reasons to Skip the DIY
https://digthisdesign.net/wp-content/uploads/2018/03/4-DIY-Mistakes-to-Avoid-at-All-Costs.jpg
800
800
Melissa Moore
http://development.digthisdesign.net/wp-content/uploads/2016/11/OLD_DigThisDesign_logo.jpg
Melissa Moore
2018-03-30 01:03:49
2021-01-16 10:52:50
4 DIY Mistakes to Avoid at All Costs