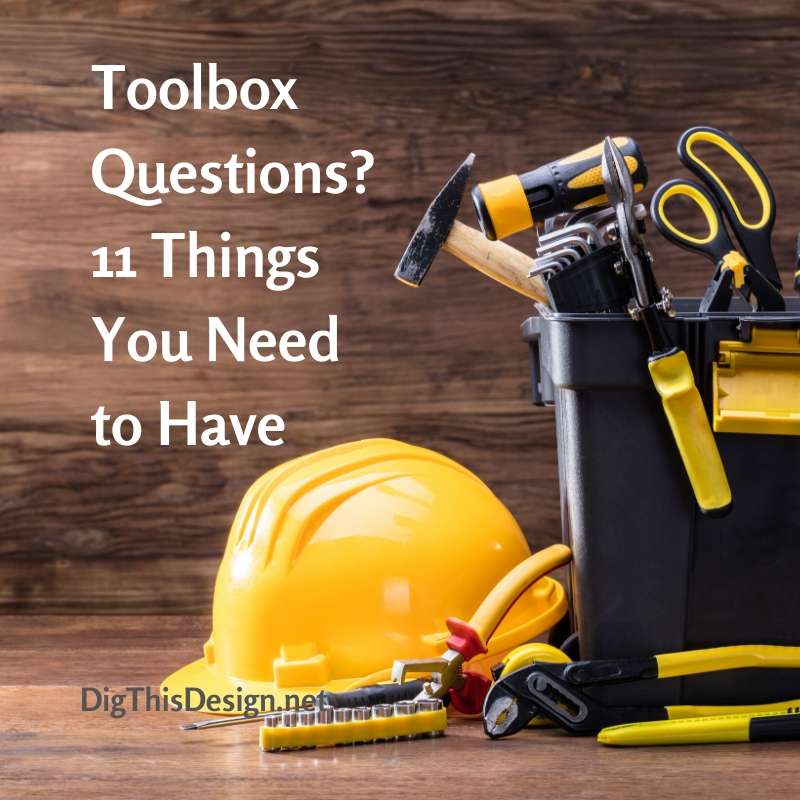 Whether you're dealing with home-improvement woes, renovations, or home repairs, it's absolutely essential you have a toolbox on hand. Many homeowners don't know how important these tools are until it's too late. The interesting thing is that a lot of these problems might actually be no-brainers to fix. In all truth, the secret to an easy, quick, and squeaky-clean job is a well-stocked toolbox. From loose taps to broken pipes, clogged toilets, and beyond, it's inevitable that issues will arise as a homeowner. Being prepared is key.
We always recommend that you have proper storage for your tools, as well. You should have a dedicated toolbox to prevent undue danger to kids and pets. Furthermore, you want to make sure that these essential tools are in a well-known area at all times to grab as needed. So, without further ado, here are 11 absolute must-haves for any homeowner's toolbox.
What's In Your Home Project Toolbox?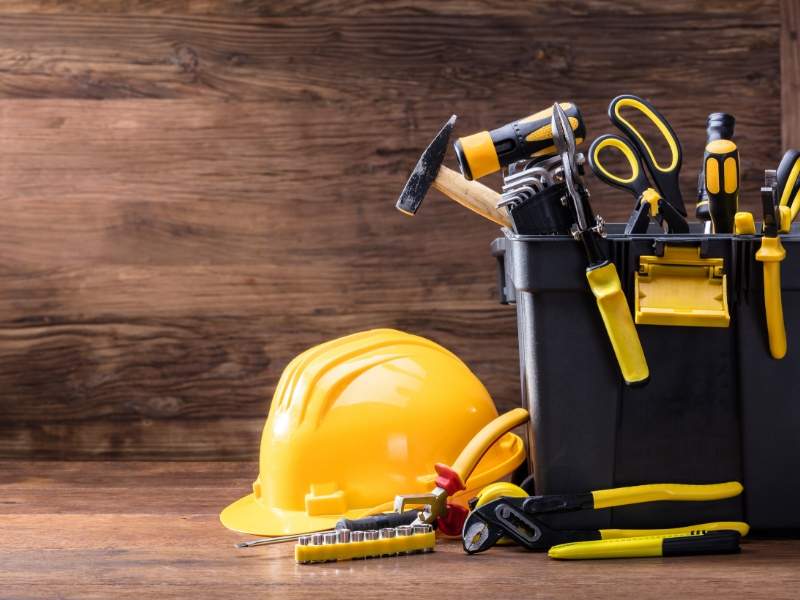 ➲
Pliers
Do you have a job that requires an extremely tight grip? Pliers are your best bet. They can even be used to straighten bent wires or nails. The rubber handles make them comfortable to hold during your project, and they're easy to use, so you don't need to be a professional. The rough, rigid tip makes it easy to grasp whenever you need it. Remember though – there are different types of pliers. For example, needle nose pliers have a pointy tip. If you're grasping something in a tight space, needle nose pliers will serve you well.
➲
Hammer
There are two types of hammers, each with different hammerheads. For carpentry and woodworking projects, the straight claw hammer is your ideal choice. In hard-to-reach areas like cabinetry and installation, however, the curved claw hammer is your go-to. Curved claw hammers have a shorter hammerhead, so it's easier to use in narrow, defined spaces. We recommend considering having one of each for your home toolbox.
➲
Tape Measure
This might seem like a no-brainer, but a tape measure is a must. Anyone embarking on any home improvement project will likely need to measure something at some point. It's a valuable tool, but there are definitely learning curves with this one. Always read your tape measure straight on, and be sure to hold it on its edge for accuracy.
➲
Flashlight
A flashlight is always essential for any toolbox. Many homeowners might be tempted to use the light from their cellphone, but this can easily cause distractions, and dropping it would be less than ideal. Instead of having to run around the house in search of proper lighting, make sure one lives in your toolbox. It'll provide a narrow beam of direct lighting for whatever project you're working on.
➲
Hand-Held Brush & Rag
This might seem silly to novices, but it's most definitely a must-have for your toolbox – just in case. Whether it's for stubborn leaks, debris, or a mess you didn't mean to make, a hand-held brush and a rag are great options that won't take up too much space. Plus, it's better to have them and not need them than the alternative.
➲
Level
We know that there's an app for everything these days, but we're traditionalists. When it comes to home improvement and construction projects, the classics take the cake. We always recommend you have a proper long level in your toolbox. It'll make a huge difference because it's accurate, precise, and it can be up to three feet long.
➲
Screwdriver
It might be tempting to buy a whole set of fancy screwdrivers, but did you know you can actually go a simpler route? Opt for a multi-screwdriver. It offers four screwdrivers in one. This essential tool is something you'll need for the most mundane of house projects like tightening doorknobs, adding handles to cabinets, and even fixing kids' toys. Remember to keep it in your toolbox when not in use though, as you don't want to be searching for it when you need it.
➲
Nut Driver
Just like your screwdriver, nut drivers are extremely common. They're used for reaching into deep areas and appliances to remove nuts that either pliers or wrenches can't reach. It's convenient, easy to use, and absolutely a must-have for stubborn little issues.
➲
Pocket Knife
Plenty of men (and women) will attest to the benefits of having a pocket knife. You never know when you're going to need a sharp edge to open something in the kitchen without damaging your cutlery or tackle a quick project. It can open boxes, trim excess material, and so much more. Honestly, even without a toolbox, this one's a must.
➲
Combination Square
A combination square, also known as a speed square, helps you draw lines across your workspace. Regardless of the material, it's functional and efficient. Because you won't need a straightedge for this, it's quicker and more effective. Its triangular sides are especially beneficial when estimating hard angles for projects like roofing.
➲
Adjustable Wrench
Again, you don't need to go out and buy the full monty. In terms of wrenches, an adjustable wrench is often your best bet. An adjustable wrench of about 10 inches works perfectly in place of a set of open-ended classic wrenches. Used to remove nuts and bolts, it's efficient, quick, and firmly grasps the target.
➲
Organize Your Toolbox & Tools
As we said before, having the right tools is only part of the job. You need to have a proper toolbox, as well, and the organization is extremely important. Make sure that your toolbox or kit is in an area away from children and pets, and discourage using them as playthings. Make sure that the area in which your toolbox is cool and dry to prevent rusting and damage to the tools.
Furthermore, ensure that your tools are thoroughly cleaned before replacing them in the toolbox. We recommend taking stock of your tools over time and making sure all adjustable parts are adequately greased per manufacturer instructions.
Whether you use your tools often or not, we suggest taking inventory of your tools at least once every six months to make sure things are in good working order. In terms of organization within the kit, it's truly up to you. We like to organize tools by job and duty, but make sure your organization mirrors your work process.
Images Courtesy of Canva.
Other Posts You Might Enjoy:
6 Great Reasons to Use Roman Shades
4 DIY Mistakes to Avoid at All Costs
DIY Made Easy with 4 Simple Tips
Electrical Projects: 3 Reasons to Skip the DIY
https://digthisdesign.net/wp-content/uploads/2018/04/Toolbox-Questions_.jpg
800
800
Melissa Moore
http://development.digthisdesign.net/wp-content/uploads/2016/11/OLD_DigThisDesign_logo.jpg
Melissa Moore
2018-04-13 01:00:12
2021-01-16 10:05:46
11 Toolbox Must-Haves for Home Projects