When it comes to designing your dream kitchen, every detail matters. From cabinets and countertops to lighting and flooring, each element plays a crucial role in creating the perfect space. Among these details, decorative plumbing stands out as both functional and aesthetic, adding a touch of elegance and personality to your kitchen design. But with so many options available, how do you choose the right decorative plumbing for your kitchen?
The Impact Decorative Plumbing Plays in Your Kitchen Design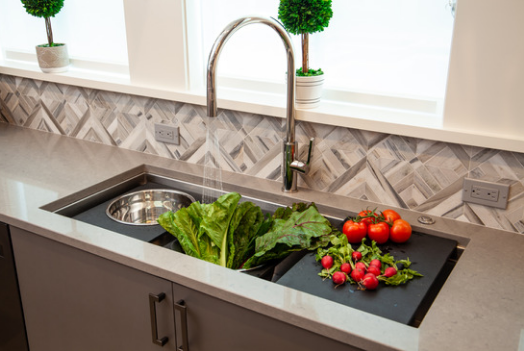 In this article, we'll explore the key factors to consider to make an informed decision.
 Style and Aesthetics
The first step in selecting decorative plumbing for your kitchen is to consider your preferred style and the overall aesthetics of your kitchen design. Are you going for a sleek, modern look, or do you lean towards a more traditional, rustic feel?
The choice of decorative plumbing, such as faucets, handles, and sinks, should align with the design theme you're aiming for. For instance, a farmhouse-style kitchen would benefit from apron-front sinks and vintage-inspired fixtures, while a contemporary kitchen might call for clean lines and minimalist designs.
Quality and Durability
Investing in high-quality decorative plumbing is essential to ensure longevity and functionality. Your kitchen fixtures will be used frequently, so they must be built to withstand daily wear and tear.
Look for materials like stainless steel, brass, or copper, as they are not only durable but also resistant to corrosion and staining. Brands with a reputation for crafting reliable plumbing products are worth considering to guarantee that your investment stands the test of time.
Finish and Coating
The finish of your decorative plumbing can greatly influence the overall look of your kitchen. Finishes like chrome, brushed nickel, bronze, and matte black offer different aesthetics, so choose one that complements your design theme. Additionally, consider the ease of maintenance – finishes that resist fingerprints and water spots can save you from constant cleaning and upkeep.
Functionality and Features
While aesthetics are important, don't overlook the functionality of your decorative plumbing. A well-designed kitchen faucet with a pull-out sprayer or a touchless option can significantly enhance your kitchen experience. If you're an avid cook, a deep and spacious sink might be crucial for washing large pots and pans. Think about your daily routine and the tasks you perform in the kitchen to determine what functional features are necessary.
Space Considerations
The size of your kitchen plays a role in the type of decorative plumbing you should choose. In a smaller kitchen, compact fixtures can help maximize counter space, while a larger kitchen might accommodate more extravagant and statement-making pieces. Ensure that your chosen plumbing elements fit well within your kitchen's layout without overwhelming the space.
Budgetary Constraints
Setting a budget is a practical step before embarking on any kitchen renovation project. Decorative plumbing comes in a wide range of price points, so having a clear budget will help you narrow down your choices. Remember that while it's important to stick to your budget, investing a bit more in high-quality plumbing fixtures can lead to long-term savings, as you won't need to replace them as frequently.
Compatibility with Existing Hardware
If you're not doing a full kitchen remodel and are simply updating the plumbing fixtures, consider how your new selections will blend with your existing hardware. Coordinating finishes and styles can help maintain a cohesive and polished look throughout your kitchen.
Environmental Considerations
As sustainability becomes increasingly important, look for decorative plumbing options that are environmentally friendly. Water-saving faucets and fixtures can help you reduce water consumption without compromising performance. Additionally, some brands prioritize eco-friendly manufacturing processes and materials, so do your research to make an eco-conscious choice.
Conclusion
Incorporating decorative plumbing into your kitchen design is a chance to infuse your personality and style into the heart of your home. By considering factors such as style, quality, functionality, and budget, you can make an informed decision that not only enhances the visual appeal of your kitchen but also contributes to its overall functionality and efficiency. Remember that each element, from faucets to sinks, contributes to the harmonious blend of aesthetics and usability that makes a kitchen truly exceptional.
Other posts you might enjoy:
Shopping for Faucets and Shower Heads
Bathroom Design: Refinished Bathtubs for a Stylish Makeover
Share This Story, Choose Your Platform!