In the ever-evolving world of home design, the bathroom holds a special place, blending functionality with a touch of personal indulgence. In this pursuit of elevating bathroom aesthetics, one element stands out as a remarkable solution—refinished bathtubs. 
A refinished bathtub, also known as reglazed or resurfaced, refers to the process of renewing the surface of an existing bathtub to restore its former glory. This method involves stripping off the old finish, repairing any damage, and applying a fresh, glossy coating. The results are astounding, as a refinished bathtub can look as good as new at a fraction of the cost of replacing the entire fixture.
Discover how you can incorporate a refinished bathtub into your bathroom and how they can add timeless elegance and a stylish makeover to any bathing space.
How to Incorporate a Refinished Bathtub Into Your Bathroom Design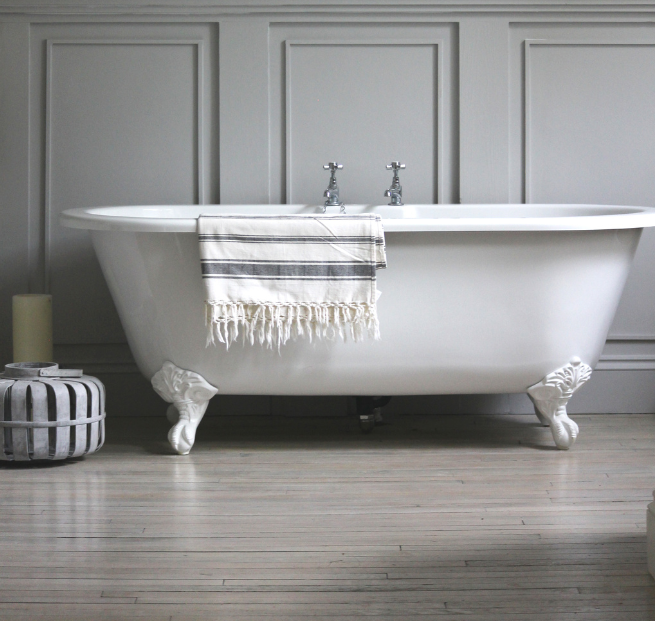 If you're considering incorporating a refinished bathtub into your bathroom design, it's essential to follow a step-by-step guide to ensure a successful and satisfying transformation.  Here are vital steps to seamlessly integrate a refinished bathtub into your bathroom, providing you with a stunning focal point that withstands the test of time.
Assess The Current Condition
Begin by evaluating the current condition of your bathtub. Determine if refinishing is suitable based on its overall condition, including any existing stains, chips, or surface damages. 
In some cases, minor stains or scratches can be easily repaired through the reglazing process. On the other hand, more extensive damages may require additional attention or indicate the need for a replacement. By conducting a thorough assessment, you can make an informed decision on the best course of action.
Choose A Reputable Professional
To ensure high-quality results, it's crucial to select a trusted and experienced bathtub reglazing specialist or company to handle the bathtub refinishing process. Start by looking for references, reviews, and examples of their previous work. This will give you confidence in their expertise and help you make an informed decision.
Consider The Design Of Your Existing Bathroom
When incorporating a refinished bathtub, it's ideal to consider the bathroom's existing décor—like tile patterns, wall colors, and lighting. This way, you can select a bathtub color and finish for a harmonious look.  
For example, you can choose a soothing shade of aqua or pale blue if you want a calming and serene ambiance. To maintain cohesiveness, you can also coordinate the bathtub's hardware, like brushed nickel or chrome faucets.
Discuss Preferences And Timeline
When incorporating a refinished bathtub into your bathroom design, it's crucial to engage in detailed discussions with the chosen refinishing professional. These conversations serve as the foundation for a successful transformation.  
Firstly, communicate your design preferences and desired color choices. This allows the refinishing expert to understand your vision and ensure the final result aligns perfectly with your aesthetic goals.  
Secondly, discuss the timeline for the project to minimize disruptions to your daily routine. Coordinating with the professionals allows you to select a convenient time for the work while ensuring efficient and timely completion.  
Clear communication with the chosen refinishing professional empowers you to achieve the desired outcome.
Prepare The Bathroom Space
Before starting the refinishing process, make sure to prepare your bathroom. For one, proper ventilation is essential to facilitate adequate airflow and the dissipation of any fumes or odors that may arise during the reglazing. You may open windows or use fans to create a comfortable environment for both professionals and residents.  
It's also best to cover and protect surrounding areas, such as the floor, walls, and fixtures, to shield them from accidental splatters or drips of the reglazing materials. This also ensures that your bathroom remains pristine and free from any unintended damage throughout the refinishing process.  
By taking these precautionary measures, you can confidently proceed with the reglazing, knowing that your bathroom space is well-prepared for a seamless and satisfactory transformation.
Once done, you can enhance your bathroom makeover with carefully selected accessories. For instance, adding decorative elements like candles, plants, or artwork creates a personalized and inviting atmosphere.
By following this step-by-step guide, you can seamlessly incorporate a refinished bathtub into your bathroom design. 
Benefits Of Refinished Bathtubs
In addition to elevating your bathroom with timeless elegance and style, a refinished bathtub can also provide a variety of advantages, including the following:
Cost-effective:

Refinished bathtubs provide a cost-effective alternative to complete replacements. By focusing solely on renewing the bathtub's surface, you'll be able to elevate your bathroom at a fraction of the price of a brand-new bathtub. This lets you achieve a stunning makeover without breaking the bank.

Time-efficient:

If you desire a swift transformation, refinishing is the way to go. A refinished bathtub is significantly faster compared to total replacements, resulting in minimal disruptions during renovations.

This benefits busy individuals or those seeking a stylish update without lengthy renovations.

Sustainable:

Bathtub refinishing is an eco-friendly choice as it reduces waste. Extending the life of an existing bathtub lessens your ecological footprint. Moreover, it's a way of promoting sustainability while achieving an

amazing bathroom

makeover.

Preserves original charm:

A refinished bathtub retains its original design and style, ensuring your beloved features, shapes, and details are maintained and enhanced. This preservation adds a touch of sentimental value to your stylish bathroom makeover. With a renewed surface, your bathtub takes on a fresh, yet familiar, look that revitalizes the overall aesthetic of your space.
With these advantages combined, a refinished bathtub becomes a practical and stylish solution that transforms the overall look and feel of your bathroom without breaking the bank.
Conclusion
The art of bathroom design reaches new heights by incorporating refinished bathtubs. With a seamless process of renewing the surface, these bathtubs bring timeless elegance and a stylish makeover to any bathing space. Consider the guide above to help you create an inviting bathroom space that meets your needs and preferences.
 

Other posts you might enjoy:
Condominium Bathroom Renovation: 7 Planning Tips
3 Suggestions for a Quick New Bathroom Renovation
How to do a Bathroom Renovation Without Spending the Entire Budget
Share This Story, Choose Your Platform!