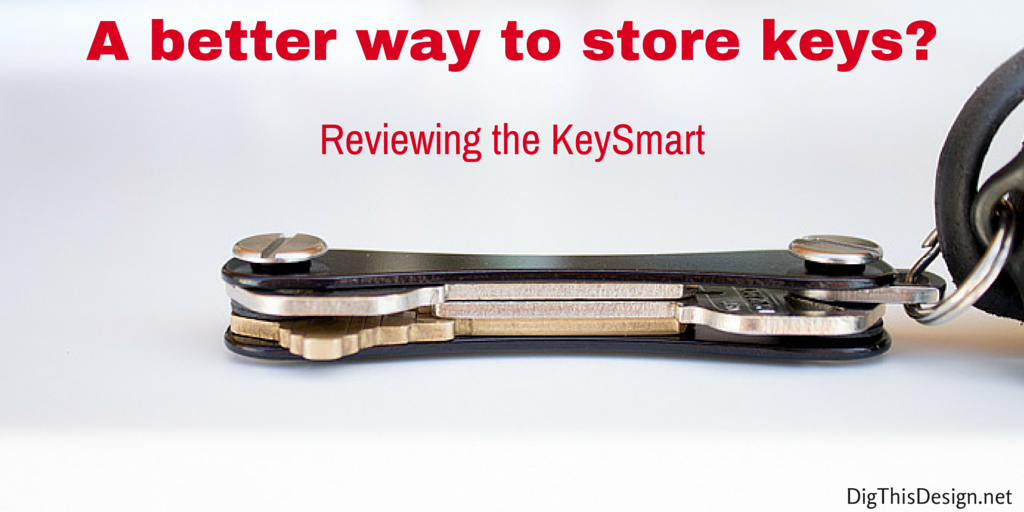 Today I'm reviewing a handy and compact key organizer tool that keeps your collection of keys neatly held together in one place. KeySmart has sent Dig This Design their base product to review; all opinions are my own. Personally, I don't like carrying anything extra or unnecessary on me. I guess I could fit under the "minimalist" tag. My set of keys is composed of a simple ring and the few essential keys one needs to get around. Still, a key ring can be uncomfortable to carry around in a pocket. Ever been stabbed by your keys in your back pocket as you go to sit down? How about getting your laptop or phone screen scratched because you mindlessly placed keys and electronics together in the same bag? I have a need for a product like this, so I was excited to find out about KeySmart. I also like that KeySmart products are handmade in America, Chicago to be exact.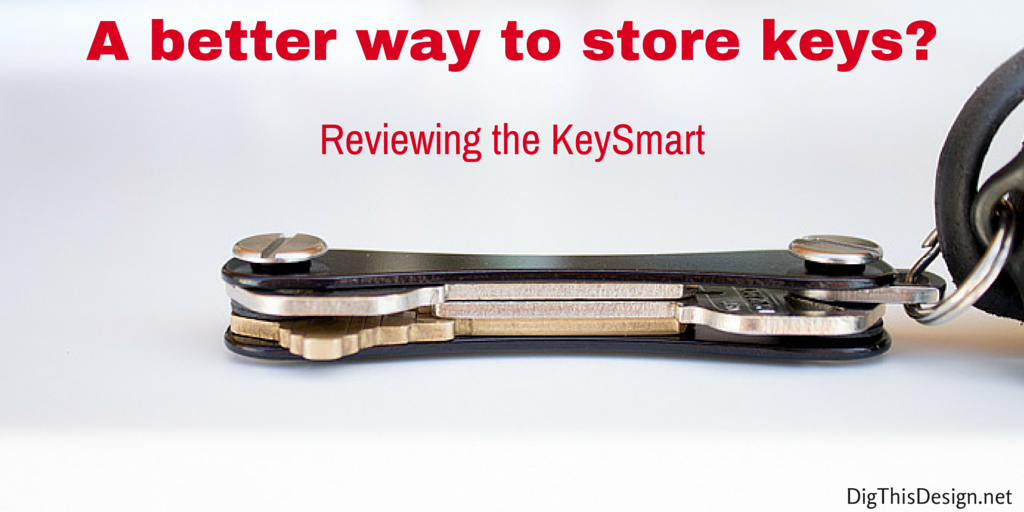 How To Assemble The KeySmart
Set up is pretty simple and KeySmart even provides a helpful video to get started. It is important for the keys on either side to be offset from one another so they have room to pivot into place when not in use. They also need to be level, so I had to add spacers as needed. Although the video said to add one side first, I went against the grain and added both sides at once. Stacking keys on both sides at the same time made it easier to know how many spacers were needed, but it did make topping it off with the end plate and securing the screws a little tricky because keys wanted to slide out as I was doing it. Don't fail to notice the extra screws included, these are longer than the screws that come installed on the KeySmart, you will need those if you have more than two keys, as most people do. The base model I have is actually meant to store up to four keys.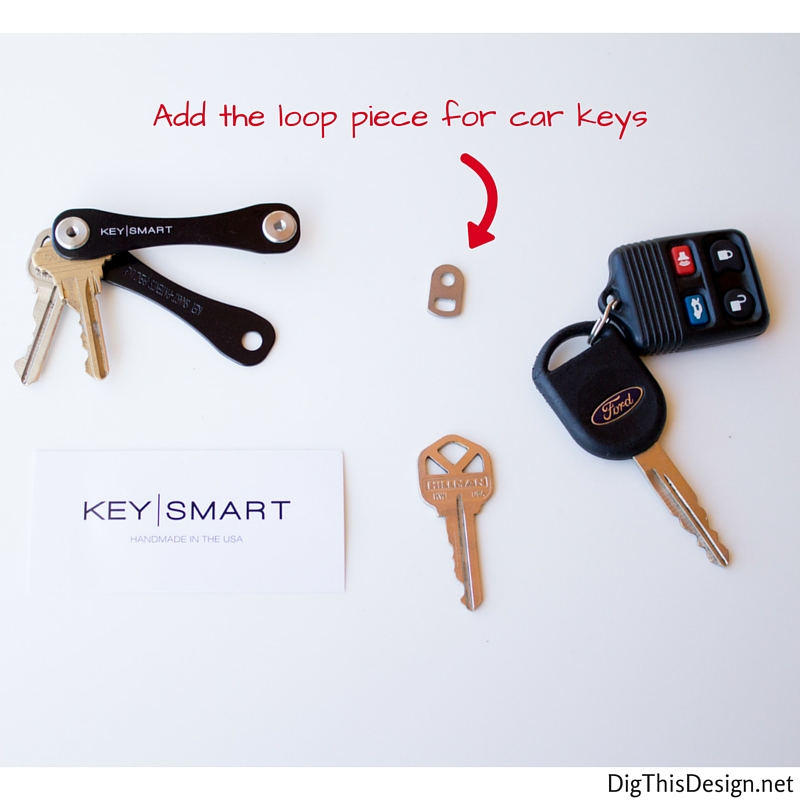 Attachments
The starter KeySmart set I received came with a loop attachment. This basic attachment is used for adding car keys, clipping onto a lanyard or bag, etc. After browsing the KeySmart site, I found they have a lot of helpful tools and accessories designed to be neatly stored along with keys. Many of you probably have a lot more keys to deal with than I do. If this is the case, then you'll need the expansion pack. There is also an extended frame for longer or foreign keys.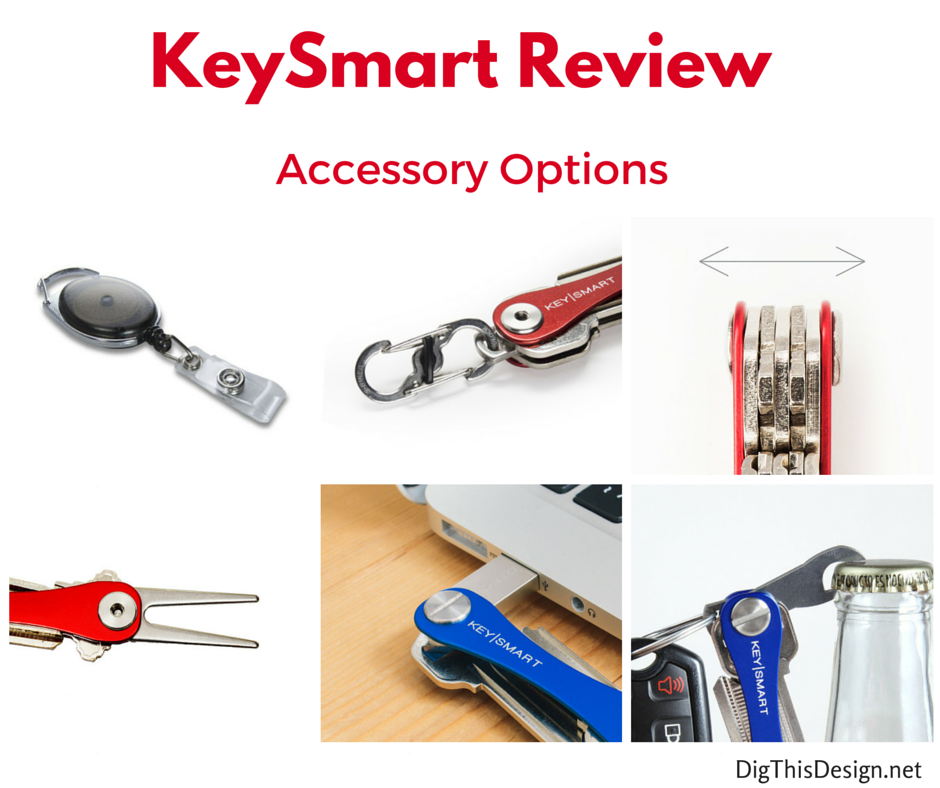 Final Thoughts
I enjoy seeing less clutter in my key ring. Maybe you don't see this as a big deal, but clutter is annoying and has a way of sneaking up on you, so I appreciate a product that simplifies any aspect of daily life. By design, the keys do extend outward somewhat from the KeySmart, so this doesn't solve my dilemma of scratching electronics with keys. This just means I have to generally be more careful where I place my smart devices. One thing it does solve is noise in my bag, pocket, and while driving. Aesthetically, it's nicer than seeing a pile of keys. I've been using this for a week and the metal has not scratched yet. My favorite part of using the KeySmart is that I have memorized where each key is. The few times I came home at night while the porch light was off, it was easy to feel the engraved side and know which key was my house key. Now I don't have to fumble around with keys, I can whip one out and unlock doors like a ninja.
https://digthisdesign.net/wp-content/uploads/2016/02/DigThisDesign.net_.png
512
1024
Stephanie Davis
http://development.digthisdesign.net/wp-content/uploads/2016/11/OLD_DigThisDesign_logo.jpg
Stephanie Davis
2016-02-22 03:02:42
2020-06-13 12:58:55
KeySmart Review: Compact Multiuse Key Organizer and Storage