The art world is constantly evolving, and creative individuals are likewise looking for unique spaces to express themselves and practice their creativity. When it comes to finding new studios, many artists across the country are thinking outside of the box and transforming shipping containers into unique and innovative art spaces.
Shipping containers are versatile structures that offer a multitude of benefits, including affordability, mobility, customization, and more. 
Read on to discover why so many artists are repurposing shipping containers for artistic endeavors and how these unconventional spaces offer so many exciting benefits to creative individuals. 
Why Creatives are Transforming Shipping Containers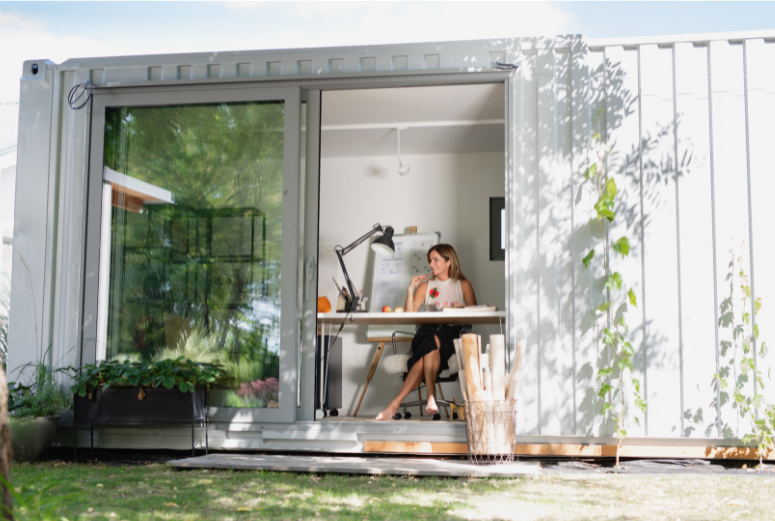 Affordability and Accessibility
The life of an artist can sometimes be uncertain, particularly when it comes to finances. That's why many artists across the country are drawn to converting shipping containers into art studios. 
Compared to traditional studio spaces in rented buildings or warehouses, purchasing a shipping container significantly reduces overhead expenses. With a wide range of sizes available, artists can choose a container that suits their spatial requirements and budget.
Furthermore, the accessibility of shipping containers makes them an attractive option, as they can be easily delivered to any desired location without the constraints of traditional real estate. 
They're Mobile 
Whether it's for openings, artistic inspiration, or personal interest, as an artist, you likely travel quite a bit. Shipping containers are portable, so they offer excellent mobility and flexibility to folks who like to take their work on the road. With a shipping container studio, you could bring your studio wherever you're headed. They easily attach to your vehicle — just consult with your container seller to find out how.
They're Easy to Customize  
Transforming a shipping container into an art studio provides endless opportunities for customization and personalization. From incorporating large windows for natural light to installing skylights or ventilation systems for optimal airflow, artists can tailor the container to meet their specific needs. 
They're Versatile 
Shipping containers provide artists with a versatile space for nearly any artistic discipline. Whether you're a painter, sculptor, photographer, or mixed media artist, these containers offer the flexibility to accommodate different creative practices. 
The sturdy steel structure of the container ensures stability and durability, while the interior can be customized to cater to specific artistic needs. 
The adaptability of shipping container art studios also allows artists to transform their spaces into immersive galleries, workshop venues, or even collaborative artistic hubs and pop-ups, fostering a vibrant and supportive creative community.
They're Beautiful Spaces 
The industrial aesthetic of shipping containers adds a unique beauty to art studios. The rugged exterior, with its distinct texture and weathered appearance, creates an intriguing and captivating vibe. And the minimalist structure of the container can serve as a blank canvas, so to speak, for the artist to work their magic however they please.
So, before you purchase a shipping container for storage needs or other conventional shipping container usage, reconsider how you can repurpose a container to suit your artistic endeavors. 
With a little imagination, hard work, and planning, you could build an art space that's portable, practical, affordable, and above all — uniquely customized to your aesthetic needs. 
Other posts you might enjoy:
Unlocking the Potential of Your Backyard: Creative Usage of Storage Containers
Living Small – What You Should Know About The Tiny Houses Trend
Share This Story, Choose Your Platform!