Do you have extra space in your home that you're unsure what to do with? We're here to offer a few excellent ideas to help you get the most out of your extra space. Whether you want to work out or practice yoga in your extra room, we have compiled a list of tips to create the ultimate relaxation room.
How to Turn Extra Space Into a Relaxation Room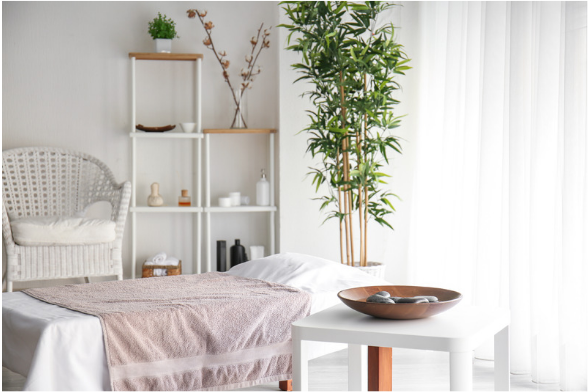 Empty the Room Completely
Emptying the room of everything that's currently in it allows you to visualize the space better. Walk around the room and consider where you'll place furniture, crafting hobbies, or any other items you plan to be in the room. Find a new storage space for any boxes or items that you remove. It helps to declutter a space if you are wanting a relaxation room. Having too much stuff can add stress to your life. 
Paint the Room
Once the room is empty, you'll find it easier to paint. Choose a subtle, neutral palette that helps encourage feelings of calm in your relaxation room. If you're unsure what colors you want to choose for your new room, consider asking for a few samples. You can also pick up a color swatch from your local home improvement store. Avoid going too dark, as this can make the room look smaller than it is. Colors that are too bold can make you feel energized rather than calm.
Control the Lighting
The next step is to control and perfect the lighting. Consider the tasks you'll be doing in the room to decide how much or how little light you'll need. A home office, for example, may be best designed with a few floor and table lamps. A yoga studio, however, may be best with limited lighting. 
Large, natural windows can let in a good amount of sunlight, but too much sun can also limit your productivity and make you feel fatigued. Residential window tinting allows you to enjoy the outdoor views while still controlling the sunlight. Tinted windows block out UV rays without affecting your view. 
Furnish the Room
Choose furniture pieces that are comfortable and well-fitted for your space. Find a layout that works best for the room's intended purpose. For example, if you work and exercise in the room, you may want to segment each area. Use a large desk to block off the workout area, and then design the exercise space for an open floor plan. Don't forget a large comfy chair where you can sit and relax.
Bring the Outdoors Inside
Freshen up the air quality of your room by bringing the outdoors inside. Choose a few favorite plants or flowers and place them in the room's corners. If you're limited in space, you might consider hanging plants or flowers. A few excellent plant options for a relaxation or exercise room include Spider plants, Pothos, Orchids, and Jade Plants.
Personalize the Space To Make It Your Own
Once you have completed painting, controlling the sunlight, and furnishing your relaxation room, it's time to personalize it. This is your space, so it should complement and relax you. Consider a few ways to add personalization to the room. This may include framed photographs of you and your friends and family. It may include a few large, cozy blankets. You could also add signs of inspiration to encourage you to meet your work and fitness goals. Depending on your design plans, it may be worth considering working with a professional to streamline the remodeling process.
Plan For Ample Organization
A tidy room is essential when designing a relaxation room where you can go to feel relaxed. Be sure to include ample storage compartments and containers throughout the room so that everything has a place. Consider the types of items you'll have in the room, and then choose organizational solutions that best complement them.
Make It Easy To Keep Clean
You don't want another room that you have to keep clean. Make it simple to keep this extra room clean and tidy. You might store a few cleaning supplies in your closet or keep a garbage can nearby. Try to take any items with you that you bring into the room each day to help keep it organized and tidy. A room meant for relaxation that eventually becomes cluttered or messy will usually do the opposite.
Turn your extra room full of boxes into a relaxation room where you can go to relax. Whether you're looking for a quiet workplace or a comfortable room to sit and read, everyone deserves a place that makes them feel happy.
Other posts you might enjoy:
Why a Home Meditation Room Is a Good Idea?
Meditation Room Ideas for Your Home
Share This Story, Choose Your Platform!