Everybody should feel relaxed and happy when they are at home. But not everybody takes active measures to create a soothing, calm, and optimistic living space. There are various home design options you can utilize to make your home a relaxing space to spend your time in.
Here are just a few ideas that you should take note of.
Tips for Creating a Relaxed Home Environment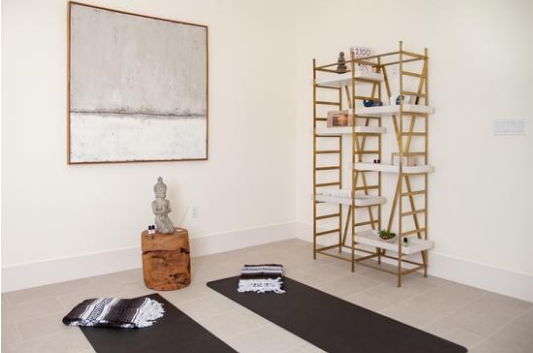 Design by Patricia Davis Brown Designs
Use Soothing Colors
Moving into a new home is stressful and it's best to think about your new home's décor. You want to create a space that feels like home and promotes relaxation. Whether it is a meditation room or a bedroom it needs to invite wellness.
If you are moving home, you will need the ideal cross-country moving solution or local moving company to transport all of your belongings safely. Finding a moving company with good references is important to keep your things safe and your stress levels down.
 Your first consideration should be the colors of your home. Some colors help us to feel relaxed, such as soft shades of pink, blue, or green. Other colors can infuse us with optimism and happiness, such as bright yellows and oranges. You want to carefully think about how you use color in your home to create both relaxed and optimistic moods. 
You might like to use some colors in some rooms and other colors in other rooms. For instance, it could be a good idea to paint the walls of your bedroom a soothing pastel while painting the walls of your family room a more vibrant color. Every room in your home should serve a purpose and the colors you choose should be inspiring. 
Also, you should look at how different colors complement one another to find just the right color combinations.
Natural Lighting
The more natural light that the rooms of your home have, the more relaxed and happier you will feel in the space. So, if privacy is not a top concern, choose drapery panels to add layers to the design while keeping the windows open for natural light to come shining through. 
You can also reflect rays and make a space feel lighter and brighter by hanging a mirror opposite a window.
Add Greenery
Having house plants around your home will help to improve the air quality, connect you to nature, and feel more relaxed and optimistic. If you do not have a green thumb, buy houseplants that are easy to care for.
Add Candles Around Your Home
Small touches can make a big difference to how your home feels.  By adding candles to your living space, you can make the area feel cozier, happier, and more relaxed. There is just something about flickering candles that help us feel homely and at ease. The other advantage of candles is the aroma therapy they offer with the many available fragrances.
Display Photographs of Happy Moments
You are sure to feel more optimistic and at ease at home when you can glance up and see pictures of happy moments from your past. So, choose photos of some of your most memorable moments and hang them on the walls or place them on your tables and other surfaces. You might like to put up photos of your family, your friends, vacation snaps, or anything else that will help you to smile and relax.
Surround Yourself with Things You Love 
You must surround yourself with things you love. The things in your home should touch your soul and make you feel relaxed and happy.
Other posts you might enjoy:
How to Make Your Home More Welcoming to Your Guests
Decorating Styles You Might Like to Consider for Your Home
Share This Story, Choose Your Platform!