Unlocking the potential of your backyard offers numerous innovative and unique possibilities. Among these, utilizing shipping units has emerged as a popular trend. Imagine transforming your underutilized backyard into a vibrant, multi-functional area.  
Traditionally used for storage, these units can become anything you envision with a spark of creativity. These containers are incredibly versatile, sturdy, and available in various sizes to cater to your needs.  
With simple modifications, you can turn your backyard into your dream oasis. The possibilities are boundless. From creating personal retreats to functional spaces, storage containers offer a remarkable way to maximize your backyard's potential. 
Creative Backyard Storage Container Designs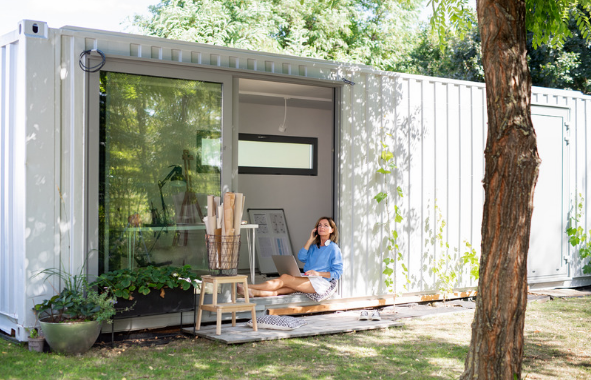 Ever fantasized about owning a personal workshop? A 20ft storage container can turn this dream into reality. Spacious enough to house workbenches, tools, and machinery, these containers also provide excellent protection against the elements, keeping your equipment safe and secure. 
Adapting your container to align with your workshop needs is straightforward. Adding insulation, lighting, and shelving creates an efficient and comfortable workspace. Now, you have an easily accessible space right in your backyard to focus on your hobbies or even your profession. 
For fitness enthusiasts, a shipping container is an excellent solution for a backyard gym. It can comfortably accommodate all your exercise equipment, from treadmills to dumbbells. Having a gym a few steps away from home significantly enhances the convenience of maintaining a fitness routine. 
Enjoy the luxury of a private workout space, free from the distractions often found in crowded public gyms. Stay focused on your workout without any interruptions. Customize the area with motivational posters, a sound system for your workout music, and other personal touches to make it truly yours. 
As remote work becomes more common, having a quiet, private workspace has become vital. A container office isn't only practical and enables an effective separation between work and personal life. 
With thoughtful design, your container office can become a source of inspiration. Install windows for natural light, add comfortable furniture, and create an interior that stimulates productivity. You can entirely transform the experience of working from home. 
For gardening enthusiasts, shipping containers provide an excellent base for a mini greenhouse. Converting a container creates a controlled environment, enabling you to grow your favorite plants throughout the year. 
While the metal walls and roof of the container can provide some protection from harsh weather, proper insulation is necessary for optimal temperature regulation. Install a transparent roof or windows to ensure your plants receive ample sunlight and thrive. 
Delight your kids by transforming a shipping container into a playhouse. This unique idea encourages imaginative play. With a splash of vibrant colors and a few toys, your backyard immediately becomes an exciting playground. 
Unlike traditional playhouses, a container playhouse is sturdy and can withstand harsh weather. Moreover, the playhouse can be easily remodeled as your kids grow to suit their evolving interests. 
A shipping container could be the perfect solution for artists seeking a private space to explore their creativity. You can design it to meet your artistic needs, with ample light, space for tools and artworks, and even a small gallery to showcase your work. 
A dedicated space allows you to focus on your art without interruptions, fostering creativity. It's a personal sanctuary where you can retreat and let your imagination flourish. 
For those who love hosting parties, a shipping container could become the highlight of your backyard. Converting it into an entertainment area with a mini-bar, cozy seating arrangement, or even a game room adds a unique touch to your gatherings. It provides a weatherproof space for outdoor parties. 
Creative thinking is key. By incorporating thoughtful design and décor, your storage container can become an impressive entertainment space. Think movie nights, board games, and barbeque parties; your backyard will certainly leave your guests impressed. 
Book lovers will appreciate the concept of a personal library in their backyard. A shipping container can be transformed into a secluded haven for bibliophiles, providing a space to delve into different worlds without interruption. 
Install shelves along the walls to display your collection, add comfortable seating, and incorporate good lighting to ensure a pleasant reading experience. Personalize the space with your favorite art pieces or memorabilia, creating a cozy atmosphere that enhances your reading moments. 
Entrepreneurs seeking a unique way to display their products might find a shipping container boutique to be an ingenious solution. While it's economical compared to traditional brick-and-mortar stores, it also offers a unique aesthetic that can attract more customers. 
Design your pop-up container boutique to enhance the customer shopping experience. Incorporate windows for natural light, arrange your products in a visually pleasing manner, and consider adding fitting rooms. This unconventional retail space can be an eye-catching feature, attracting customers and setting your business apart. 
Takeaways 
Your backyard's potential is only limited by your imagination. A storage container provides a unique, customizable, and robust solution to fully exploit this potential.  
Whether it's a private retreat, functional workspace, or vibrant entertainment zone you crave, the versatility of storage containers makes these dreams achievable. So why wait? Unlock your backyard's potential and explore the endless possibilities today. 
Other posts you might enjoy:
Do You Nedd a Shipping Container for Your Move?
Living Small: What You Should Know About The Tiny Houses Trend
Share This Story, Choose Your Platform!