Many tenants face difficulties when it comes to redecorating a rental home. Though some landlords are happy to see their house walls painted in fresh colors and designs, most of them won't allow the tenants to make permanent changes to their property. They usually ask them to return it to its original state before they leave the premises.
Decorating Your Rental Home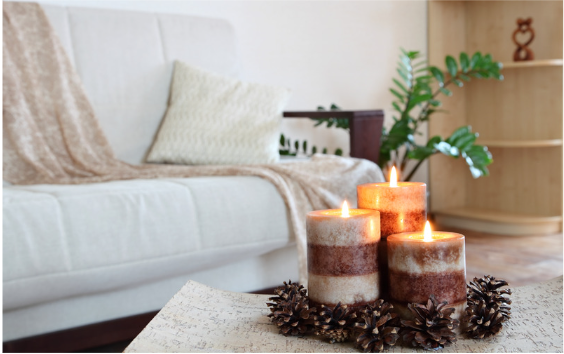 Below are some decorating ideas you can do to make your rental property feel like home. All of the following decorating tips will not leave a permanent mark on the property and leave you and your landlord happy with each other.
Hang Wall Art Pieces in Your Rental Home
Light-weight wall art will make both the redecorating and moving out processes easier. Make sure to get durable solutions like foam board printing so your investment is worthwhile. A good thing about this product is that it's affordable and it can help you display personal and family photos or some of your favorite art pieces. There are many products on the market that allow you to hang a picture and not damage the wall. These products are popular in dorm rooms where holes in the wall are not allowed.
Floating Shelves for a Rental Home
Bring a contemporary touch to your new apartment with floating shelves. A floating shelf can support several items on it. You can install it in the kitchen and put everyday glassware on it or display decorative interior design elements in the living room. Floating shelves are easy to install and remove with minimal damage to the wall as it doesn't take a lot of hardware to hang them. You may have two holes to patch and paint when you leave.
Area Rugs Add Texture to a Room
Area rugs are a perfect choice to consider when redecorating your rental apartment. Rugs can add pops of color or texture to any room and make it feel like home. This is a great way to float a furniture grouping and give division to social spaces. Another benefit of using area rugs is the added protection they give to the rental apartment's flooring. Whenever you move on you just gather up your rugs and take them with you.
Add Greenery
You can never have enough potted plants and flowers at home. Spruce up your house interior by growing dozens of green plants and flowers in colorful pots. The plants will cover up the plain corners of every room especially when they're blooming. House plants don't require much care and time. Meanwhile, they produce a lot of oxygen and bring wellness to your new home. This tip will help you improve your rental patio and create curb appeal if you're lucky enough to have an outdoor porch.
Add Decorative Lighting
Finally, tie things together with some lighting. There are many types of lamps, string lights and other decorative types of lighting which can create ambiance in any room. Hang a new chandelier in the living room or set up lamps in your bedroom for late-night reading. The kids' room will look mystical after you hang fairy lights. If your landlord doesn't allow you to drill holes into the walls, use temporary adhesive hooks to set up hanging lights.
Install Multifunctional Furniture
Furniture can be damaging to any home and you don't see it until you move. To avoid this, get creative with multifunctional furniture and save up more space in the apartment. You can create a workout room that converts to a guest room just by purchasing a convertible sofa.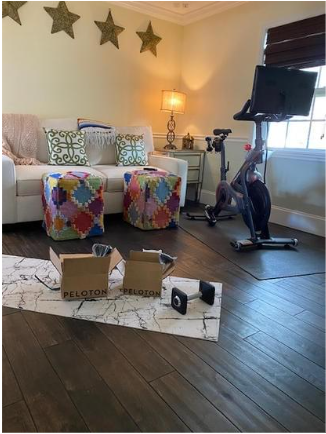 Design by Patricia Davis Brown Designs
Use Accessories
Accessorizing your rental property adds your own personality and helps to create your new home. Accessories can be easily added and removed. They give color and texture to every room and help you create the design style you like. Decorative pillows and throws add a cozy touch to a family room or bedroom. They come in a wide range of prices to fit anyone's budget. The great thing about accessories is you can change them out seasonally and they move with you to your next home.
Create Your Collection Corner
It's not that easy to find a rental house that can make you feel at home. Look for the best fit before renting an apartment and make sure you can find enough space in the house to bring in your favorite items. Carve out a corner and set up a stand-alone bookshelf with your favorite reads and personal pictures. This can be your spot to decompress at the end of a hard day, every home needs this space.
Wherever you move, you need to make sure you make it feel like home. These tips will help you redecorate any rental property without damage and design a home that feels like you live there.
Share This Story, Choose Your Platform!