Contemporary style is trending right now and  everyone is going for the minimalist look. White Italian leather is a favorite material and one of my favorites even in my own home. The problem with white leather is it gets dingy quick. My white bar stools around my island get used a lot and when people with blue denim jeans sit there, the dye in the jeans has a tenancy to turn my white leather chairs bluish-gray. Well, I missed the look of my bright white bar stools and set out on a mission to find a way to bring them back to their original luster.
I first tried a leather cleaner/conditioner, as it was labeled, and that did nothing to clean my chairs. I googled it and still did not find a solution to my problem. My husband Lee went out in our garage and came back with, Auto Magic, a vinyl/leather cleaner for car upholstery. Look at how he brushed and wiped my white Italian leather stools clean easily with this product.
How To On Cleaning White Italian Leather Stools
Easy Instructions
First test a small out of site area on your furniture to make sure the chemical is compatible. Pour some of the cleaner into a spray bottle for easier application, then spray down your leather. With a bristle brush, scrub the area that needs cleaning (don't forget the seams, they capture plenty of dirt) and pretty quickly you'll see the dirt coming right off. Use a clean, damp cloth to wipe everything off. Now that you're done cleaning, let dry good and apply a leather conditioner for protecting your leather furniture in the long run.
How It Works
This particular product is made by a brand called Auto Magic. I am not endorsed by them in any way; this is my honest review of this product. Being that you may not be able to find this exact product, it's worth looking into what the ingredients are and why they work so well on white leather.
Sodium Metasilicate – An alternative mild cleaning chemical to phosphates. It's made up of baking soda (before it is changed chemically by heat) and silica sand fused together at very high heat.
Sodium Xylene Sulfonate – A wetting agent used in many shampoos and cleansers to help the other active ingredients dissolve other compounds, i.e. grime and denim dye. It is considered a low hazard ingredient but can cause skin irritation in high amounts to those with skin sensitivities.
Isopropyl Alcohol – This is your typical household rubbing alcohol. It's great for dissolving oils, gums, and resins.
PnB Glycol Ether – Another good ingredient for dissolving the hydrophobic gunk like food oils or lipstick. It's used in household and industrial cleaners that need help evaporating quickly.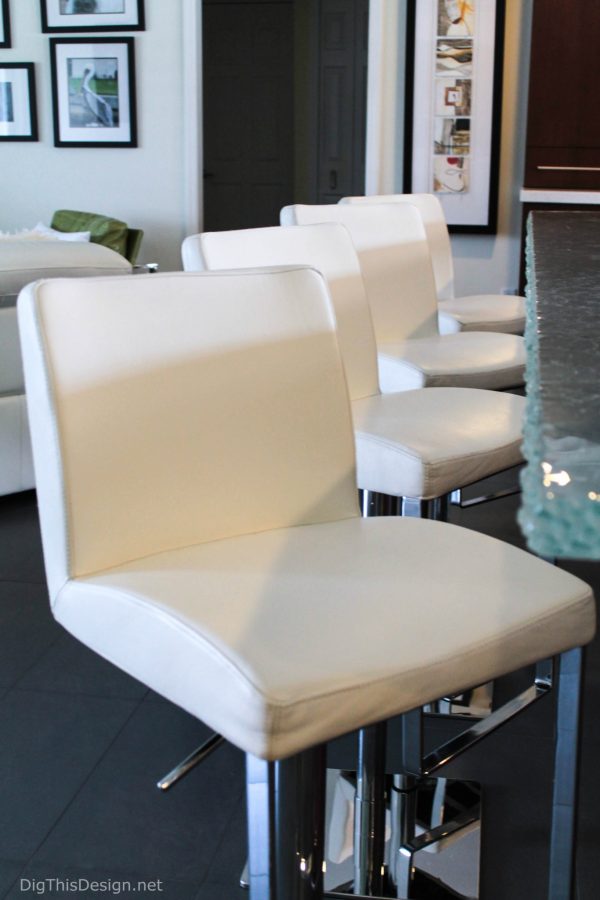 Other Posts You Might Enjoy:
Top 8 Fabulous Home Decor Shops in Miami
How To Choose The Right Wall Art For Your Home
5 Tips To Help Your Family Thrive During an International Move
Share This Story, Choose Your Platform!