Artificial turf, also known as fake grass, has become very popular in today's home builds. Today we are going to explore the differences between the two most popular materials that make up artificial turf.
What is Artificial Turf Made of?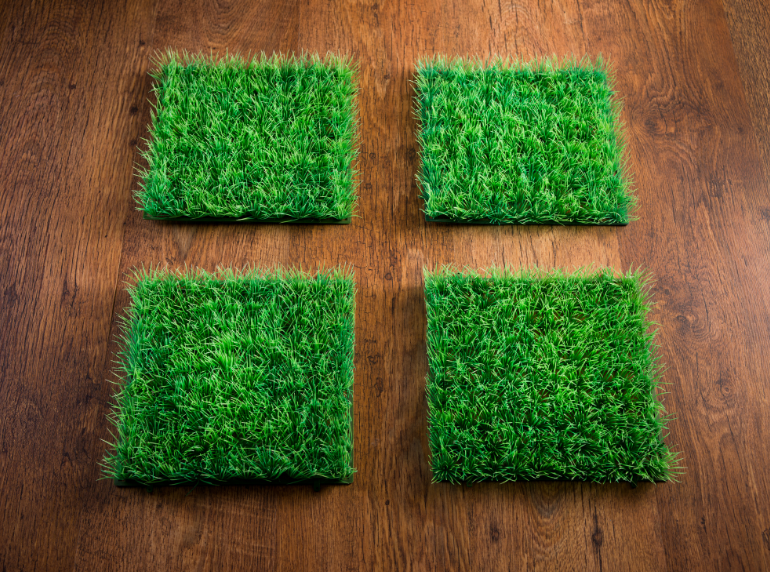 2 Types of Artificial Turf to Consider
Polyethylene
Many different types of synthetic grass exist, but polyethylene has particular advantages, like these benefits:
  The material is less susceptible to spills, and it feels better underfoot. It is also easier to maintain than nylon or polypropylene. It is also low-maintenance, so it only requires a periodic brushing. Unlike nylon, polyethylene will spring back into place when brushed.
It is a good choice for athletic fields, but it's not the best choice for ornamental lawns. Polyethylene is the most widely used plastic in the artificial grass industry. It is more expensive than polypropylene, but it's more durable than nylon. It also has a good trade-off between resilience and softness.
The softer the fiber, the less resilient the material will be. If you're looking for a fake grass material that will last for years, polyethylene (https://en.wikipedia.org/wiki/Polyethylene) is a great choice. Artificial grass made from polyethylene is more durable and looks more like real grass. It's commonly used for edging, lawns, and outdoor play areas. These fake lawns require very little maintenance which makes them a popular choice.
Unlike real grass, polyethylene doesn't need much raking and requires minimal maintenance. However, if you're looking for a more budget-friendly synthetic grass material, you can consider polypropylene. It's also much more affordable than polyethylene but is not as durable as polyethylene.
While polyethylene has many applications, it's the most recent synthetic lawn. Polypropylene is a good choice for lawns because it's water-resistant and doesn't retain pet odors. It is also an excellent choice for artificial grass if you're looking for a more realistic synthetic lawn. This material also comes in a range of densities, making it ideal for different types of lawns.
Polypropylene
Polypropylene is a plastic material used to make artificial grass. It is a popular alternative to grass made from nylon or synthetic fibers. However, polypropylene does not hold up well in high temperatures and is therefore prone to flattening. It also has a gleaming surface, making it very slippery underfoot. However, the soft roll makes polypropylene an excellent choice for putting in greens. It is also popular as an indoor alternative to natural grass. This turf is an excellent choice for a backyard or public area. It has a low cost and is durable.
However, it is only acceptable in colder climates. Polypropylene turf can also become discolored with heavy foot traffic. Polypropylene is not a long-term solution. Nevertheless, it does have a lot of advantages over its counterparts. But be sure to understand the pros and cons of each turf material before you decide to install one, as recommended by distributors for turf.
Polypropylene is an excellent option for small outdoor spaces. It does not hold up well to high foot traffic or outdoor playtime. However, it can be used for other applications as well. Airports have pet rest areas, including a small patch of artificial turf.
Other posts you might enjoy:
10 Tips for a Low Maintenance Garden
6 Tips to Create an Awesome Outdoor Living Space
5 Easy Ways to Revamp Your Garden This Summer
Is it Possible to Design a Home That Requires Minimal Upkeep?
Share This Story, Choose Your Platform!