Dogs are considered part of your family. It is good to know certain things that can make your dog feel the presence of your care to them. You don't need to pick between a safe dog and a well-kept yard. With a few simple adjustments, you can make your backyard dog-friendly that's both attractive and safe for your pet. 
Regardless of how much time your dog spends indoors, the backyard is still one of his favorite places. So, your yard should be a comfortable space for him to eat, enjoy his favorite things, sleep, sunbathe, and even run under the rain. It's your responsibility to ensure that your pet can accomplish all of these activities and more in a safe environment. 
To assist you in creating a secure sanctuary that your dog will enjoy, here is a list of backyard dog run ideas to keep your dog happy and safe. If you have a dog that you treasure, we invite you to keep reading to learn what you need to know about how to make your backyard dog-friendly.
Make Your Backyard Dog-Friendly With These Easy To Implement Ideas
1. Replace the grass.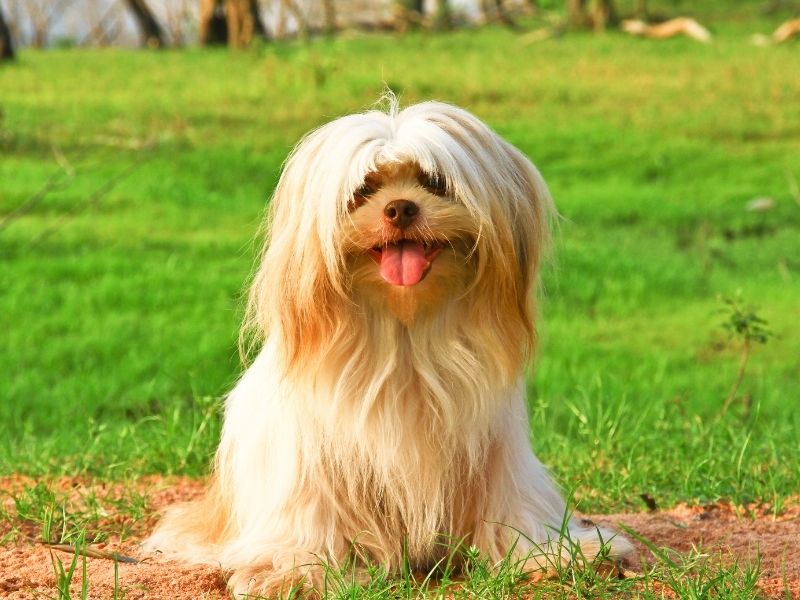 One of the most common issues encountered by dog owners is brown patches in the grass. You may avoid these stains by immediately washing the area with water after your dog has urinated. However, this can be tough to maintain.
To prevent this chore, replace the grass in your backyard with another kind of dog-friendly land cover. There are many alternatives for dog-friendly landscaping that don't involve grass. For the potty place, use smooth pebbles that are soft on the paws.
Mulch is also a safe and inexpensive option. Cedar mulch acts as a natural insect repellent, assisting in the war against fleas and ticks. However, avoid cocoa bean mulch. This is toxic to dogs if consumed.
2. Install fencing for the yard.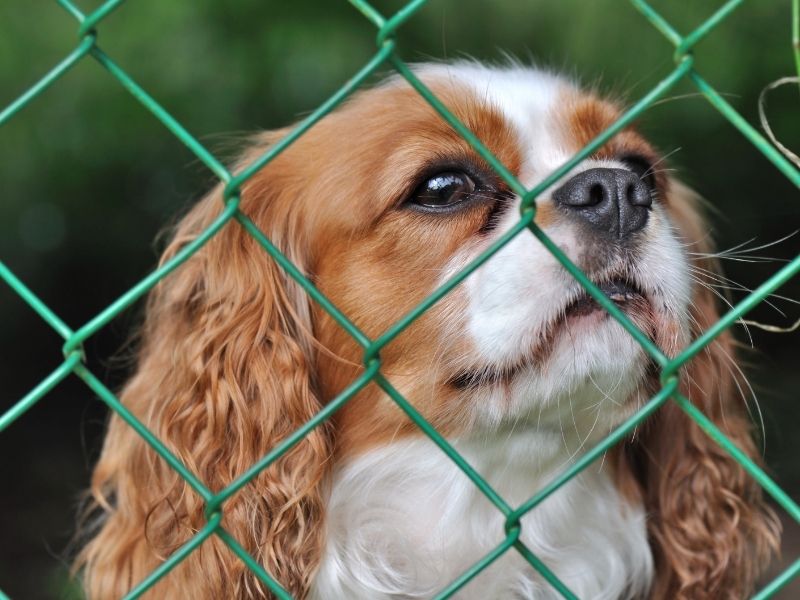 The security of your pet is a primary point in investing the money and effort necessary to create a dog-friendly yard. Letting dogs run free in an unfenced backyard may cause problems. Fences may serve many functions. They can add security, divide areas in your backyard and protect your pets from outsiders. Also, it will avoid possible accidents happening between your dog and other people.
A sturdy fence not only keeps dogs in but also prevents other animals from entering your yard. With a fenced yard, your dog is not disturbed by neighboring dogs or children. They are also safe from potential hazards such as moving vehicles. 
You must also inspect your fence periodically to ensure there are no holes for your pet to get through. In addition, you must ensure that the height of your high security fencing is appropriate for your pet. Is it possible for your dog to dig a way out? Inspect every nook and cranny of your perimeter for weak spots.
3. Add a water feature.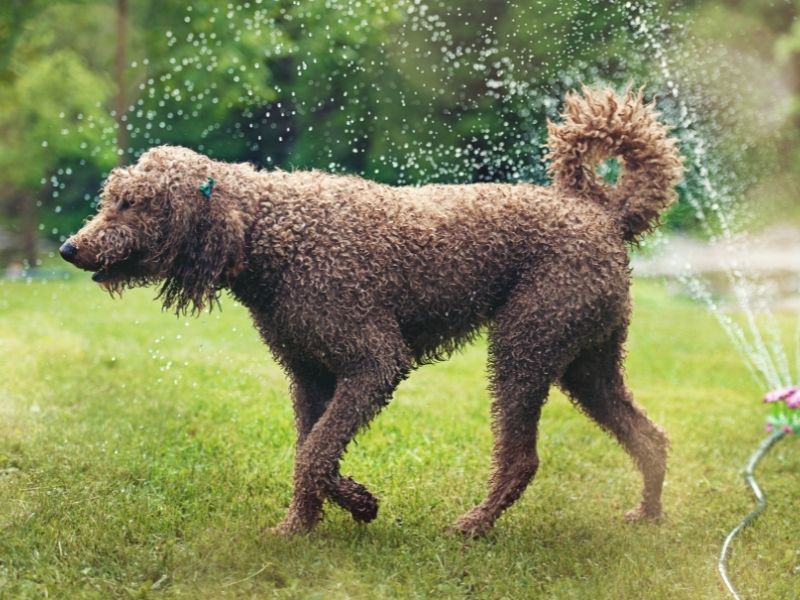 An inexpensive water feature provides hours of entertainment for dogs. In fact, it's simple to make a safe pet-friendly dipping pool in your yard. The key is to select a kiddy pool made of molded plastic instead of an inflated one as their sharp paws may pierce the inflated ones.
Ensure that the water feature is shallow enough to easily enter and exit the pool. Little dogs may find it difficult to traverse the pool when the plastic edges get wet. Therefore, keep in mind your dog's height. 
The most effective method to conceal it is to install it like an actual pool. Excavate the area beneath it until the edges are inches above the surface of the soil. It will guard against the breaking of the edges and sides when your dog swims and leaves. 
Additionally, your dog is less likely to gnaw on the pool, and it remains in place when empty. The disadvantage of this type of pool is that it's difficult to drain the water quickly. However, the solution to this problem is to have a simple siphon or a bucket. 
4. Keep it shady.
While your dog enjoys laying under the sun, make sure it has access to shady places to cool down. To ensure your dog has a place to rest after a long day of fetching and playing, add tall trees, shrubs, or long grass into your landscape architecture. 
A beautiful doghouse also complements your landscaping and provides shading for your dog. They're somewhat inexpensive and comes in a variety of designs. A doggie awning or tent area, or just a couple of big trees, are sufficient. 
5. Provide a place to potty.
You both have a better time in your backyard when you let your dog relieve itself in a fixed area instead of scattering it all over the place. A basic sandbox may serve as an excellent pet potty place. You don't have to go all out.  
Create a rectangular pit and completely load it with sand. You may use wire netting or wood to enclose the space. There are two uses for the sandbox potty area: a great place for your dog to conceal things, and it keeps your dog from urinating in public places like flowerbeds and sidewalks. 
6. Use dog-safe plants and fertilizers.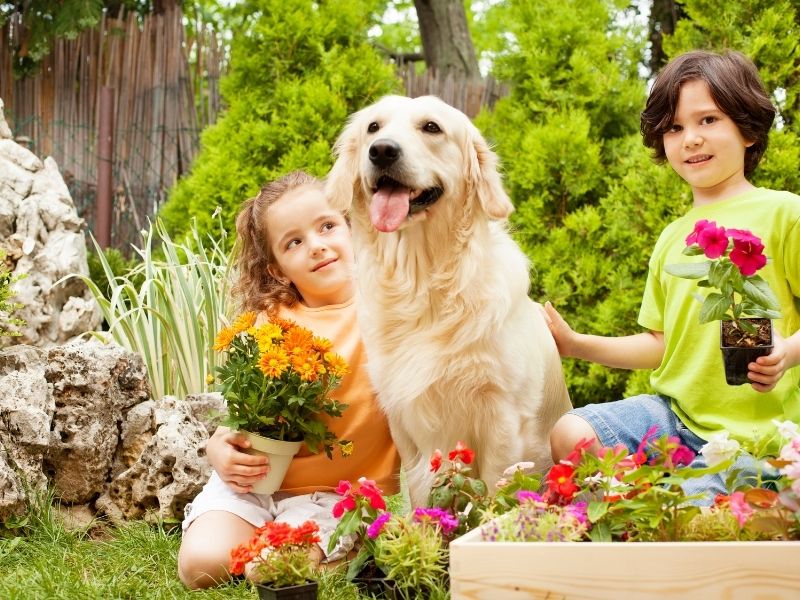 Be cautious when selecting plants for your dog's landscape. Ingesting some plants are harmful to animals because they contain toxins they can't digest. Choose a plant that is safe for your flowerbed if you have a canine that likes to chew plants. 
Also, be selective when it comes to the lawn care supplies you use. When it comes to your lawn and garden, fertilizer is fantastic. However, it may be lethal to your dogs. Choose pet-safe lawn care services and products for your dog's safety, or go organic and natural. 
7. Dedicate a digging area.
When a dog becomes hot, it pants to keep itself cool. Most dogs classified as problem diggers are just attempting to stay cold. They naturally dig nesting sites in the shade to get access to soil with cold temperatures. It creates a big mess, particularly in heavy soils. 
The answer is to give them their sandbox to lay on. It will not stain or form mud. Plus, it will simply come off their fur. Maintain a little moisture level in the area, and your dog will go toward that place. You may also create many sandboxes. Then, distribute them around wet, shaded, out-of-the-way areas of your yard.
In conclusion.
You don't need a lot of money, a big backyard, or a lot of time and effort to create a dog-friendly space in your home. These dog-friendly landscaping ideas can help you create a yard that's appealing to both you and your four-legged companions. If you have any questions or suggestions, we always love to hear from you in the comments below. Also below are links to more fantastic articles about ALL things DESIGN for your home or business.
Images Courtesy of Canva.
Other Posts You Might Enjoy:
4 Steps to a Pet-Friendly Yard for Your Home
4 Tips to Pet-proof Your Lawn and Garden
3 Professional Carpet Cleaning Myths Dispelled
Share This Story, Choose Your Platform!