Just like clothing styles can come and go, house decor moves through style trends. The kitchen is one of the most used areas in a home, so to makes sense that it has a functional, inviting, and beautiful design. A kitchen is also one of the most expensive areas in the house to remodel but there are definitely budget-friendly kitchen remodeling ideas.
If you are ready to make a commitment to give your kitchen a facelift, the following information will help you make an investment worthy of your time and resources.
5 Easy Steps to a Budget-Friendly Kitchen Remodel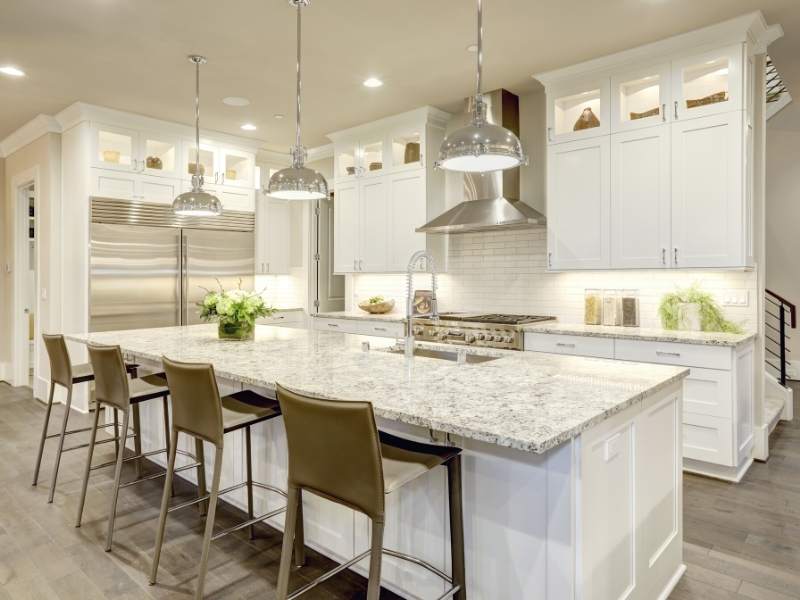 1. Make Your Plan
Before you get busy tearing things out, make sure your ideas or design plan is feasible. Reworking a layout can be challenging since your water and electrical lines (or gas) are already installed and might not be easily accessible.
Having to tear out walls or re-lay wiring can significantly add to the expense. So, if you want to keep things under budget, stick to redecorating or working with items that are more manageable.
2. Change Your Paint Color
Probably the least expensive update you can do is painting the walls in your kitchen area. It's a simple but effective way to change the look. One option is to paint an accent wall with a pop of color. Another is to carry a theme all the way through the kitchen.
If you are thinking about changing out the countertop, floors, or the backsplash, work with a complementary color palette. Also, choose a paint such as a semi-gloss that cleans easily because kitchen areas often have a lot of splatter and fingerprints.
3. Change Your Cabinets
Your cabinets are one of the most prominent features in the kitchen, but they are quite expensive to completely replace. If you are fortunate to have solid oak or wood cabinetry, it would be a shame to take them down and substitute a lower quality replacement.
For those that aren't afraid of DIY and are willing to get in there and get it done, many outdated cabinets can be sanded down and stained or repainted for a new look. You can also change out the handles or add new textures to the cabinets. For extra storage, build the cabinets up to the ceiling.
4. Change Your Countertops
The countertops of your kitchen see a lot of use, and your material and look should be able to maintain its appearance in spite of the attention it receives. Though replacing your countertops can be a DIY project, this is an area of investment that is worth the expense for professional installation.
Investing in a quality granite, like the ones found at Colonial Marble, your countertops will provide durability to hot surfaces and resistance to cracking. They are also easy to clean. If your budget allows, you could work with quartz or a butcher-block look.
5. Change Your Flooring
Kitchen flooring must be durable since there will be a lot of traffic and potential exposure to liquids and spills. Your flooring is a matter of preference, but there are several low-cost options that can give you a new look without breaking the bank. For one thing, be certain that your selection is waterproof, cleans easily, and is comfortable. There are self-lay vinyl tiles that can be stuck over an original, worn-out floor, or you could work with porcelain tiles for a higher-end look. Stone tile is beautiful if your budget allows, but the engineered vinyl plank is also a nice alternative.
Putting some effort into a kitchen remodel does more than just give a pleasant new spot for dinner or gathering around for holidays. The kitchen is also a strong selling point in a home, so you are also making an investment in raising your home's value.
Images Courtesy of Canva.
Other Posts You Might Enjoy:
A Guide To Select a Houston Air Duct Cleaning Company
5 Appliances to Help Build Your Dream Kitchen
5 Repairs You Should Make Before Selling Your House
Share This Story, Choose Your Platform!