Installing a glass splashback in your kitchen is a big decision not just because it changes the entire décor, but the good ones are also expensive.
In addition to being a favored-options for ages, there is a wide range of backsplash options. So, it is best to know the pros and cons before deciding which best suits your needs.
In this article, we note the advantages and disadvantages of kitchen glass splashbacks so that you can decide if it's the right choice for you.
The Pros and Cons of Glass Splashbacks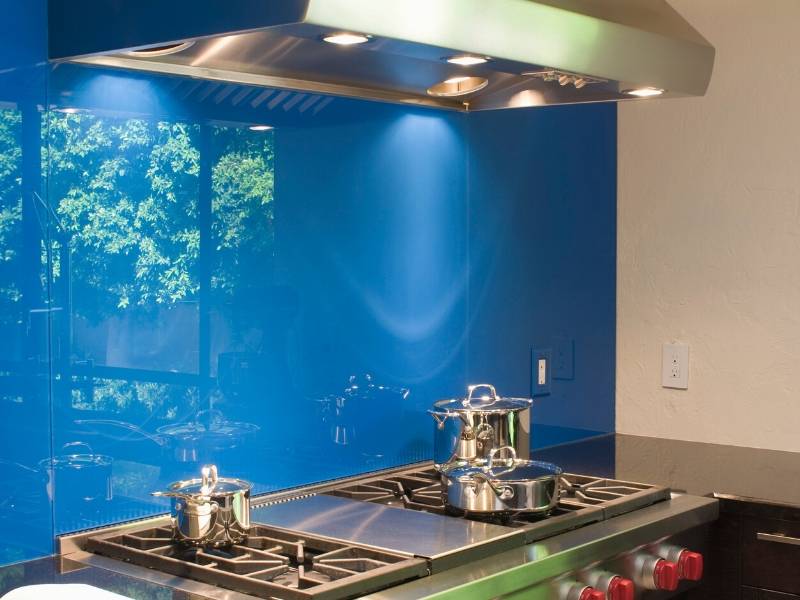 Advantages of Glass Splashbacks
Gives a Spacious Feel
One of the best benefits of glass splashbacks is that they reflect light. If installed correctly, it provides a spacious feel and reflects light back into the kitchen. This is great if you need the extra light due to small or no kitchen windows.
Because of sufficient reflected light, it also makes the kitchen more welcoming to the family and guests even during the blue winters and the dark evenings.
In comparison, you never get this much reflection with tiles, paint, or any other materials.
Loads of Options
Nothing beats the glass splashbacks when it comes to choices of color and effects. For instance, choose from simple, or solid color. Or, personalize it with photo effects. You might also try other designs such as crockeries, and fruits.
No matter what your style is or how you design your kitchen, you will get a glass splashback that goes perfectly with it. In addition, it can also be the focal point of your kitchen by further enhancing your design with some LED lights!
Easy to Maintain
No other splashback is easier to clean than the glass ones. Just take a clean cloth, dip it in washing solution of dishwashing liquid and warm water and wipe it on any stains to get rid of in a jiffy.
Different Price Ranges
Depending on your lifestyle and budget, you can select the strength of glass. While all are safe, the regular ones which are generally used for windows are the least expensive while the tough glass is the strongest and most resistant.
Disadvantages of Glass Splashbacks
Installation
Unlike the other types of splashbacks or paint, the glass splashbacks installation process is a bit more complicated.
Being glass, one needs to handle it with care. Furthermore, the installation crew must make the right fit for your splashbacks. Since it needs to have a neat finishing, professional tools are also required for the installation.
Expensive
A customize glass splashback is sure to be the center of attraction in your kitchen, but they're expensive. Custom designer splashbacks sometimes to into the thousands of dollars. However, you must also add installation costs, to that total.
Paint, on the contrary, costs much less and is easier to apply. But, you will never get the impact with paint, that you get from glass splashbacks.
Then, there are window glasses, which might not look as good as the custom splashbacks, but you still enjoy all the other benefits of glass splashbacks.
Conclusion
If you want a classy looking kitchen without compromises and you do not have much of budget restriction, contact your local dealers, and discuss the options of glass splashbacks. The wide range of options is sure to make it your next choice!
If you have any questions about glass splashbacks, please let us know in the comments below. For your convenience and further enjoyment, we've included other links below.
All Images Courtesy of Canva.
Other Posts You Might Like:
6 Inspiring Glass Countertops for Your Kitchen or Bathroom
3 Suggestions for a Sustainable Kitchen Renovation
Interior Decorating; How to Bring the Outdoors In
Share This Story, Choose Your Platform!