How functional is a typical wall cabinet anyways? Ergonomically, they don't function well at all. Most people can only reach the first two shelves comfortably in a wall cabinet that is hung at a normal 18 inches off the countertop. Just because most kitchens have wall cabinets doesn't mean it's a smart way to go. Let's explore a few kitchen designs that rock the look and function well.
3 Kitchen Designs that Function Well Without Wall Cabinets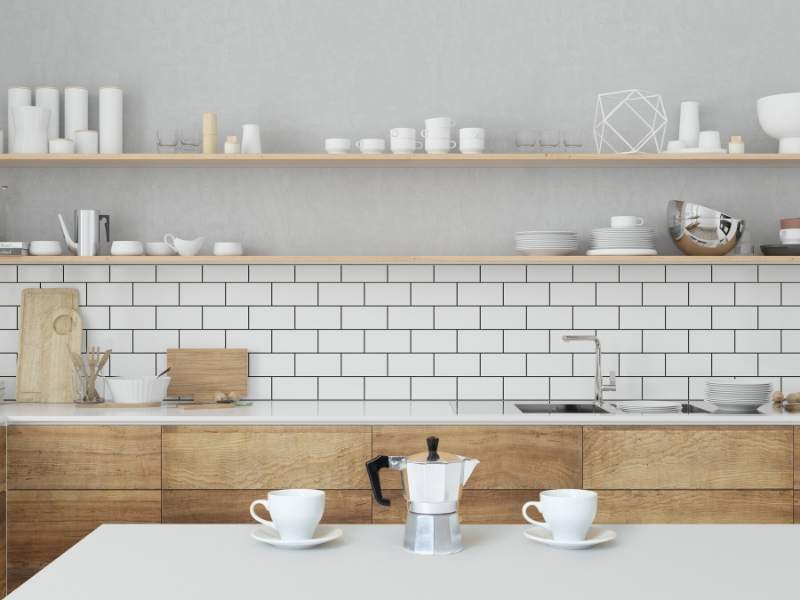 Small Kitchen Designs Look Bigger without Upper Cabinets
If your kitchen is small, deciding to go upperless will visually expand the size of your kitchen, tricking the eye into thinking the room is actually bigger than it really is. Not having uppers doesn't mean you can't take advantage of the verticle surface for storage because you can with a trendy utensil and pan racks. This can actually be more functional for a real cook because everything is right at your fingertips, no more having to open a door to get to something and it's all in plain sight.
Opting for Windows Instead of Wall Cabinets
As a kitchen designer, I always choose to add more windows in a kitchen remodel if possible. Even in my own kitchen remodel I decided a large window would add so much more to my design than a couple of wall cabinets. Especially if you have a view outside the window. Bringing the outside view in becomes a creative part of the design. Natural light is a plus in this scenario too.
Open Shelving Instead of Wall Cabinets
Open shelves in a kitchen make it super functional instead of wall cabinets. It allows you to organize your kitchen in a way that everything is visible. If you ask a chef, this is how they prefer to work in a kitchen. Just like you see in commercial kitchens everything is out in the open. With this design, you need to keep things organized in a neat orderly fashion or it can become cluttered looking. Kitchens without upper wall cabinets need to have organized accessories designed into the base cabinets, especially the drawers. You also want to design as many drawer bases as possible due to it being easier to pull out a drawer than to open a door, bend down, and reach in.
So you see, a kitchen designed minus upper wall cabinets is not just a trendy thing to do, it is also a smart and functional design!
Images Courtesy of Canva.
Other posts you might enjoy:
Open Shelves in Modern Kitchens
How to Build Open Kitchen Shelves
Minimalist Kitchen Designed on a Budget
Share This Story, Choose Your Platform!