For DIY enthusiasts all over the world, creating a workshop where you can do various different jobs is one of their main ambitions. This means that you have your own area where you have the room and equipment that is needed to complete tasks both big and small. So, if you are in the process of setting up a Home workshop, there are a few things that you will want to do to make the ultimate DIY workroom.
How to Design a Home Workshop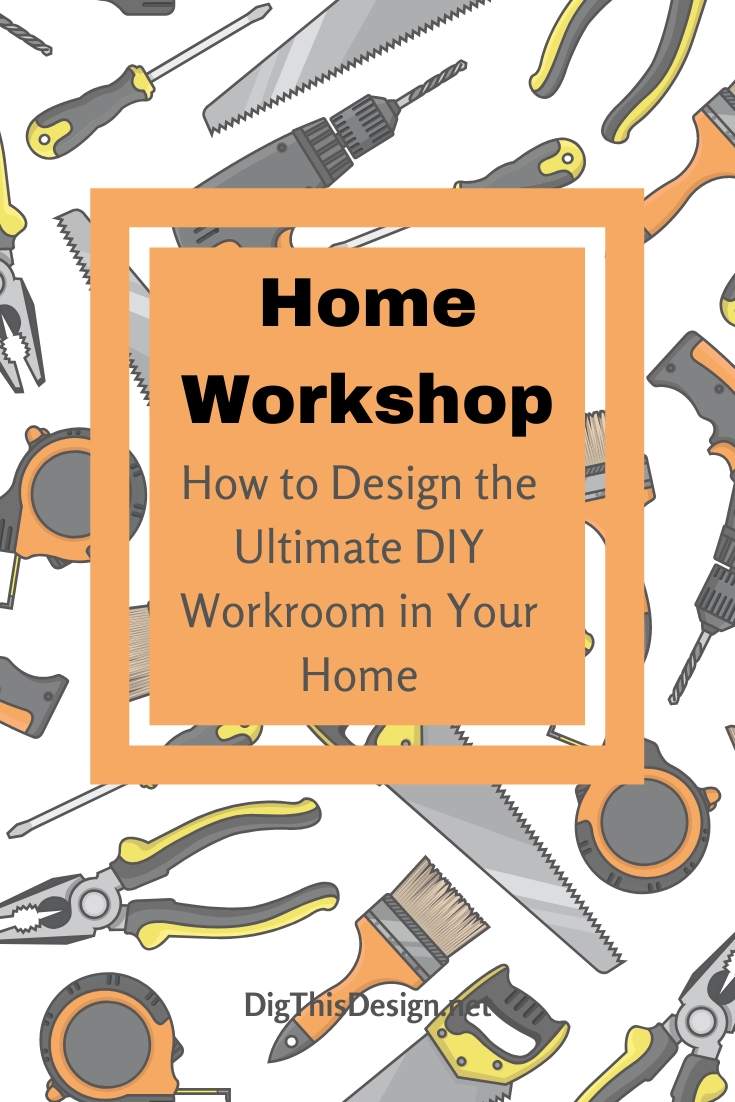 ⎆ Clearing Out a Spot
To start off with, you will need to clear the space that you are planning on using. Many people go for one which is outdoors like a garage or a shed. This provides the perfect opportunity to declutter the space so that you can get rid of as much unnecessary extra stuff as possible. Even if there are some things that you can't get rid of, you can still draw a line between your working equipment and other household items. Safety is your main concern and having a clear floor space free of clutter is needed.
⎆ Set Up Your Workbench 
Your workbench will form the hub of your DIY workshop so you will want to start with this. Whether you decide to buy it or build it yourself, you will want to make sure that it is strong and sturdy enough to withstand the rigors that you are going to put it through. The base and legs need to be sturdy enough so that it is not easily knocked over. The surface needs to be durable so it is not easily damaged or dented.
⎆ Designing Storage Systems for Your DIY Tools
The types of hand and power tools that you require really depend on what sort of jobs you will be undertaking in your home workshop. For any new equipment that you may be buying, it is worth checking out tool reviews from woodworking fuel.  There are various stand-alone tools that may be worth investing in including drill press, table saw, belt sander, vice, and grinder. Therefore it is important to shop around to ensure that you can get the tools you need to get your home improvement tasks done at the best possible price. For instance, if you decide that you need a polishing wheel grinder then comparing a few different options online first is strongly recommended. Once you have your workshop set up, you will probably continually add to it over time and want to consider space for growth too.
⎆ Electrical Outlet Locations
You will want to make sure that your electrical outlets are located well so you can reduce the need for extension cords wherever possible. Consider all of the different requirements you have for power including tool operating, lighting, heaters, radios, and computers. It is much better to have too many outlets rather than risk not having enough. You may need the help of an electrician if you require more.
⎆ Task Lighting in Your Workspace
Garages tend to be fairly dimly lit places which are why task lighting is so important. As well as your overhead lighting, you will probably also want an adjustable work lamp when you are completing intricate tasks. But for the main source of lighting, overhead fluorescent lights tend to be a good option as they are both bright and economical.
Images Courtesy of Canva.
Other posts you might enjoy:
DIY Sofa Tables to Dress Up the Back of a Couch
How to Successfully Complete a DIY Project
Easy DIY Ideas to Spruce Up Your Home
Share This Story, Choose Your Platform!