Bathroom Upgrades – 5 DIY Tips

There are many ways to improve your bathroom (including the self-cleaning toilet I fell in love with a few months ago).
However, a lot of them involve professionals, which costs time and money.
You may not think that this is the case, but in order to have a great bathroom, you will need to spend some money to get it done right. So, before you start the project, think about how much it will cost and how much time it will take to finish it. But these will all be worth it, especially when you're working with a reputable contractor, like Advance Remodeling. Your bathroom isn't just space for you to "do your business," but it should have a relaxing and accommodating feel to it.
Here are five quick and easy bathroom upgrades that you can do yourself. 
5 Simple DIY Bathroom Upgrades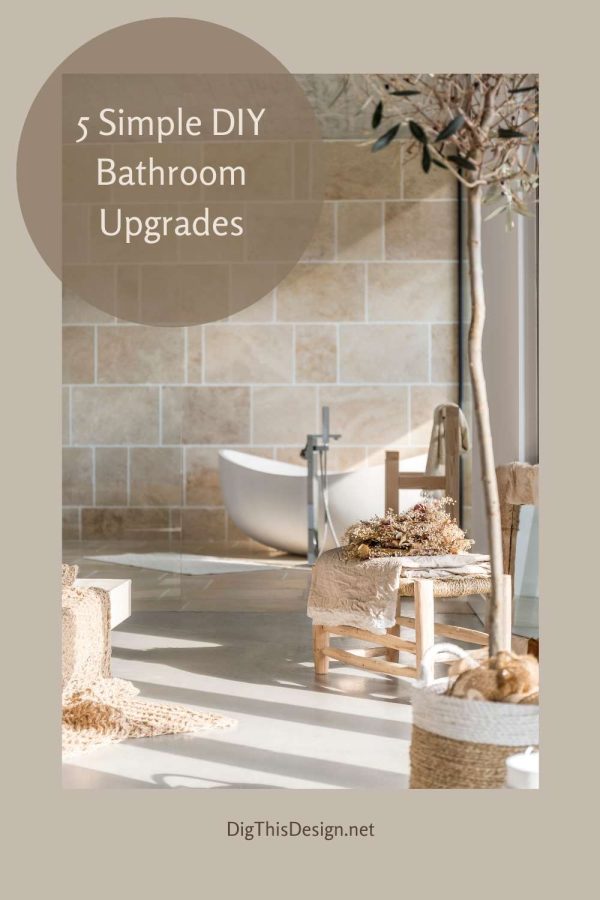 Decluttering
The most basic way to start improving your bathroom is by tidying it up. If you think that your bathroom looks too cluttered, you want to clean it up a bit.
How many empty shampoos or shower gel bottles are still hanging around in your bath or shower? Can you keep your moisturizer/makeup remover by your bedside instead? Sinks that have at least three open bottles of soap on it at the same time don't look good. If you keep your bath towels in the bathroom all the time, consider moving them to a nearby cupboard to get out when needed. Once you have decluttered all you can, chances are it will look much better, but the bathroom still might not be as tidy as you want. That leads me to my next point.
Storage
Investing in some storage for the items you still need to keep in your bathroom will help it look cleaner. If you have a lack of floor space, there are many cabinets you can easily install by yourself onto one of the walls. Lots of flat-pack kits come with all the screws you need, and some even come with the tools you need as well.
For the interiors of bathroom cabinets and drawers, clear plastic bins will also do the trick. It's a foolproof method for you to sort things according to kind, type, or whatever other means you have in mind. By doing so, it'll be easier for you to find extra toiletries and medicines when you need them since it's no longer a whole blob of mess hidden in a drawer.

A New Shower Head
Typically forgotten about unless you are completely re-doing your shower or bath, a new showerhead can change the feel of a bathroom. The good thing about updating the showerhead is that most of the time you can do it yourself, without the need for a plumber. It also has the bonus of enhancing the functionality of the bathroom itself, not just the look of it. If you don't know much about showerheads, ListOfBestStuff has a best shower head guide, so you can get an idea of what you want.
Wallpaper (or Paint) 
In addition to this, you also want to check the different colors you can use as bathroom renovation ideas. These colors may change depending on the time of year and the type of wallpaper that you use. You may want to go with the same color scheme throughout your house or even go with some colors that are bolder and more exciting.
Feature walls are back on the rise. While most people usually place them in their living rooms or bedrooms, they can also go great in your bathroom. There are many different types of wallpaper styles to maximize the layout of the room you have. For example, a pattern with vertical lines will make a ceiling look higher if it is a small space. Turning those stripes on their side will give the effect that the area is wider than it is. A coat of paint on one wall (make sure to pick a color that matches your furnishings or tiles) can give a more modern feel to the room.
Mirrors
A big mirror can give the illusion of space and it looks stylish too. You can get the traditional mirror and cupboard combo right through to newer styles that have soft LED lights built-in. They work using batteries, so no need for extra wiring and they look great. Make sure to ensure that you are careful when installing. Take the weight into consideration, especially if you go for a wider or heavier choice.
Final Word
Just doing one of these bathroom upgrades completely change how your bathroom feels. Apart from the tips enumerated above, you can also jumpstart your search for more ideas by looking at websites, social media, and even the old school magazine for DIY bathroom renovation ideas. This will give you a chance to see how others renovate their bathrooms and the various techniques that they used.

Images Courtesy of Canva.
Other Posts You Might Enjoy
Vintage Bathroom Design: Keeping It Classic
Maybe You Don't Need a Whole New Bathroom; 3 Tweaks to Give a New Look
4 Tips To Face Lift Your Bathroom
How to Do a Bathroom Renovation Without Spending Your Entire Budget
https://digthisdesign.net/wp-content/uploads/2017/04/5-Simple-DIY-Bathroom-Upgrades1.jpg
1080
1080
Patricia Davis Brown
https://digthisdesign.net/wp-content/uploads/2022/11/OLD_DigThisDesign_logo-300x225.png
Patricia Davis Brown
2017-04-08 08:00:18
2020-12-05 08:12:39
Bathroom Upgrades – 5 DIY Tips