Because the open concept design is so popular in home design today, there is a lack of walls to place furniture on. My couch layouts are floated in rooms and end up with their backs exposed and visible. To create a more decorative look I recommend adding sofa tables or console tables that can be accessorized or made to be repurposed for useable added space. Today's post shows ways you can design your own sofa table that looks great and cost little to make or have made.
DIY Sofa Tables – 5 Easy to Do Ideas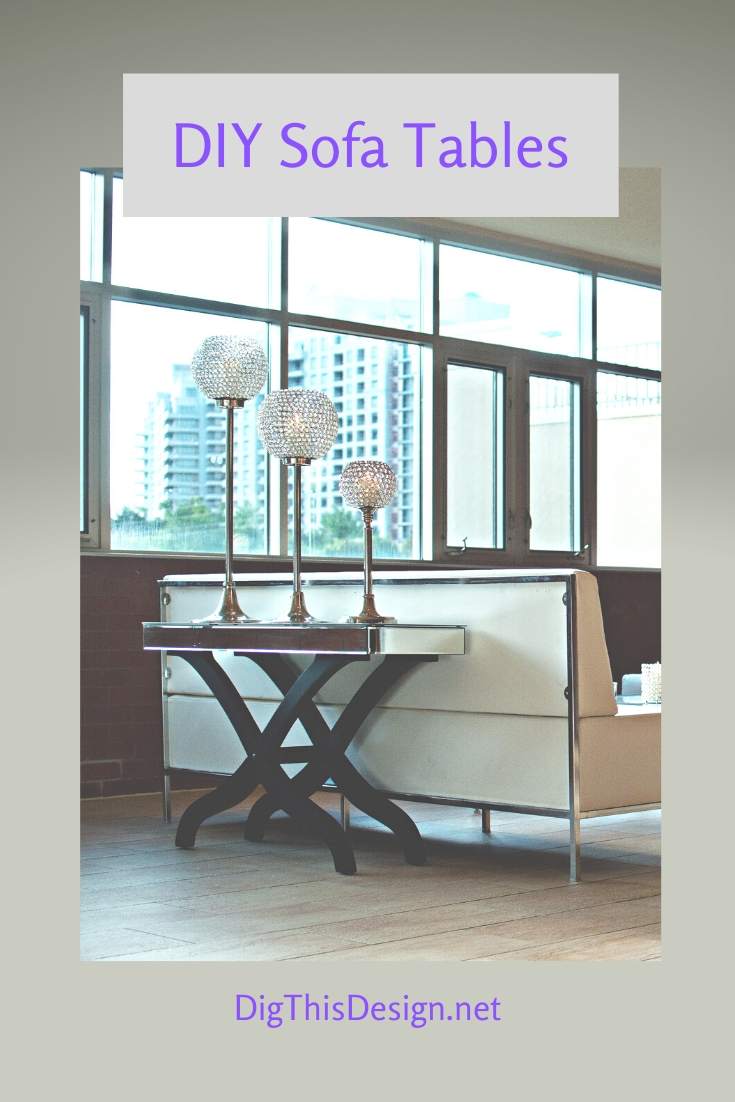 Additional Storage
Try using an eclectic modern style, simplistically designed. You can use sofa tables as additional storage which is always useful. The "X" design really jazzes up what would have been a pretty boring couch back.
Popping Color
Choosing a bright color can really add excitement to your room. If you have neutral furniture this might be a great idea. The bright yellow console table has a rubbed through the finish and sets up perfectly to introduce some accessories to the room.
Office Space
A console table used as a desk works great. Whether you are in need of a message center or an actual desk to work at this could make a great spot. As long as you don't keep a messy desk this would make a nice multipurpose piece of furniture and work well in a small room.
Adds Additional Table Space
Your DIY sofa table doesn't have to be perfect when placed behind a couch and wall. This is a smart way to add extra tabletop space where it might come in handy like for lamps to add additional lighting to an open living room. Many times in an open living room concept there are not floor outlets to plug-in lamps and you have a problem with exposed cords. The console table behind the couch makes it easy to hide ugly cords and be able to plug-in lamps. You might even consider designing a charging station here to charge your devices.
Images Courtesy of Canva.
Other posts you might enjoy:
Furniture Tips for Proper Care and Maintenance
Why the Beauty of Solid Wood Furniture is Unmistakeable
Living Room Furniture – Choosing the Best Seating
Share This Story, Choose Your Platform!