Most people pay less attention to the bathroom than other spaces like the living room. However, some, myself included, fantasize about a beautiful space in my bathroom. For instance, I have designed my bathroom to bring out a more relaxing and luxurious feel – it is the perfect oasis I could ever imagine. 
The good thing about bathroom designs is that they aren´t as complicated as some may think. I designed my bathroom myself and loved the results. Below, I have reviewed all you need to know about creating your perfect oasis, including tips on selecting the right basin taps. Read through to learn more. 
Tips for a Spa-Like Bathroom Design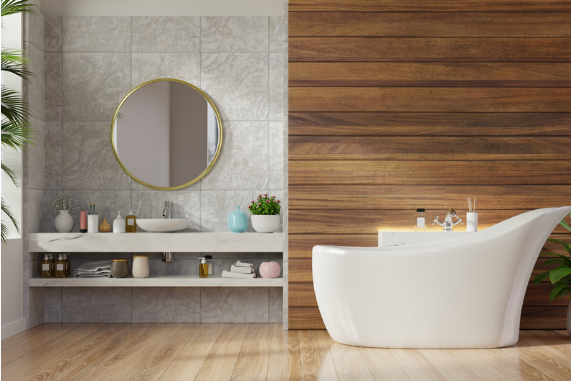 Bathroom Design
Bathroom designs are varied. The wide diversity of a bathroom design gives you the flexibility to choose one ideal for your style and personality. Below are tips on bathroom design I recommend you to consider. 
Dark and Gold Tones
Do you fancy an unparalleled modern bathroom? If yes, then golden accents and dark hues are what you need. Adding these unique features to your modern bathroom will bring a sense of relaxation and beauty, and I guarantee you´ll love the results. 
Black and White Bathroom
I recommend a black-and-white color scheme for people who like a more contemporary bathroom. I further complimented mine by adding golden accents. For fixtures, add a Koi mirror and a single washbasin. 
Modern Marble Bathroom
This bathroom merges several historic designs to create your perfect oasis. It combines Roman, Greek, Victorian, and Art Deco styles to create a modern and luxurious environment, ideal for relaxation. 
How to Design Your Bathroom Oasis
Follow the steps below to design your perfect bathroom oasis.
The most prominent furniture or fixture for your bathroom should be considered first. Determine the available space and align your fixtures accordingly. Strategically position it in the bathroom before considering other fixtures. This way, you can set the tone for the area and have a theme when adding additional fixtures to the bathroom. 
For facets and hardware, consider configuration and finish. For the facet configuration, confirm what your vanity recommends. You may need a single hole, 4-inch, or 8-inch widespread. The next consideration is the finish. Spot-defense brushed nickel works well for bathrooms used more frequently as it prevents watermarks and fingerprints. 
The tile you select should match in tone, with your vanity. The next thing will be deciding whether to go for larger or smaller tiles. Note that larger tiles are easy to clean, while smaller ones can seamlessly form appealing patterns. 
Tiles should be functional and comfortable. Marble tiles with hex shapes can fit well in kids' bathrooms as they are geometric and playful. On the other hand, large grey tiles can fit perfectly in a powder room with floral wallpaper.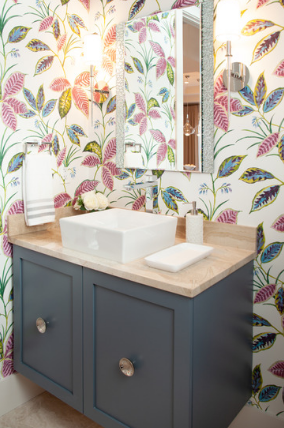 After tiling, you should select the lighting of your bathroom design. While it seems the easiest of all steps, it may be challenging. First, identify which lights will perfectly complement your bathroom's complexion. Here are several options: 
pendant, 

flush mount, 

sconce, or 

valance light. 
After selecting the light, choose the finish. Two lights in the bathroom are just the right amount to avoid making the space clumsy. The next step is selecting the bulb color. Choosing the right color is essential as some light color changes how your fixtures in the room appear. Note that the lower the kelvin, the yellow the light, while the higher the kelvin, the blue the light. This is important because a kelvin temperature above 2700K can start to grey out the finish of your bathroom design.
Wall Treatments & Accessories
Wall treatments and accessories come last after you've considered everything else. Here, you must decide on the paint color or the wallpaper. Consider adding more accessories, probably on the walls, to add complexity to the space. 
Additions
After designing the perfect bathroom design oasis, it is time for additions. Consider the following:
Greeneries
Living plants have aesthetic values and health benefits. Their beauty makes the room more appealing and brings a feel of fresh air. Also, they produce a pleasant scent to make the bathroom room design lively. However, ensure the plants you add to your bathroom design endure high humidity, warm temperatures, and low light conditions. 
Spider plants, orchids, air plants, and golden pothos, among other plants, thrive well in the bathroom environment. But remember to choose a pot that matches your room's complexion. 
Add Scents
Scents are a must-have in your perfect bathroom design oasis. They will cover unpleasant smells and create a relaxing atmosphere in your bathroom. However, the fragrance you consider shouldn't be too strong to overpower the natural scent of your space. One way you can add scent to your bathroom design is by adding candles.  
Put your candles in candle jars and strategically hang them in your bathroom. If candles aren't your thing, consider burning essential oils. They are great for aromatherapy. 
Install a Steam Shower
A steam shower is relaxing and adds a luxurious touch to your bathroom. In addition, steam showers improve your physical and mental well-being. Consider having one in your bathroom design. Unfortunately, many individuals find installing this shower in their bathroom challenging. If so, consider hiring a professional plumber to install it for you. 
It Is Time to Upgrade Your Rug
Most individuals ignore the bathroom rug when designing their bathrooms. For your perfect oasis, consider a soft and absorbent bathroom rug. The small carpet should also be quick to dry. A microfiber or memory foam for a bathroom rug is more suitable since they are more synthetic. 
In conclusion, crafting the perfect oasis in your bathroom is a rewarding endeavor that brings comfort, luxury, and personal style into this often-overlooked space. The diverse range of bathroom designs, from the opulence of dark and gold tones to the contemporary appeal of a black-and-white scheme or the timeless elegance of a modern marble bathroom, allows for creative expression suited to individual tastes.
The process involves careful consideration of key elements such as vanity, faucets, hardware, tiles, lighting, and wall treatments, ensuring a cohesive and visually pleasing result. Beyond these foundational aspects, the addition of greenery, subtle scents, a steam shower, and a plush bathroom rug contributes to a holistic experience. By following these steps and infusing your personality into the design, you can transform your bathroom into a sanctuary, a space where relaxation and rejuvenation seamlessly coexist. Upgrade your bathroom, and indulge in the art of creating your perfect oasis.
Other posts you might consider:
Bathroom Design: Refinished Bathtubs for a Stylish Makeover
Bathroom Design; Transformation on a Budget
Share This Story, Choose Your Platform!