Making your home feel put-together and stylish is all about thoughtful decorating. By learning the art of layering decor, you can create a space that feels cohesive, polished, and uniquely you. 
Easy Tips for Layering Decor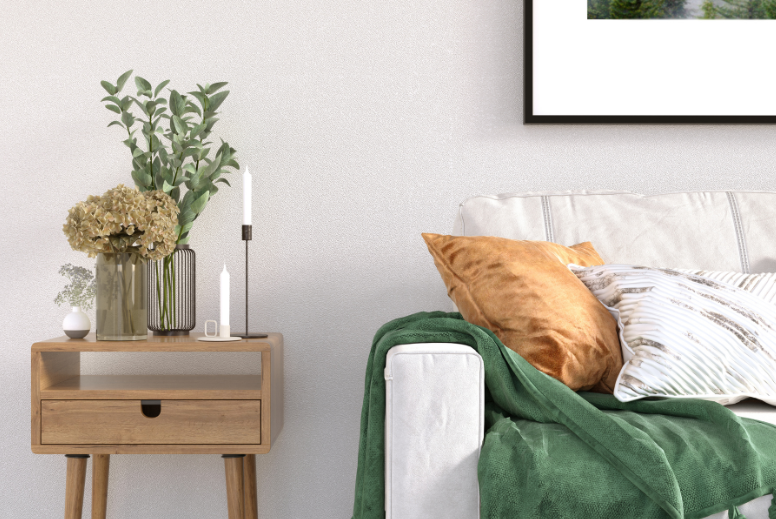 Follow these tips to take your home decor from bland to beautiful.
Start with the Floor
They say that the shoes make the outfit, but in home decor, it's the rug that sets the foundation.
When arranging a space, begin with an area rug that establishes a color palette and the intended vibe for the room. For example, 9×12 rugs work well for defining seating areas in living rooms and master bedrooms. Go for lively patterns and textures that speak to your personal style—that way, you can layer other accents on top.
Add Height with Layered Lighting
Overhead lights alone can make a room feel flat and boring. For visual interest, layer in different lighting zones so you can set the desired atmosphere. Try pendant lights over a dining table or kitchen island, sconces flanking a bed, and accent lamps on side tables. 
Mix metal finishes (for example, brass, silver, and black) for lots of shine and dimension, and keep in mind that dimmer switches allow you to control the ambiance.
Display Meaningful Art
Carefully chosen wall art instantly livens up lackluster walls, so opt for special pieces that make you happy or relate to your life and interests. 
Gallery walls featuring several framed photos, prints, and paintings are a popular way to decorate with personal flair. Hang your art at eye level so you can admire it, and for big statement pieces, go bold above furniture such as sofas, beds, and dressers.
Style the Surfaces
From console tables to nightstands, a little styling goes a long way. Curate vignettes of decor items such as trays, candles, books, and framed photos. If you have a console or mantel, add height with decorative urns or vases. 
On coffee and side tables, stack decorative boxes and top them with lamps or pottery for a collected look, and try to incorporate special mementos and objects with meaning throughout your displays.
Layer the Window Treatments
You can never have too many layers at the windows: start with drapes in fabrics such as linen, to frame the window and add privacy; on top, hang feminine sheers to filter the light attractively; and if needed, add roll-down shades to block irritating glare without sacrificing the view.
For bedrooms, blackout curtains ensure you can sleep in peace. There are many styles of curtains to choose from and working with a professional designer is a good idea to help you pick the perfect drapery style for each room.
Bedding
Bedding is another opportunity to layer patterns, textures, and colors.
Start with cozy sheet sets in solids or subtle prints as a base, then add a duvet insert and duvet cover in a fun pattern layered over the sheets. Fold the duvet down slightly at the foot of the bed for a pop of color.
Finish with plenty of plush pillows in different sizes and fabrics—silk, velvet, and faux fur all say luxury.
Style the Seating Areas
Create inviting spaces for people to lounge with layered seating areas.
Include a larger sofa or sectional combined with accent chairs and ottomans. Roll arm styles give a traditional feel while low-profile frames feel more modern. Texturize with cozy elements including soft throws and plush pillows. Wooden end tables tie seating groups together, and they also provide surfaces for table lamps and decorations.
Other posts you might enjoy:
5 Home Decor Tips for Soothing and Calming Ambience
Decorating Tips to Make Your Home Cozy
Share This Story, Choose Your Platform!