A backyard patio can be the perfect setting for a party, barbecue or another type of gathering with friends and family. Spending time in your outdoor living area allows you to enjoy all of the sights and sounds of nature without having to leave the comfort of your property. Today, there are plenty of creative options available if you would like to boost the appeal of your backyard patio area. You can make big changes to completely transform the appearance of your patio and surrounding yard. Or, you may prefer to make a few small, yet meaningful changes that help to achieve the look you want for your property. Take a few minutes to consider some suggestions on how to make your backyard a more inviting place.
Outdoor Living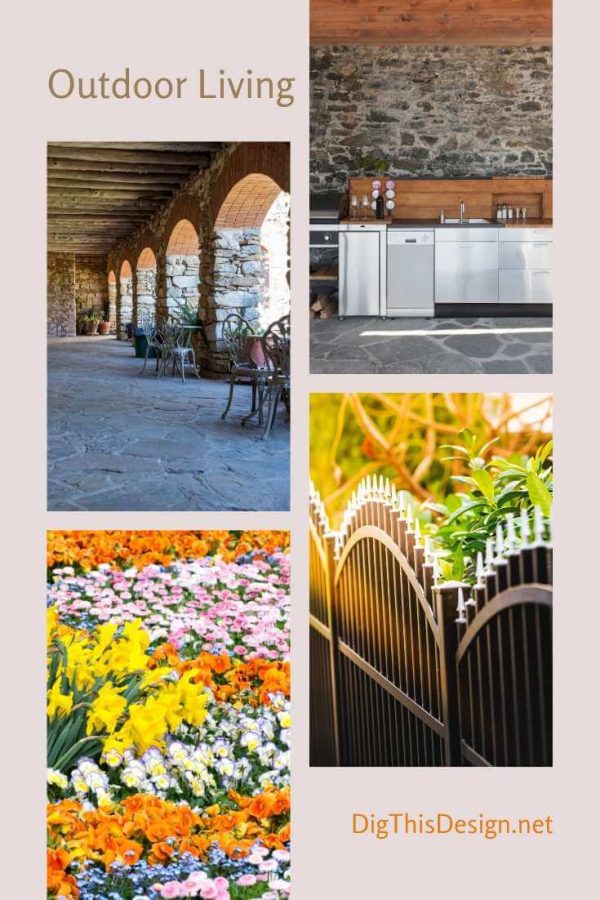 Create Colors with Blooms
Colorful landscaping can set a cheerful tone in your outdoor living space. The trick is to plant a flower garden palette that is pleasing to the eye. Plants of various sizes, type's and colors can complement one another. They can also draw a viewer's attention to different areas of a garden. A simple border made of decorative stones or rocks can be the finishing touch a garden needs to look its best. In addition, putting in a simple garden path is a great way to make a backyard collection of flowers look more attractive. Landscapers Toronto at Gardenland has the experience and creativity to help homeowners build a backyard garden they'll love.
Real Stone Patio Decks
I always recommend using a real stone deck as opposed to a concrete one. Concrete is cold and has no character. One way to add warmth is with flagstone. Flagstone can transform a plain outdoor living patio into the highlight of a backyard. The different colors and shapes on display in a flagstone patio can enhance the look of the furniture and other items in the area. You may choose furniture that complements or coordinates with your flagstone design. Some homeowners opt for wrought iron patio furniture while others prefer wicker items. The durability of flagstone makes it a great choice for a patio that is used by a family year round. You may want to change the atmosphere of your patio even more by adding a set of steps. These steps may lead to a barbecue pit, the garden or another area of your backyard. A simple railing adds an element of safety to your steps and is yet another detail in the creative design of your backyard.
Add An Outdoor Kitchen
An outdoor kitchen can be the main attraction of a backyard patio. This unique kitchen can include a lot of features such as a sink, gas grill, refrigerator or even a dishwasher. Interlocking stones can make an outdoor kitchen look all the more impressive in your patio area. Cooking for friends or preparing an alfresco lunch is a pleasure in an outdoor kitchen with a modern design.
Install Attractive Fencing
Putting in a fence can make the design of your outdoor living area look more complete. A fence gives you and your family privacy as you host gatherings for your friends. Also, a fence serves as a pleasing backdrop for a lovely garden. In addition, your fence can be a wonderful support for morning glories and other flowers that like to cling to a fence as they grow. A fence also creates a safe area for children and pets to play without leaving the property. If security is key, you might consider metal railings. This gives parents peace of mind while adding interest to the appearance of any backyard.
Conservatory
If you live in a cold state but want the sunshine all year long, you might want to consider an oak conservatory. A conservatory adds so much light to a home and can cut out depression associated with long winter months.
Finally, making small changes to a backyard or adding just a few new elements can refresh its overall appearance. You may have a scattering of ideas of your own for your patio or perhaps you would prefer to leave the design planning to the experts. In either case, this fresh atmosphere can make your guests feel more welcome in your home. You're likely to want to spend even more time on a backyard patio that has taken on a whole new look!
Images Courtesy of Canva.
Other posts you might enjoy:
Selecting Outdoor Furniture – 5 Things to Consider
Orange is Trending in Outdoor Design
A Tropical Home for Maximum Outdoor Living
Making the Most out of Your Outdoor Living Space this Summer
Share This Story, Choose Your Platform!