Having the right tools for any project is the difference between good or poor quality work so if you're an HVAC tech, being stocked with the right set of tools ensures that no matter the scenario, you always make the right diagnosis and repair.
The demand for HVAC tools is predicted to increase by 6.8% annually through 2019, therefore, it is more important than ever to have the right tools for good business. Are you unsure about which tools to keep in your toolkit? Don't worry, we have you covered. Continue reading for excellent and detailed information about the tools you need as an HVAC tech.
The Ultimate HVAC Tech Tool List for 2019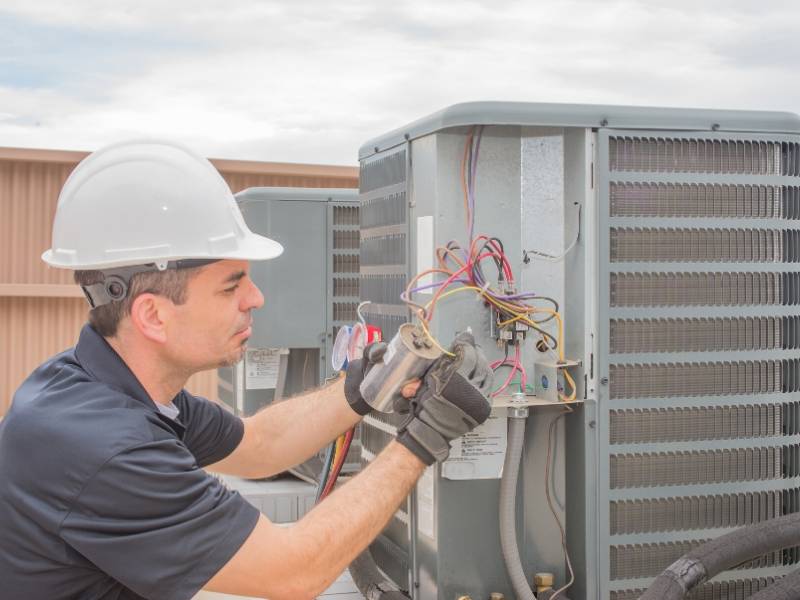 HVAC Tech Training Tools
The HVAC industry has become a rapidly growing industry. According to the Bureau of Labor Statistics,  the demand for HVAC technicians is going to rise by 15% by 2026.
Meaning this field is not only going to become a lucrative job opportunity but also a competitive one. Therefore, it is vital that you have the right set of tools to work with in order to make a good impression and set yourself apart from others.
Having the following set of tools will be beneficial for you both in school and beyond.
Working gloves and safety glasses: As a novice, avoid potentially fatal injuries by ensuring safety first.
Snips to cut sheet metal: Straight cut, right cut, and left cut are the three main types of tin snips. They are must-haves for HVAC installers and sheet metal workers to cut metal and insulation sheets.
Pipe wrenches/Combination wrench set: Have a set of varying sizes as they will come handy while installing and replacing gas lines.
Pliers: For beginners, lineman's, needle nose, and tongue-and-groove varieties are good choices until you develop a practiced hand.
HVAC Hand Tools
For a well-rounded toolkit to be able to perform a variety of tasks, stock up with these tools:
Thermometer: The thermometer is best friend. Of course, there are many options available. Those options include the dependable, solar power digital thermometer, dual temperature. But, infrared digital is your best option. Stock up on these thermometers as it is a common mistake to leave one behind.
Drill: A drill is an essential tool in your toolkit. There are many varieties available, but a cordless concrete hammer drill is the most ideal for heavy-duty work.
Wrenches: Crescent and Allen wrenches are non-negotiable tools. So, ensure that you have a variety of sizes to deal with different fixtures.
Hammer: This versatile tool is perhaps the most obvious tool in the list. Also, opt for a carpenter style hammer, which makes for an all-purpose tool.
Electric Testers: As a technician, working with electricity is inevitable. Of course, you can select a multi-purpose electrical tester or a simple one.
Leveler: This will ensure you install air conditioners, thermostats, or furnaces in a uniform manner.
Screwdrivers: Stock your tool kit with a variety of screwdrivers suited for different functions. Pick those with an insulated handle for safety if you work with electricity.
Tape Measure: Taking measurements will be a common task during your job. Choose a tape which can measure 25 feet or longer, and pair your tape with a permanent marker so you can mark measurements simultaneously.
HVAC Sheet Metal Tools
Sheet metals are vital for hot and cold air transfer between driving units, so if you are involved in cutting, repairing, and handling sheet metal, keep these tools in your toolkit.
Shears: The most commonly used tool that you will use for cutting. Select a durable, steel construction with an insulated handle for long-lasting use.
Aviation snips: These are ideal for cutting aluminum and sheet metal. They are color-coded each of which is designed to make specific cuts.
Crimpers: This multi-purpose tool is a must-have in your stock. They can cut sheet metal and wires as well as crimp connectors.
Awl: With this versatile tool, poking holes in piping has never been easier.
HVAC Ductwork Tools
These tools are essential, specialty tools for technicians who deal with ductwork installation and repair.
Staple Gun: This staple tool of your toolkit will ensure that your insulation and sheet metal stay in place.
Scratch Awl: This is used to scribe a line so that you can follow with a handsaw or chisel.
Caulking Gun: For a clean finish on the job, use a dripless caulking gun to seal ducts and fix holes.
Tubing Cutters: This inexpensive yet effective tool will help you make clean cuts on metal and plastic tubes.
HVAC Specialty Tools
For those in specialty sectors in the HVAC industry, the array of tools is even wider.
Core removal Tool: They remove and replace valve cores without sacrificing refrigerant charge.
Multimeter: This should be on your tool list without exception. To know the voltages involved is as important for your safety as it is for the job.
Psychrometer: They measure and rate the airflow and air mixtures and read relative humidity.
PVC Cutter: This relatively inexpensive cutter makes clean cuts on PVC pipes.
Saw: HVAC Techs swear by Sawzall and for good reason. This handy tool can cut through sheet metal, drywall, wood, condenser, you name it.
Extension Cord: A good length cord is very useful in the field.
Leak Detector: Used to detect any leaks.
HVAC Safety Tools
As with any line of work, safety comes first. In fact, no work is more important than your life. HVAC technicians deal with electricity and heavy-duty tasks which often run the risk of injury. Minimize the chance of accidents by gearing yourself up with these tools.
Work Gloves: The designers of this glove had HVAC technicians in mind and use protective cloth, insulation, wet/dry grip, etc.
Durable Shoes: Wear durable, steel-toed work boots for all the climbing and carrying heavy equipment your feet have to endure.
Flashlight: The most obvious item on the list; keep a small one in your tool belt and a larger one within the toolkit.
Safety Glasses: Invest in good quality eyeglasses to protect against debris and dust.
Ear Plugs: It goes without saying that HVAC work is loud; protect your ears with good quality ear-muffs.
HVAC Business Tools
HVAC tools are not only limited to fieldwork. Being business-savvy with the correct tools will be beneficial for future projects.
Communication Capabilities: Incorporate a field service program with in-app chat facilities to keep in touch with techs on the field to stay updated on work progress and make changes based on feedback for better customer satisfaction.
Mobile HVAC Software: An HVAC software can make a huge difference in the scheduling and administrative aspects of your business. You can schedule your team, exchange information, communicate with customers and process payments.
This will help you provide a better quality of work and customer service.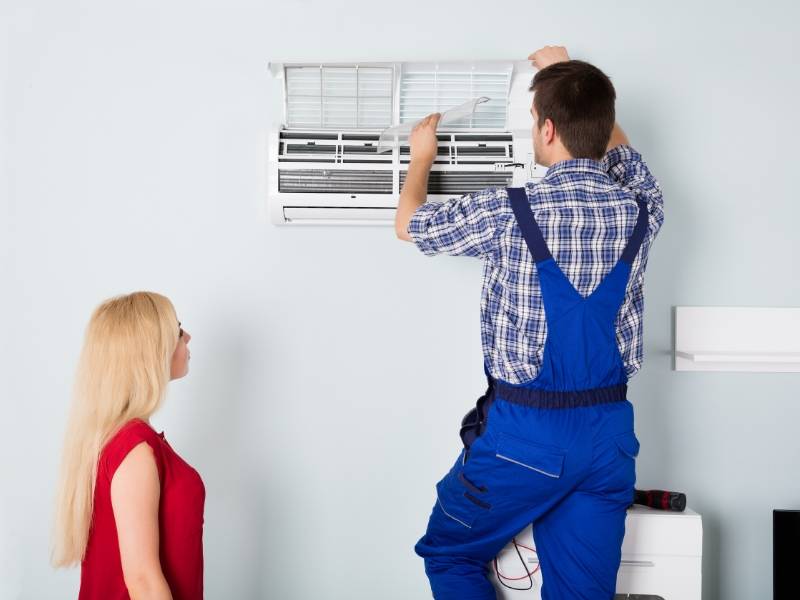 HVAC techs have to deal with a variety of work. Whether you run a business guiding other techs or are a tech yourself, it is important to be armed with the right tools so that you are off to a good start.
Use the above list to guide you and modify it as you become more experienced. A well-stocked toolkit will make for a dependable technician and a happy customer.
If you're an HVAC tech, we'd love to know in the comments below how you fill your toolbox. We've also included links below for your further enjoyment and education in caring for your home.
Other Posts You Might Enjoy:
Things to Check Before You Call an HVAC Repair Technician
4 HVAC Energy Savings Tips You Need to Know
5 Air Conditioner Tips for a Cool and Pleasant Home
Share This Story, Choose Your Platform!