There are many choices of hardwood flooring or wood-like flooring in the marketplace today. It can be overwhelming trying to decide which is best for your home and lifestyle. In today's post, we are going to explore the many products available to give you the warmth of a wood floor and the facts about them.
Which Wood Flooring is Right for Your Home?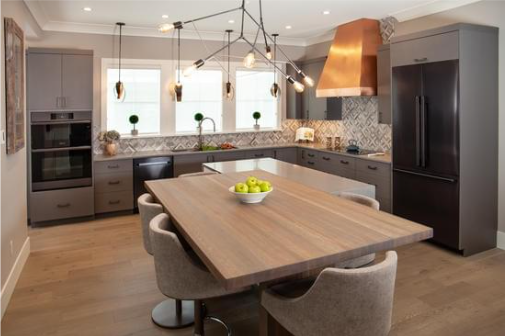 Design by Patricia Davis Brown
Luxury Vinyl Plank Floors
You can consider luxury vinyl plank flooring if you are looking for a good hardwood-looking floor. Some vinyl floor systems have a built-in click-lock system, making them a good choice for high-traffic areas. In addition, this type of flooring is waterproof and also economical to install. The core of laminate flooring is usually wood byproducts, medium-density fiberboard or high-density fiberboard with a simulated wood design.
Click-lock Engineered Hardwood Flooring
Some engineered wood flooring systems use a click-lock method which is much easier to install with a Click or Lock Flooring. The click-lock system uses patented aluminum clips to hold the flooring in place, eliminating the need for nails or glue. In addition, the Easy clip system comes with an underlayer for extra stability. The flooring is offered in many wood species including  the most popular, oak, cherry, maple, ash, and walnut.
Another great feature of this type of flooring is its durability. Engineered hardwood flooring is more durable than solid hardwood because it is more stable and can last up to 30 years with proper care. Its core is a real wood engineered with special properties such as moisture resistance and high durability. Engineered hardwood flooring top layer is real hardwood and the thicker the top layer is the more expensive it is and can be sanded and refinished more times.
Quick-Step introduced the Uniclic system in 1997. It's a global patented system that guarantees quick and easy installation. It was followed by the Perspective laminate flooring range launch, which has a V-groove in between planks. The Uniclic Multifit system is an evolution of the original system introduced by Quick-Step. It features two locking methods, making it easy to install even for those who don't have experience with installing flooring.
Solid Hardwood Flooring
Hardwood flooring is made of solid wood and is offered in many hardwood species like Maple, Oak, Walnut, etc. It has a longer lifespan than engineered wood flooring because it is solid wood whereas engineered wood has only the top layer that is limited on the number of times it can be refinished. Hardwood is installed on a plywood subfloor and in a humid climate or on a slab construction foundation it would be susceptible to moisture and could be problematic.
Other Posts You Might Enjoy:
What to Know About Engineered Wood Flooring
Which Flooring Should You Choose
Hardwood Flooring and the Maintenance Involved
Share This Story, Choose Your Platform!