Getting started with any skill requires a bit of work on your part. Whether you attend university, go to trade school, or study your newfound hobby independently, it's important that you learn the basics thoroughly and consistently. Tips for welding beginners is designed to give you the basics from which you can build.
Welding is a great skill that can help you with many DIY projects, but you need to make sure you have the proper equipment and know the procedures first. If you're just starting out, it can be difficult to pick it up. Luckily, we've made our business to bring you the four best tips for welding beginners.
4 Tips for Welding Beginners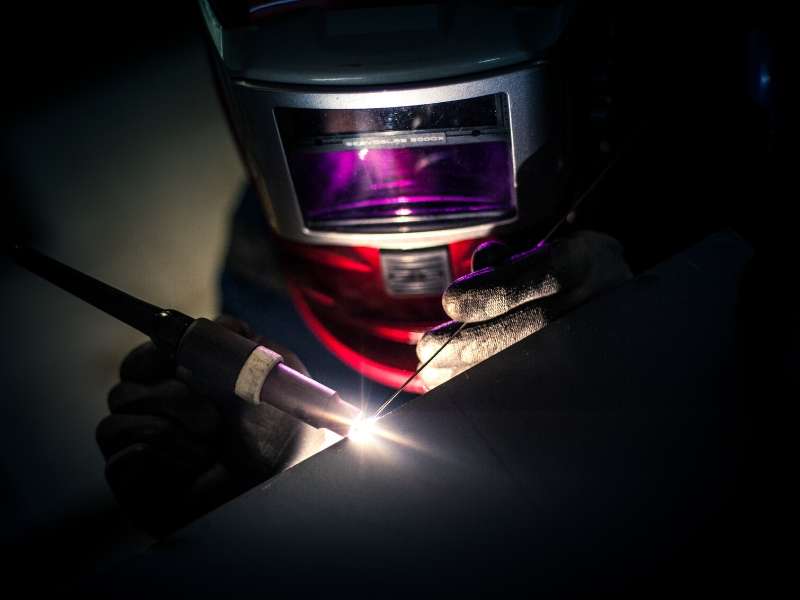 1 • Understand Welding Methods
Before you start welding, you must first know about the different types. While there are over 30 different ways to weld, the 3 most popular are TIG, MIG, and stick welding. What you choose will depend on the material you're welding. MIG is ideal for hobby welders working with steel, and stick welding works with cast iron. You can apply the TIG method on many materials, like copper, brass, and titanium.
Your method will also depend on your environment. For example, if you choose to pursue underwater welding, you will have to understand how your equipment will react in salt water. This article from Welding Headquarters explains everything about this specialized practice in detail.
2 • Always Protect Your Eyes
You should never look at the welding arc directly. This tip applies whether you are doing the welding yourself or you are observing a friend or mentor. Buy a proper welding helmet to protect your eyes from damage.
There are many high-quality helmets available that won't break the bank. As long as you take proper care of it, your new helmet should be able to last years. We recommend a helmet with an adjustable shading function. These allow you to see your work when sparks are flying. This is a must-have for all welding beginners!
3 • Find a Teacher
Many welders learn to weld from formal, in-person courses. This will allow you to learn in a structured environment that you may find most familiar. If this option isn't available to you, try finding an independent teacher, friend, or acquaintance to help you practice.
If there's no one around to teach you, try learning online or from instructional DVDs. A quick Google search can show you a ton of resources, some of which are free of charge! While it's best to have someone physically present who can check your work and advise you on safety, a digital education is the next best thing.
4 • Know How to Prepare Your Weld
Before you start any project, prepare your weld. Any quality instructor will teach you to do this, as it will minimize the likelihood of a weak weld. There are three things to consider in your preparation:
Clean your surface down to the bare metal. You may use a wire brush or sandpaper, then use a metal cleaning product.
Apply a primer to prevent corrosion and rust to your project.
Ensure the end of your wire doesn't have a ball. This will start your weld off on the wrong foot. Use wire cutters to cut the ball off before you begin.
Conclusion
Welding is a difficult, yet rewarding skill to learn. It's appropriate for DIY metalworking projects around the house, as well as for forging a lucrative career.
When you practice, make sure you have a stable and comfortable working position that won't strain your muscles while you work. This skill is physically demanding, so always make sure to take breaks when needed. While you may want to learn to weld fast, taking your time with the basics is always better.
Images Courtesy of Canva.
10 Tips To Keep Your Home Clean And Fresh During The Summer
10 Factors to Consider When Hiring A Professional Plumber
Building Owners Beware: 3 Vital Functions of Roofing Insulation
Share This Story, Choose Your Platform!