Summer is approaching us, so you better be ready to beat the heat with your trusted air conditioner. Does the big external HVAC unit disrupt the gorgeous landscape you worked so hard on? If so, I have a solution for you. You can hide your external heating and ventilation unit in many different and beautiful ways to keep your garden's beauty intact. So, start working before the heat strikes! There are two key points that must be remembered before covering your external HVAC unit. One of them is to make sure you don't block the ventilation. Secondly, make sure to check out with a professional if your HVAC unit needs to be replaced.
7 Ways to Hide Your HVAC Unit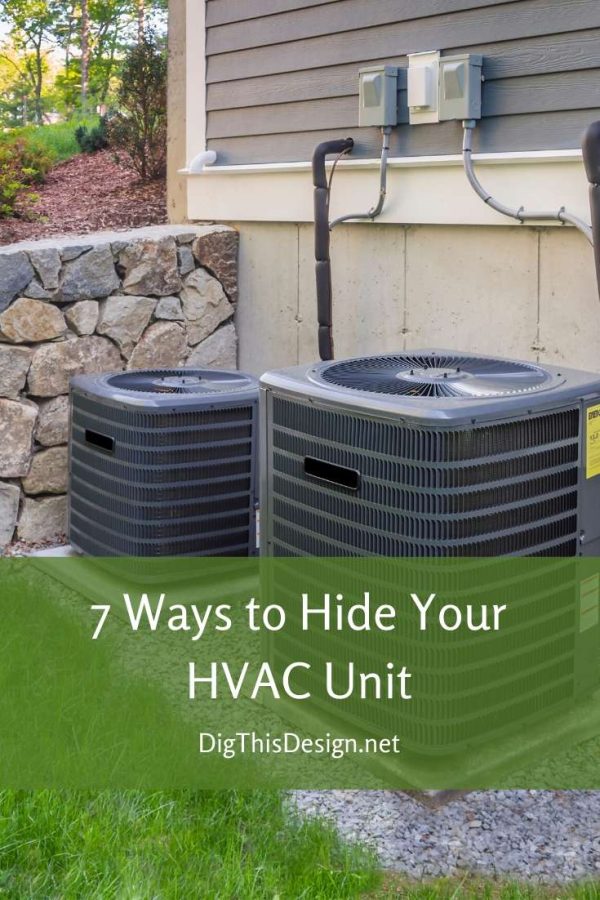 Add Structural Decorations Like a Vertical Garden
Disguise your exterior HVAC unit with an aesthetically constructed vertical garden. Make sure it's perfectly spaced from your unit to allow proper functioning. Not only will you be hiding your unit this way, but you will also be producing flowers, veggies, and herbs for your benefit. You can build the base structure from wooden pallets and add pots, planters, and vines for an eye-catching vertical garden.
Fence it with Wooden Pallets
If your A/C unit resides in the corner of your landscape, build a cute fence around it using wooden pallets. You can repurpose old shipping pallets to create a DIY wooden pallet fence. All you need to do is sand the wood for a smooth and professional wood look. To match your outdoor color scheme, paint the fence with any exotic color to give it a summery vibe while hiding your A/C perfectly.
Design a Beautiful Pathway to Create Distraction
Distracting the eye from your large A/C unit by creating a pathway that opens to a beautiful view is a brilliant idea. A leading pathway draws focus on what's ahead, which makes the old unit lying on the side unnoticeable. Matching fences and lush green vegetation will further camouflage it.
Use Lattice and Private Screens to Cover
You can purchase privacy screens made of outdoor-friendly resins to cover your exterior unit. They come in different designs and colors to match your patio decor. A lattice screen will work best for hiding your external A/C unit because it contains holes to provide breathing room to your unit. You can also turn it into a statement piece by dressing it up with some greenery and fence post caps.
Surround the Unit with Tall Vegetation
Tall vegetation is a lovely way to hide your external HVAC unit. Arrange beautiful pottery around it and plant tall grass, stems, and stalks that can resist hot air being blown out of the unit. Leave adequate space for the unit to perform well. Bamboo shoots can also be planted to give an Asian-inspired garden look. They require less maintenance while promoting serenity.
Cover with a Modern Iron Trellis
An iron trellis will add a great vintage effect to your garden. Cover your unit with an iron trellis and decorate it with vines and flowers in heavenly shades of blue, white, and purple. Be sure to ensure that the vines don't creep onto the unit.
Beautify Your Yard with Sculptured Panels
If you have an artistic taste, use contemporary sculptured panels and mosaic screens to conceal your external unit and beautify the appearance of your yard. These creative screens can be made of metal or laser cut wood to serve as a piece of art for your visitors to enjoy. No one will suspect that your HVAC unit is behind it.
Other Posts You Might Enjoy
Garden Tips for a Bold and Unique Garden
5 Most Common Air Conditioning Problems and Their Solutions
3 Home Designs to Lower Your Energy Use
Share This Story, Choose Your Platform!