Have you ever had a fire in your home? If yes, how do you find the best fire damage repair services? Devastating fires alter the everyday lives of homeowners immediately and without warning. So, this is information you want to know before a fire occurs in your home.
Depending on the severity it might prevent you and your family from living on the property until the post-fire clean-up is complete. Of course, you will be heartbroken due to the loss of your belongings.
Although you may not be able to save most of your personal belongings, the overall condition of your homes might be restorable. Fire restoration companies are experts in soot removal, odor elimination, and water damage restoration.
So, when you find yourself looking for a San Diego fire damage restoration company, the following tips will assist you in making the right choice.
7 Steps to Selecting the Best Fire Damage Repair Services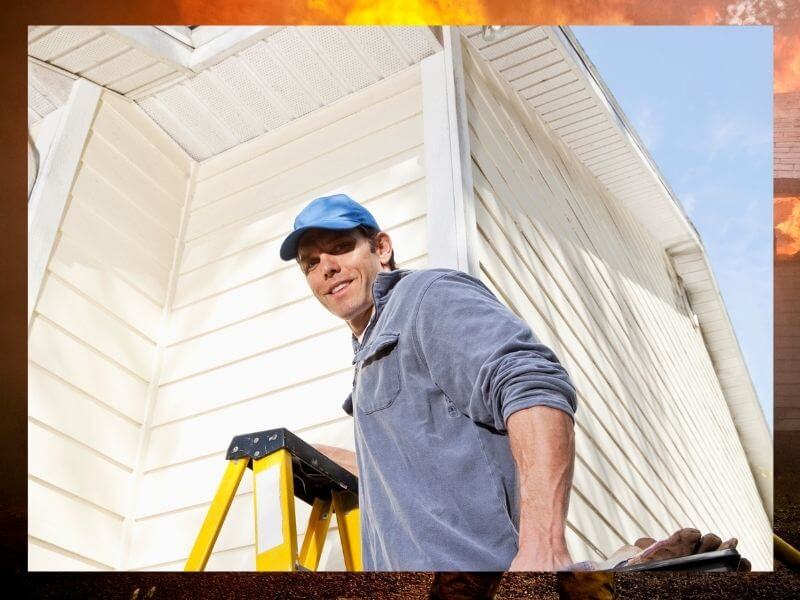 ➊ Contact Your Insurance Company
Contacting your insurance company following the fire is the first most reasonable step to take. In fact, insurance providers collaborate with fire restoration companies.
Instead of looking for such services in moments of panic, get in touch with your insurer, and obtain a list of restoration professionals they recommend.
It's crucial for the company you hire to have experience in the process of filing insurance claims. Fire restoration professionals are expected to file an insurance claim on behalf of their clients by documenting the entire damage done to the property.
During the consultation with insurance providers, these specialists determine the cause of the fire and ensure the claim compensates for every form of damage.
➋ Check Credentials and Certifications
Fire restoration companies must adhere to industry standards for a good reputation. For instance, these professionals must be certified by IICRC, standing for the Institute of Inspection, Cleaning, and Restoration Certification.
By meeting the IICRC industry standards, fire restoration specialists are experts in water damage restoration and mold removal.
Moreover, IICRC certified professionals get training in the use of equipment and tools to perform damage repair quickly and successfully.
Apart from the IICRC designation, these technicians are also accredited by other organizations such as the National Air Duct Cleaners Association (NADCA) or the Building Performance Institute. Read more about the history and certification program of NADCA.
➌ Check Availability
Another important factor to check when hiring fire damage repair services is the availability of the companies. The majority of restoration teams offer round-the-clock assistance to homeowners who experience water and fire damage. This is necessary because this can be highly detrimental to properties in a matter of minutes.
Therefore, hire a company that provides emergency services regardless of the hour or day when the incident takes place. These technicians must arrive at the homes immediately after the firemen's work is complete.
Commencing the restoration and repair process as soon as possible is crucial for minimizing the extent of the damage. It also substantially reduces the risk of mold growth.
➍ Inquire About the Process
Fire restoration companies follow a certain procedure for property damage. Interestingly, it involves multiple steps for successful project completion.
However, not all technicians follow the same steps, which is why you must ask for an outline of the restoration procedure.
Moreover, the initial step of most companies is inspecting to assess the extent of the damage. Once the inspection is complete, they provide homeowners with a written report that explains the damage details.
The inspection is of the utmost importance for devising a plan that restores your property back to its original condition.
➎ Ensure Proper Sealing of Doors, Windows, and Roofs
Because fire causes destruction to the windows, doors, and roofs of houses, they must seal these to prevent further deterioration. Not doing so exposes properties to the weather elements and uninvited intruders in the form of pests and animals.
Therefore, most restoration technicians use boards and tarps to fix such holes, at least temporarily. Check out the following link, https://www.wikihow.com/Board-Up-a-Window, for some handy tips about boarding up a window.
➏ Smoke and Soot Clean Up
An incredibly essential service of restoration experts is the clean-up of smoke and soot. The soot residue that results from fires is surprisingly acidic, so you must clean it immediately.
Otherwise, soot has the power to cause wall and appliances discoloration, and corrode the metal in your home, such as doorknobs, pipes, etc.
In addition, when soot comes in contact with wall paint, it stains immediately.
Apart from being destructive, soot is also is bad for you and your family's health. In fact, inhalation of soot particles often causes lung and respiratory irritation which can lead to more serious health complications.
So, fire damage experts must ensure the elimination of all soot particles. This is also true with HVAC systems, which, unfortunately, circulates the entire house.
Moreover, soot is capable of causing skin and eye irritation. Therefore, it isn't wise for homeowners to clean the soot residue on their own. Rather, you must seek professional services.
Damage repair experts wear protective clothing and equipment to prevent such irritation. They also employ special techniques for the removal of soot particles from walls, carpets, flooring, curtains, etc.
Once they remove the soot, these specialists also use technology to remove the burning odor. This is important because the odor lingers after the incident.
Because of the high concentration of ozone in the hydroxyl machines, they easily disinfect and deodorize your home.
➐ Repairing Water Damage
Because water damage is common, most companies also provide water damage restoration services to homeowners.
With the help of submersible pumps, they remove excess water from the property. Also, by using dehumidifiers, these technicians ensure there's no trace of moisture inside the house or apartment.
In Closing
Experiencing a residential fire is one of the most devastating events for homeowners. So, we recommend that you hire restoration experts to facilitate your journey!
If you have any questions, please leave them in the comments below. Also below, you will find links to other fantastic articles about ALL things DESIGN.
Images Courtesy of Canva.
Other Posts You Might Enjoy:
Everything You Need To Know About Fire Protection Engineering
Energize the Spirit of Your Home, With Modern Gas Fireplaces
When Should You File A Home Damage Claim With Your Insurance?
Reasons Why You Need Trusted Electrician Services For Your Home
Share This Story, Choose Your Platform!