Every home is different, from the aesthetics to the size and structure. However, there are a few elements that are essential to each house. The top of this list is windows and doors.
Also, like everything else, windows and doors require proper upkeep. Unfortunately, people live exceedingly busy lives. So, finding the task of cleaning windows and doors hard to fit into their schedules.
Therefore, we see a lot of professional window cleaning agencies enter the market to cater to this need. This might seem like a waste of money to pay for window cleaning. But, if you consider the amount of time, effort, and the cost of cleaning supplies savings, it is a sound investment.
If the cleaning of windows and doors is something you struggle with, we invite you to continue reading to learn the reasons why this might be a sound investment for your home.
10 Tips for Selecting the Right Windows & Doors Cleaning Service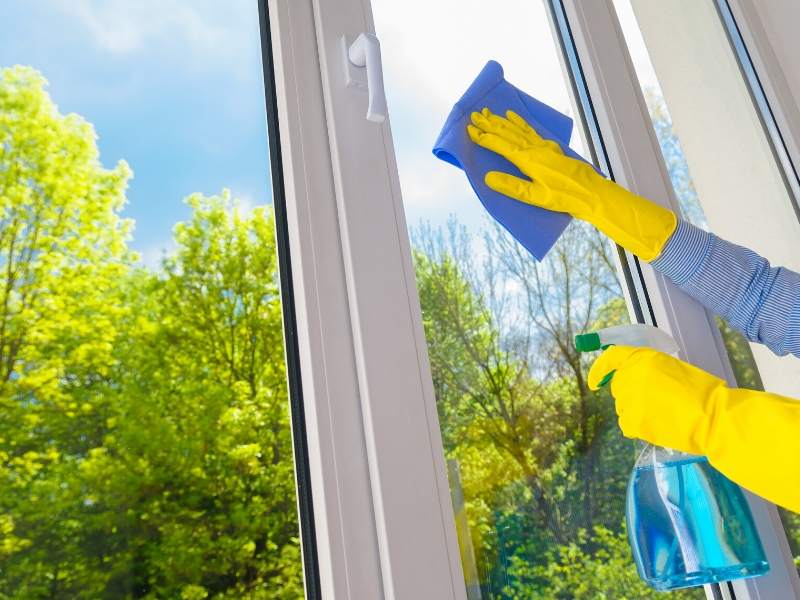 Since this industry is becoming very popular and highly profitable, one ought to be cautious before hiring a professional window cleaning company. The reason for this is simple. You do not need a specialized degree or technical equipment to enter this market.
Because of this, many entrepreneurs without real experience venture into the window cleaning business. Literally, anyone can outfit a small team of cleaners and start recruiting clients. Therefore, there is a considerable difference in the quality of the services provided.
There are just a few things to keep in mind to be able to distinguish the inexperienced newbie from the established experts.
⎆ Appearance & Business Cards
Many companies pose as professional cleaning services. A few things work perfectly as indicators to show how professional the company is. Uniforms worn by the team of cleaners are one of the factors that reflect professionalism.
Next, the business card the company provides is another indicator. And, even the company vehicle bearing the company logo indicates the company's respectability and competence.
⎆ Follows Safety Standards
You need to make sure that the company follows certain safety standards. For example, safety standards that are followed by reputable window cleaning companies in Glasgow need to be approved by Glasgow City Council.
It is a business that involves hazards, not only for the cleaners but also for the clients. Therefore, it pays off, in the long run, to make sure that the service providers follow the right standards.
⎆ Check for Liability Insurance
Make sure that the company you do hire for cleaning your windows is insured, registered and caught up on their documentation. If by accident, any personnel of the window cleaning company is hurt while working on your home, you do not find yourself being sued.
⎆ Must-Have Good Employee Standards
Another aspect of significant importance is to make sure that the window cleaning service that is being hired has certain employee standards. This is to ensure that the people coming into your house do not have any criminal records.
⎆ Experience & Reputation is Important
Research the companies you have short-listed for cleaning up your windows. It is a very competitive field with a splurge of start-ups saturating the market. And, if a company has managed to thrive over several years in such an environment, then they may have a good idea about what they are doing.
Also, there are reviews that one can read to find out about the best-listed window cleaning service providers in your vicinity. And, there are rewards and recognition presented to companies for excellence in their fields.
⎆ Check for Appropriate Equipment
It may sound ludicrous but there have been instances where the cleaning companies have come over for cleaning with no more than a dirty rag and some water in a spray bottle.
This is a definite no-no situation. You want to be sure that the cleaning company has proper equipment such as power washers, industry-grade cleaning agents, and even extensions that allow them to reach windows that are off ground level.
⎆ Do They Offer a Guarantee?
Discuss in advance with the prospective company about the quality of services that will be provided. If you are unsatisfied at the end of the cleaning, then it may be too late to get them to do the job all over. However, if you have already discussed this point, then the cleaners are required to oblige.
What is it that you are looking for at the end of the cleaning? There must be no damage done to the flooring inside as well as no mess created on the outside. The windows must be streak-free and as clear as crystal.
⎆ Ensure the Price is Appropriate
It is a good idea to ask in advance about the charges for the services offered. A reputable window cleaning service provider need not necessarily be expensive.
These services may be charged according to the number of windows and the size of each. However, an established company can very well provide immaculate services at reasonable prices.
⎆ Check for References
Do not underestimate the importance of references. Most reputable companies will provide you with references.
However, if you are unsure about the standard of services provided by a company, then look no further then your own circle of friends and neighbors.
⎆ Do Your Research!
You can do extensive research on the net. There are ample websites that have reviews comparing the different services provided by companies. There are even reviews comparing the best companies in the industry.
Perhaps, the best place to look at is the Better Business Bureau. This is a sure way to see how well a business is conducted by a specific company.
Conclusion
It may seem like too much work, simply to have your windows cleaned. But, once you have had a go at it yourself, you may appreciate hiring a window cleaning company.
For the best cleaning services for windows and doors, look up threebestrated.co.uk. It provides you with quite a comprehensive idea about the companies that are in this industry, the products, and the services, even if you just want to find out the local window prices in Glasgow.
AC Guides – Get HVAC Service Contractors In Indianapolis Indiana
3D Rendering Studios In Modern Architecture
Going Down in Open House History: How to Get Your Home Ready to Sell
Share This Story, Choose Your Platform!