Installing a residential elevator in your home is an excellent idea if you plan to live in the same place for a long time and have too many stairs to climb. Or, perhaps you or a family member needs an elevator due to physical restrictions for climbing stairs. They are also an excellent aid when you have heavy objects to move from floor to floor.
What's more, the elevator is yet another space you can design to make it your own. For example, every elevator has walls and a ceiling, floors, lighting, etc. So, there are lots of ways to decorate and design the inside of your residential elevator. Exciting, isn't it? Let's dig into it.
Ways to Design and Customize Your Residential Elevator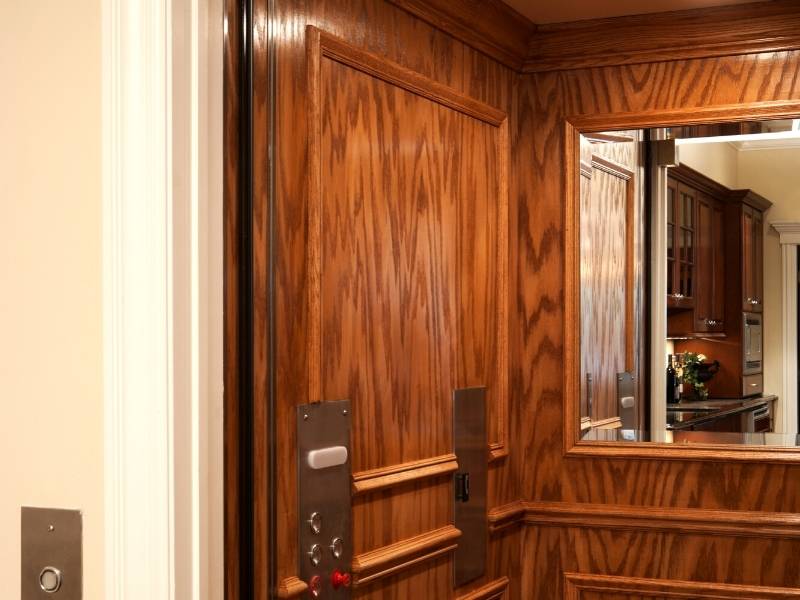 ⎆Walls and Ceiling
For the walls and the ceiling of the elevator car, there are plenty of options from which to choose from. It is the largest surface of the elevator, so be very careful about what you choose. If you don't like the basic elevator designs, you can go for something different too.
The standard elevator car panel may include walls and ceiling made of plywood or hardwood veneer flat panels, or raised panels. If you want to avoid a woody look, you can go for custom finishes like mirrored walls. Or, you can hang a picture in a frame, or even try different color palettes. Of course, you want to design it so it goes well with the rest of your home's interior.    
⎆ Flooring
While deciding the flooring of the elevator, you must keep in mind that the weight of the flooring may affect the elevator's operation. So inform the manufacturer what floor covering you plan to use while the elevator is still in the design phase. This will ensure that there are no negative effects on the elevator's drive or shaft.
You can use wooden or tiled, or a carpeted flooring for your home elevator.
⎆ Lighting
In some elevator designs, the lighting consists of two LED light fixtures with three LEDs in each one. The lights stay on when the elevator is in operation and turns off automatically after being idle for several hours. You can also have different options for light trim rings such as stainless steel, black, brass, and antique bronze.
Additionally, you must maintain your elevator with regular maintenance which includes checking the lights. Regular maintenance keeps your elevator running smoothly, says Lift Installation Company UK.
⎆ Phone system
There might also be a phone system inside the elevator as an extra layer of security. Use it to for help if you are ever stuck inside the elevator due to a power outage. The phone box is simply a wall cavity in which a regular phone is installed. Again, the Car Operating Panel (COP) can be equipped with an integrated phone system.
⎆ Car Gate or Door
The elevator car can be equipped with a variety of doors and gates. To begin, we must distinguish between a door and a gate. Simply saying, any solid panel passage barrier is a door, and any barrier that is not a solid panel is a gate.
Accordion doors are the standard car door for most manufacturers. There are many other options, such as commercial doors, and sliding doors, from which you may choose. 
⎆ Handrails
Handrails can be selected from many stylish and durable options that complement your elevator.
⎆ Car Operating Panel (COP)
The COP is a device that allows you to direct the elevator to your desired destination. The COP comprises floor selection buttons, an emergency stop switch, an alarm button, and a position indicator(PI) that uses a non-selective, collective control system. COPs can be tailored to your specific needs.
In conclusion
If you have any questions we'd love to hear from you in the comments below. Also below are links to take you to more fantastic articles about ALL things DESIGN for your home or business.
Images Courtesy of Canva.
Other Posts You Might Enjoy:
Stair Lifts to Suit Your Home and Lifestyle
6 Benefits of Installing a Home Lift in your Singapore Home
Everything You Need To Know About Fire Protection Engineering
Share This Story, Choose Your Platform!