Hello design enthusiasts! 🏰✨
I recently embarked on a design odyssey like no other, and I can't wait to share every exciting detail with you. Join me as I recount my incredible journey through Germany with The National Kitchen and Bath Association (NKBA) and our exploration of the most cutting-edge innovations we witnessed at the German Haus Fair, in the kitchen and bath industry.
Highlights of the German Haus Fair
Day 1: Fairytale Beginnings at Burg Hotel Trendelburg 🏰
As I landed at Frankfurt Airport, the NKBA team and my fellow designer companion warmly greeted me. We hopped on a bus and began our adventure with a visit to the enchanting Burg Hotel Trendelburg—a fairytale historic castle, residing in Rothenburg ob der Tauber, Germany. We not only explored the castle but also enjoyed a delightful dinner in the castle's restaurant. It was the perfect setting for our meet and greet, setting the tone for the extraordinary days ahead.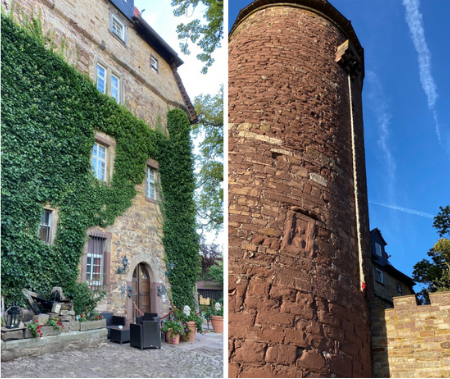 We toured the Burg Hotel Castle and learned the history of the property. The tower was called Rapunzel's Tower :-).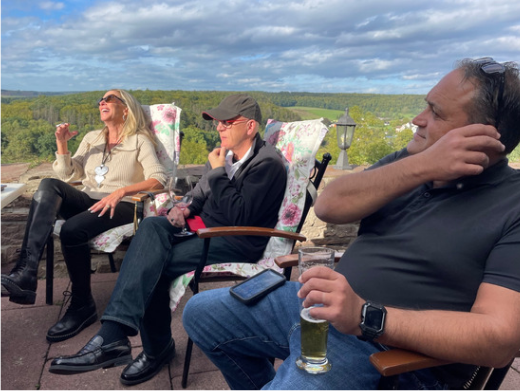 What I love about getting involved with any of The NKBA events is networking and growing my community of movers and shakers in our industry.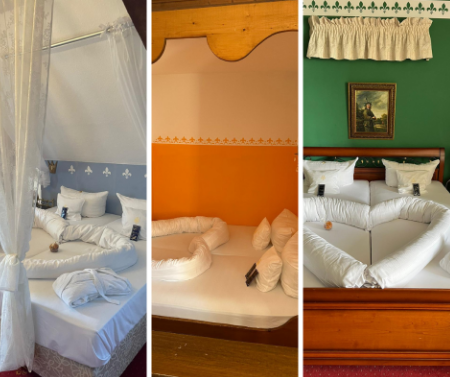 The accommodations were so sweet with our inviting heart sheets on each bed.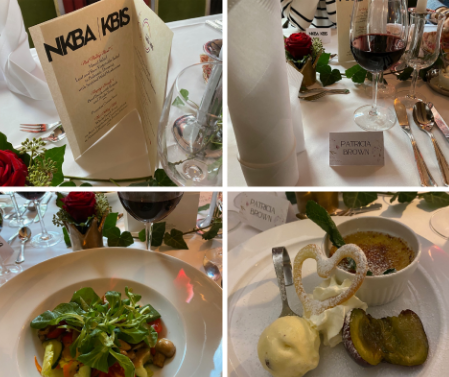 Dining with my new design friends allowed us all to share a little bit about ourselves and enjoy great cuisine.
Day 2: A Glimpse into Kitchen Magic at Hettich 🧙‍♂️
Bright and early the next day, we embarked on a bus for factory and showroom tours, beginning at Hettich. Over my 38-year career, I've relied on Hettich's innovations to bring my designs to life. Meeting the brilliant minds behind these innovations was surreal. One standout was their hardware system that allows a 360-degree rotation of a "speakeasy" cabinet, revealing multiple shelves of storage. My mind was abuzz with design possibilities.
Meeting the Elon Musk of Kitchen Appliances – Willi Bruckbauer at Bora 🚀
Our next stop was the Bora Showroom, where we had the pleasure of meeting the CEO, Willi Bruckbauer, often dubbed the "Elon Musk of kitchen appliance innovations." He shared the captivating history and passion behind his company.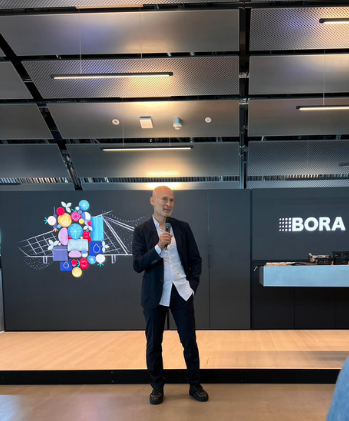 At Bora, I was introduced to the revolutionary cooktop extractor system—an effective, quiet, and unobtrusive vapor extraction system. The appliance innovations at Bora were endless, from a multi-technology steam oven to an induction cooktop that allowed pan placement anywhere on the surface for efficient cooking.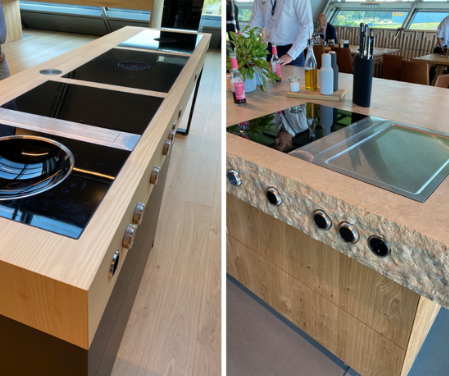 Bauhaus-Inspired Nobilia and the Journey Continues 🏡
Our adventure continued at the Nobilia Showroom, a German cabinetry manufacturer. Their purposeful design philosophy, inspired by BAUHAUS principles: form follows function which left a lasting impression. It was all about maximizing kitchen components for long-lasting performance while fitting the modern aesthetic.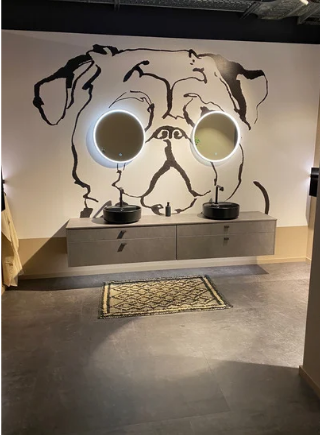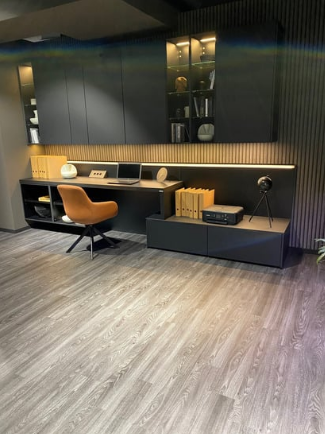 Nobilia's showroom is like walking through a maze of rooms displaying how their cabinetry can be used in a multitude of rooms of a home.
We closed the day with a dinner at the Nobilia factory, creating memories with newfound friends.
Day 3: Exploring Innovation at Area 30 and ARCHITEKTURWERKSTATT 2023 🚀
The journey continued on the next day as we delved into Area 30, Out4kitchen, the trade and order fair in Lohne, East Westphalia, Germany. ARCHITEKTURWERKSTATT 2023 is a trade show where manufacturers showcase their latest highlights from their 2024 collections. The day was filled with awe-inspiring products.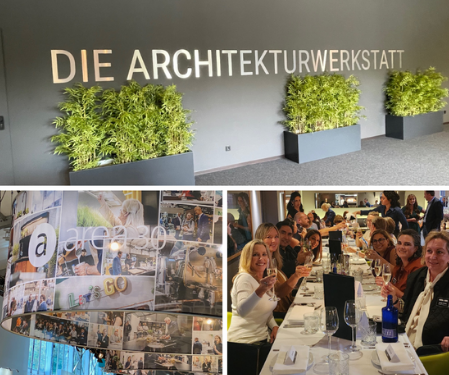 We capped off this day with a delectable dinner at Glueck und Seligkeit restaurant, indulging in authentic German cuisine.
Day 4: BauTeam Excellence and a Grand Finale at Kitchen Center Loehne 🏡
Our final event took us to BauTeam, a group of German lifestyle companies known for their stunning design and architecture, but first, they treated us to brunch prepared by a Michelin-star chef.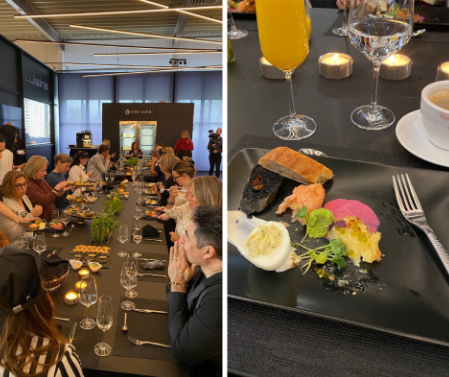 Their use of innovative German technologies to create amazing craftsmanship left us in awe. I appreciated how they used patterns and textures to create over-the-top designs.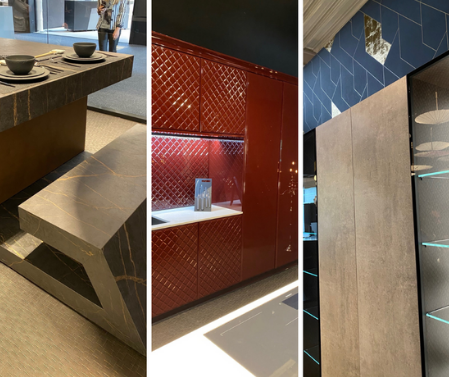 Our journey concluded with a visit to the Kitchen Center Loehne, where I had the privilege of witnessing incredible kitchen designs. One that impressed me so much was Dekker, a company that makes the most spectacular solid surface material which is 100% recycled glass.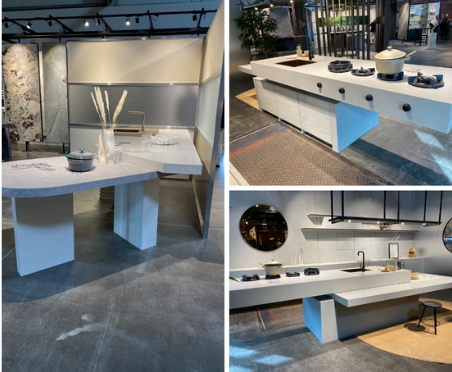 The best part of this tour was all the new friends and fun memories we made together.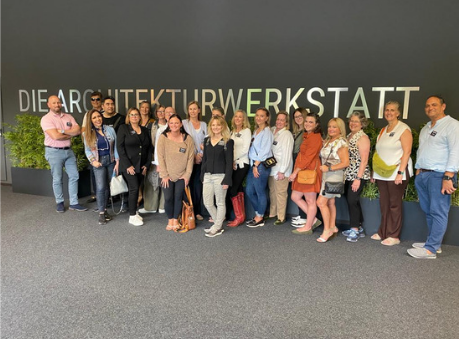 Tschüss for now, and keep your design dreams alive! 🇩🇪🏰🍽️
This post is sponsored by NKBA, BORA, Nobilia, Hettich, and Bauteam
Other posts you might enjoy:
Trendspotting As One of the Design Hounds; EuroCucina 2018
Running with the Pack #DesignHoundsNapa!
Share This Story, Choose Your Platform!