What can I say, I have the BEST job in the world! As an interior designer, blogger and influencer I get to do what I love, design, blab about it and travel for design inspiration. I was fortunate to be one of the design hounds Milan 2018, a group of design professionals who seek out the latest as seen at Milan Design Week 2018. Salone del Mobile is the go-to show if you want to know what's coming in design trends. Every two years the EuroCucina FTK – Technology for the kitchen and bath show is part of the Salone del Mobile show and as a kitchen and bath designer, I had to go. I must share my journey through the eyes of a design hound.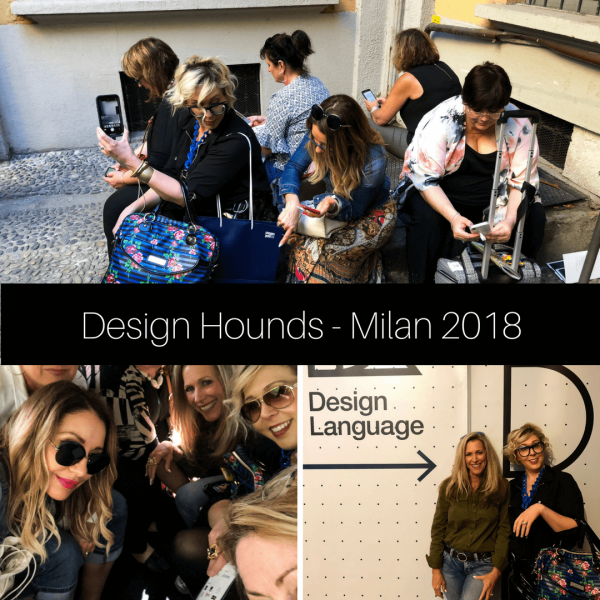 Design Hounds Journey in Italy
Lago d'Orta
Our first stop on our journey was magical. Lago d'Orta is a community on Lake Orta located in northern Italy. It was previously called the Lago di San Giulio, named after the patron saint, Saint Julius. We stayed at the Hotel San Rocco, right on the lake.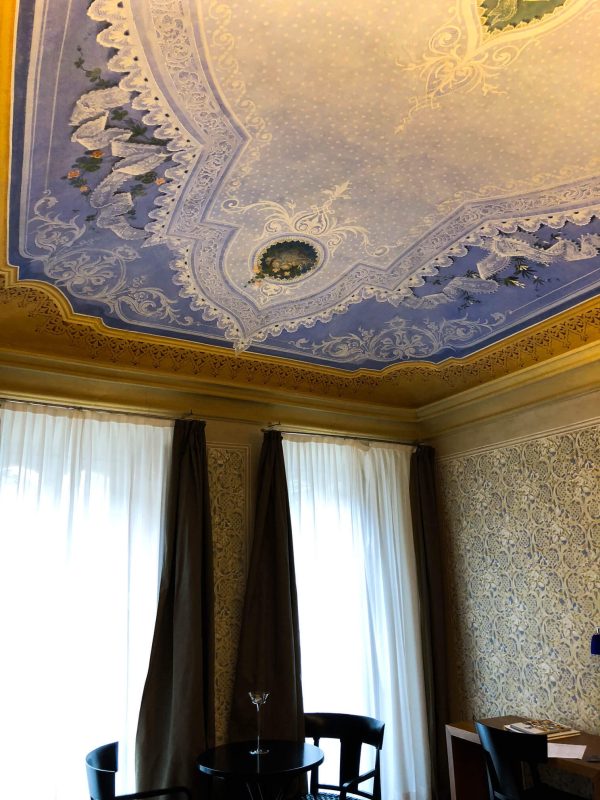 My Hotel Room at Hotel San Rocco
The ceiling detail in my room speaks to the attention to detail that this hotel offers.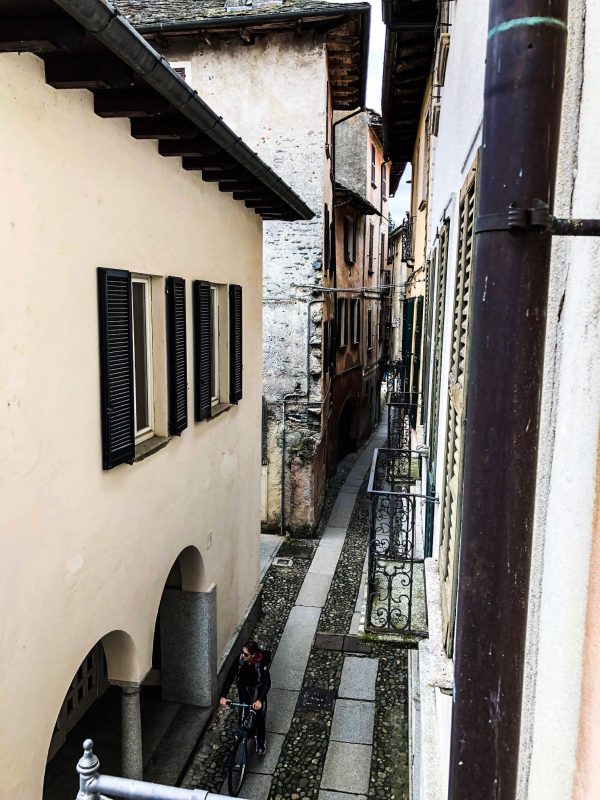 Lago d'Orta
Standing on my balcony I couldn't wait to get out of my room to explore before I had to meet the other design hounds for dinner.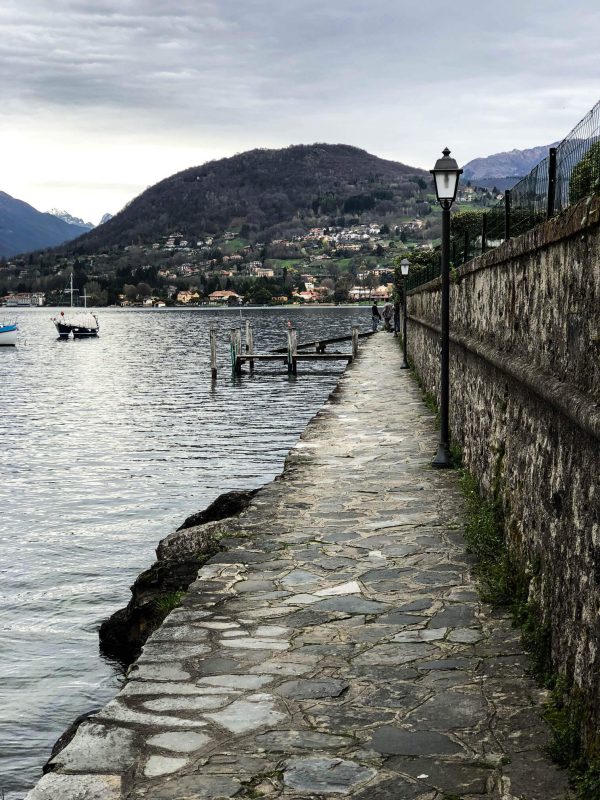 I followed the cobblestone path along the lake and soaked in the textures that Lago d'Orta offered.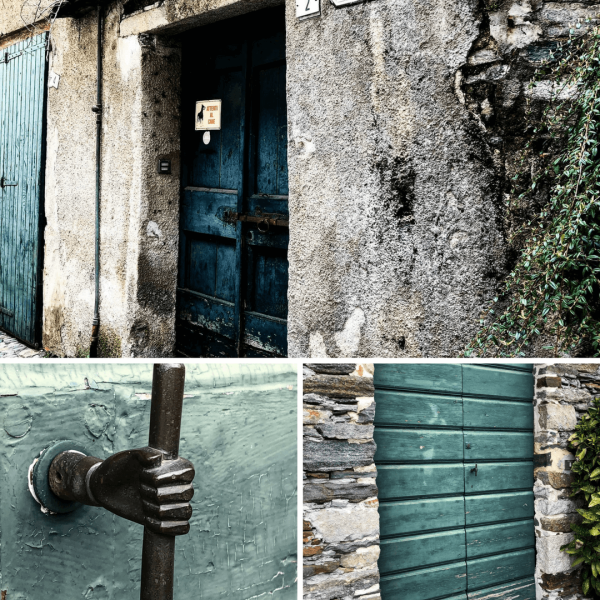 Every time I travel anywhere in Europe I find I take many pictures of doors. I was entertained as I journeyed along the path by the design and character I found with each door I came upon.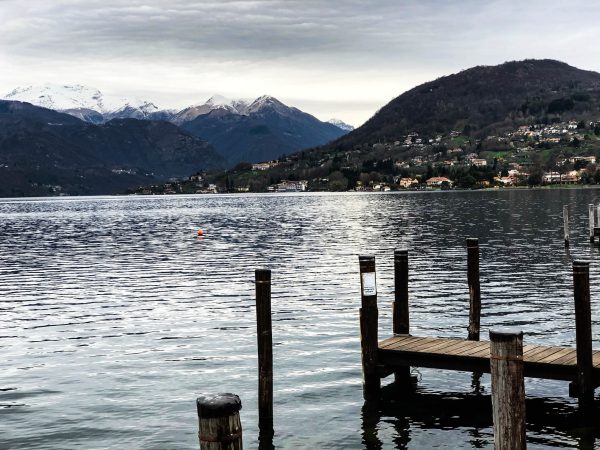 View of the Italian Alps from Lago d'Orta
It was a stunning view as I looked across the lake to see the Italian Alps in the background.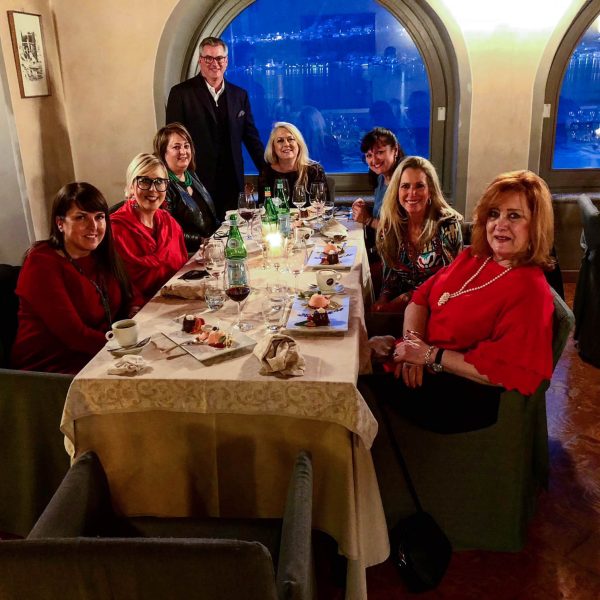 Design Hounds with Greg and Michelle Rohl
The design hounds had the pleasure of dining with Greg and Michelle Rohl. ROHL is a company offering luxury brand kitchen and bath fixtures and the design hounds had been invited to tour two of their factories where their products are handcrafted.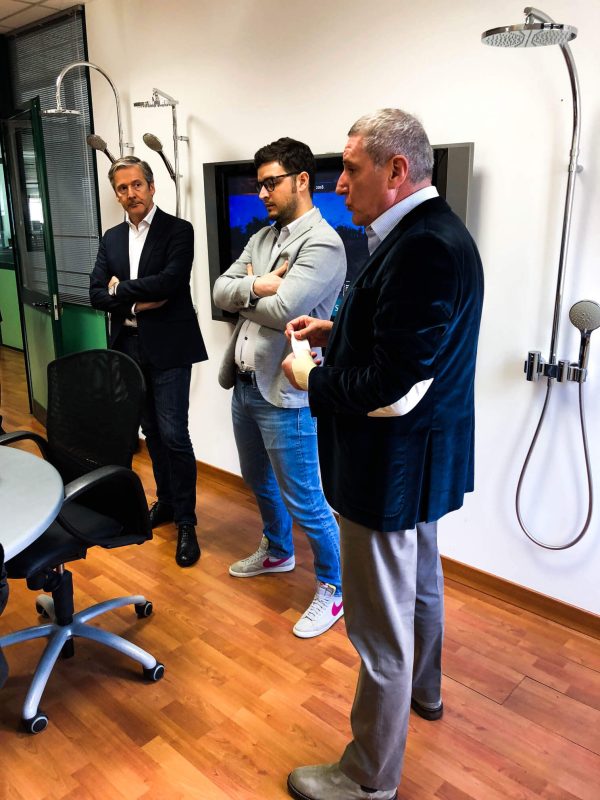 The first factory tour began at Calflex where they design comfort and beauty for the shower space. We were greeted by the owner and President where they spoke of their philosophy for creating this luxury product.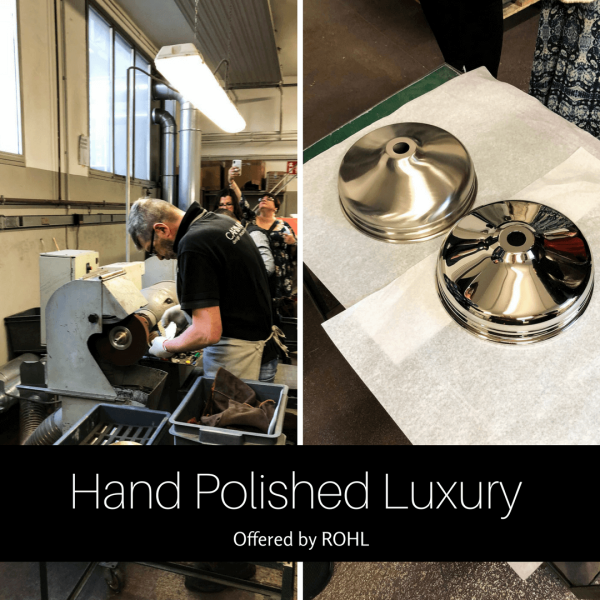 I have toured many factories in my career and in today's world you are hard-pressed to find people because most are manned by robotics. ROHL believes in the quality of artisans and seeks to find products made by craftsmen instead of machines. Their products are exquisite as I have specified them for my high-end clientele throughout my career.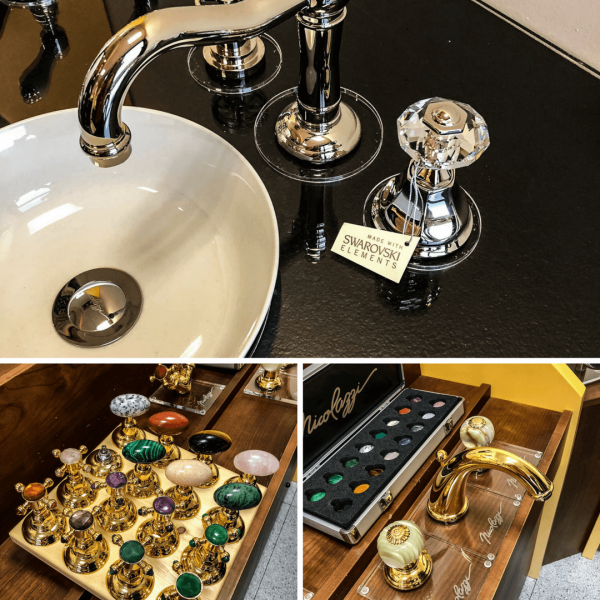 Nicolazzi Factory
The Nicolazzi company is proud of their handmade in Italy tagline and they should be, their faucets are beautiful. It feels like you are looking at fine jewelry when you are viewing their products. ROHL offers only the finest artisan work for their offering.
Brera Design District
Brera design district contributes to enriching the whole program of city events that take place during the Salone del Mobile show so, of course, the design hounds headed that way!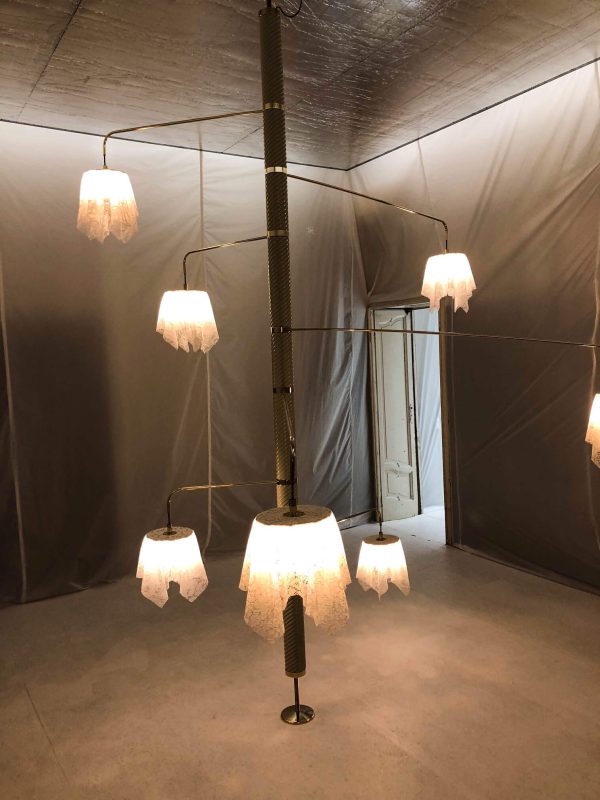 Brera Design District
Brera was one pop up after another with continual surprises around every corner. I am always a sucker for lighting and this was an interesting design that I just had to snap a picture of.
Brera Design District
Most of what I saw was the industrial contemporary vibe.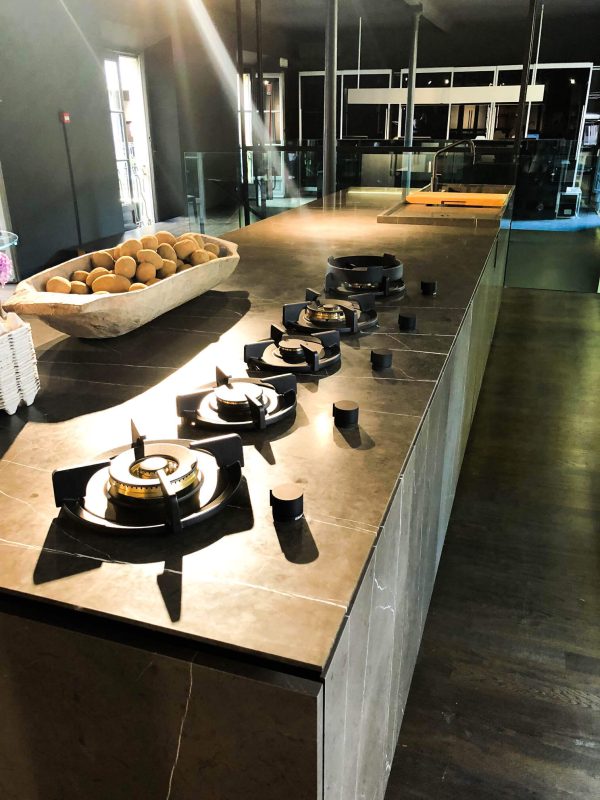 Brera Design District
A couple of strong trends that I witnessed were the lineal cooking zones and then countertop material, a sleek style.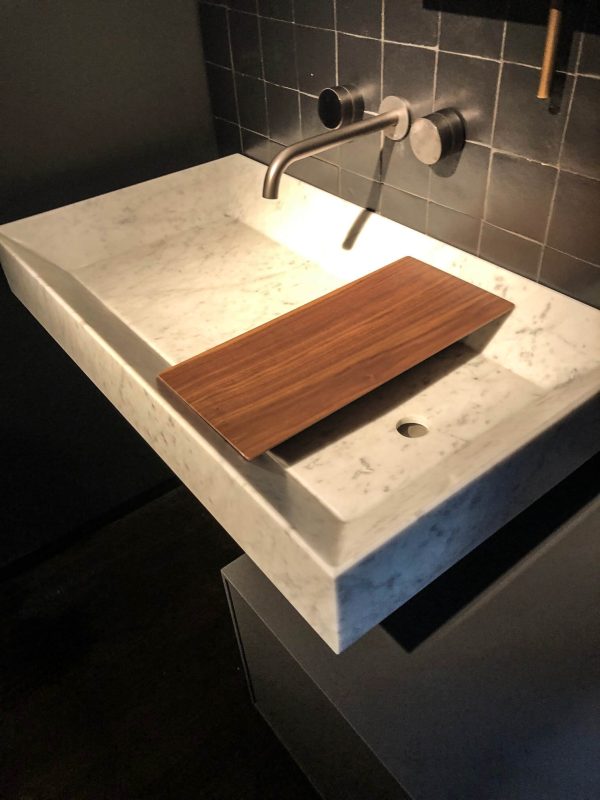 Brera Design District
This is a take-off of the chef sinks seen in today's kitchens offering inserts. I do like the idea and think it is functional and a beautiful design aesthetic.
EuroCucina FTK Show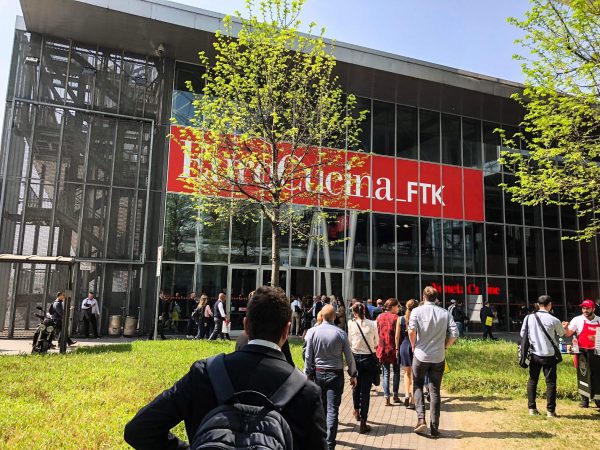 EuroCucina FTK
The show was packed with people all there for the same reason, wanting to see the latest in design trends and technological innovations for the kitchen and bath.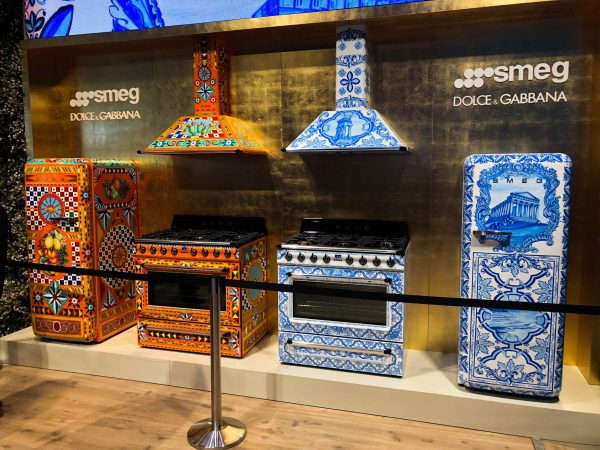 Smeg appliances NEVER disappoint at showtime. I love their appliance art by DOLCE & GABBANA. Digital printing is big on surfaces and at KBIS in Orlando, SURFACE show in Vegas and EuroCucina in Milan this year, I saw a lot of this technology being used.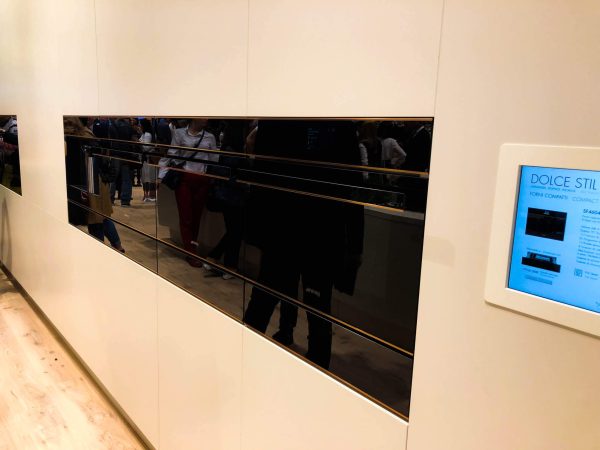 smeg Showing Linear Cooking Technologies
If you have a wall long enough you can line up all of your cooking technologies at just the right height. Electric, convection, steam, infrared, you name it I saw it, but the best part is how you can ergonomically design with single ovens so that they meet your comfort needs, I love good design!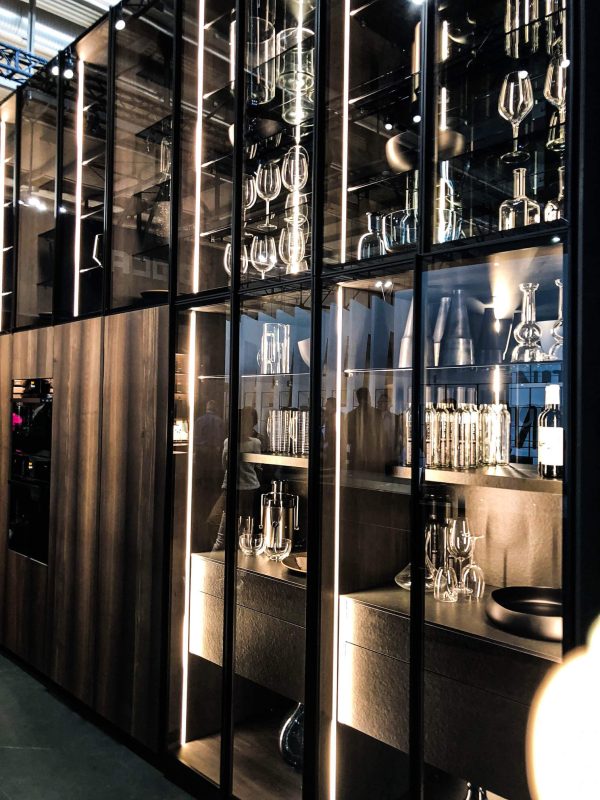 Along with the linear design, I saw a vertical storage design. Many kitchens today are designed with the open kitchen in mind and lack wall storage. The tall vertical cabinetry offers great storage capabilities and is perfect for those that are vertically challenged or not. The glass doors are beautiful, but you better want to show what's behind them.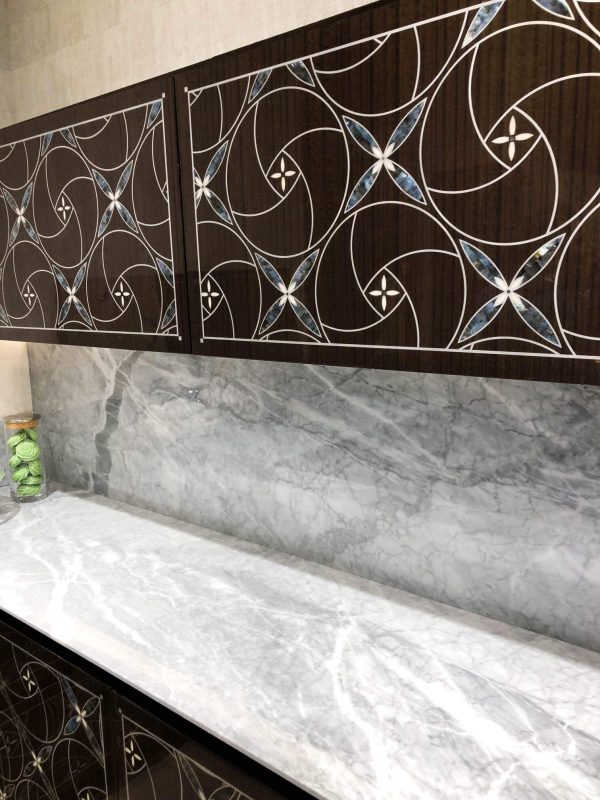 Inlayed metal and stone on wood veneer cabinets were seen and I thought made quite a design statement or a simple focal point to a room design.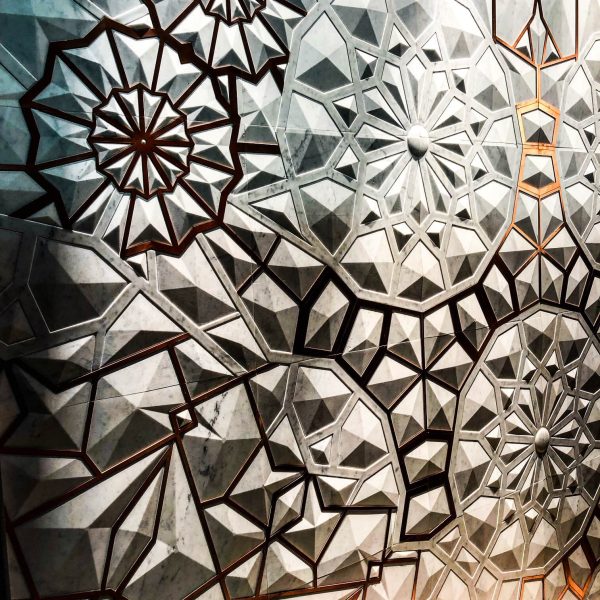 Mixing metals with stone is HOT! This is marble with rose gold and it is stunning!
Join me for my LIVE Facebook interviews and first-hand account of the happenings at EuroCucina, the products were truly stunning!
Facebook LIVE from the EuroCucina FTK Show Floor
Natural Oiled Wood Finish is Trending
Laboratorio Mattoni (My Pick of the BEST!)
Natural Wood with Oiled Finish in Baths
Share This Story, Choose Your Platform!