If you're a history buff, a fan of fairytales, or just someone who appreciates breathtaking architecture, then Europe is a treasure trove of must-see castles. These majestic structures have stood the test of time and are steeped in rich history and enchanting legends. From medieval fortresses to opulent palaces, European castles have some of the world's most spectacular architecture that is sure to leave you in awe.
Magnificient European Castles You Need to Vist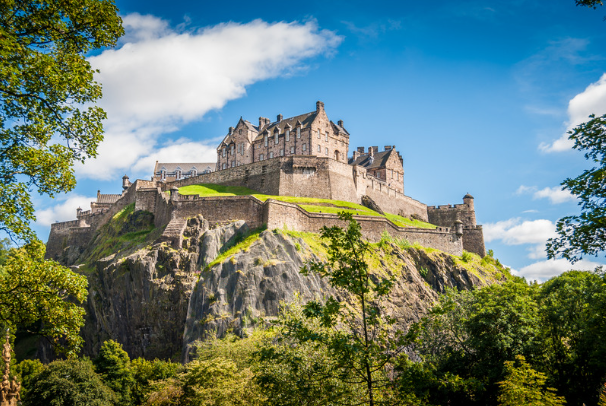 Here are some of the must-see European castles that should be on your bucket list.
The Most Popular of European Castles is the Neuschwanstein Castle, Germany
Nestled in the Bavarian Alps in Germany, Neuschwanstein Castle is a fairytale castle that seems straight out of a storybook. Built by King Ludwig II in the 19th century, this breathtaking castle is perched on a hilltop and overlooks a picturesque landscape of mountains and forests. Its fairy tale-like turrets, towers, and stunning interiors, including the throne room and the Singers' Hall, make it one of the most popular tourist attractions for European castles.
Edinburgh Castle, Scotland
Dominating the skyline of the Scottish capital, Edinburgh Castle is a historic fortress that sits atop an extinct volcano. With its commanding position and impressive medieval architecture, this castle has played a crucial role in Scottish history. Highlights of the castle include the Crown Jewels of Scotland, the Stone of Destiny, and the Great Hall, which is adorned with weapons and armor.
Prague Castle, Czech Republic
Perched atop a hill overlooking the beautiful city of Prague, Prague Castle is one of the largest castle complexes in the world. This magnificent castle has been the seat of power for Czech rulers for over a thousand years and is a showcase of various architectural styles, including Gothic, Romanesque, and Renaissance. The stunning St. Vitus Cathedral, the Royal Palace, and the picturesque Golden Lane are among the must-visit attractions within the castle complex.
Versailles Palace, France
No list of must-see castles in Europe would be complete without mentioning the opulent Versailles Palace in France. This grand palace, located just outside of Paris, is a UNESCO World Heritage site and a masterpiece of French Baroque architecture. The palace is famous for its stunning Hall of Mirrors, the Royal Chapel, and the meticulously landscaped gardens that span over 800 hectares. A visit to Versailles Palace is a glimpse into the lavish lifestyle of French royalty during the 17th and 18th centuries.
Bran Castle, Romania
Known as "Dracula's Castle," Bran Castle in Romania is shrouded in legends and mysteries. This Gothic castle, perched atop a hill in the Carpathian Mountains, is often associated with the famous fictional character Count Dracula. Although there is no historical evidence linking the castle to the real-life Dracula, the eerie atmosphere and the stunning architecture of the castle make it a must-visit for fans of Gothic castles and vampire lore.
Mont Saint-Michel, France
Located off the coast of Normandy in France, Mont Saint-Michel is a unique castle that stands on a rocky island and is surrounded by the sea at high tide. This architectural marvel is a UNESCO World Heritage site and has been a place of pilgrimage for centuries. With its impressive medieval walls, narrow streets, and stunning abbey perched on top, Mont Saint-Michel is a true marvel that is not to be missed.
Alhambra, Spain
Nestled in the hills of Granada, Spain, the Alhambra is a mesmerizing castle complex that is a masterpiece of Islamic architecture. This breathtaking fortress, palace, and gardens were built by the Moors in the 14th century and showcase intricate tile
Conclusion to European Castles to Visit
In conclusion, Europe is home to some of the world's most stunning castles that are a testament to the rich history, architectural prowess, and captivating legends of the region. From fairytale-like castles in Germany and Scotland to opulent palaces in France and the Czech Republic, and even the mysterious Bran Castle in Romania, these castles are not only architectural marvels but also tell stories of the past. Whether you're a history enthusiast, an architecture lover, or simply looking to immerse yourself in the enchanting world of castles, these must-see castles in Europe are sure to leave you awe-inspired. So, if you ever find yourself in Europe, make sure to add these majestic castles to your travel bucket list and prepare to be transported back in time to a world of grandeur, legends, and timeless beauty.
Other Posts You Might Enjoy:
Considerations Before Moving Your Business Overseas
6 Homes Known For Their Unique Architecture
Boost Your Income From Your Vacation Property Rental
Share This Story, Choose Your Platform!