The first thing people think about when they hear college dorm is anything far from comfort and luxury. The image likely to be evoked is cramped living conditions, shared bedrooms, dirty communal bathrooms, and even messier kitchens. Although this is likely the first thought, many colleges are trying to change the narrative by offering modern dormitories.
With the price of colleges rising, many schools nationwide are looking to entice new students with more contemporary apartment-style living, outdoor recreational facilities, pools, hot tubs, and even free laundry services. When starting any college, there are many factors to consider, with one of the most important being where you will rest your head each night and if you will be comfortable. Here are some of the best university accommodation options available right now, giving you lots of added extras helping to make your college stay the best years of your life.
8 Universities With Modern Dormitories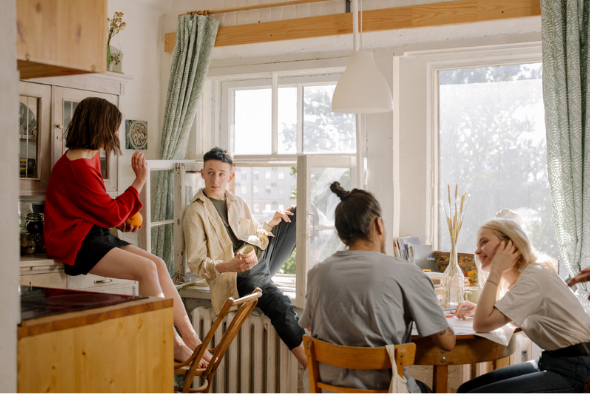 Rice University
Knowing the best room for rent near me can be difficult but added perks ease that decision. It has been estimated that the average student spends 96 hours over a year doing their laundry, which is why, at Rice University, students living in the campus dorms are helped to save time using a laundry app. On arrival to the university dorms, students are given a sizeable anti-bacterial laundry bag with a barcode, allowing them to track their clothes during the wash cycle as they would with a dominos order tracker. Each student's clothes are washed, dried, and folded, ready to be picked up. If having your washing done just as if you were at home wasn't enough as an incentive, students have access to HBO Go allowing them to catch up on their favorite tv shows, all in the knowledge knowing their dirty underwear is being cleaned as they relax.
Grand Canyon University
For students studying at Grand Canyon University, there are multiple options regarding accommodation with the more traditional residence hall experience available with various roommates and shared amenities or a more luxurious and private individual apartment with a kitchen. No matter the type of accommodation that you choose, each student has access to fitness centers, pools, and outside recreational areas where they can relax and unwind playing ultimate frisbee or beach volleyball.
Florida Gulf Coast University
The perks of living on campus at FGCU are most definitely the huge, resort-styled, luxurious pools that feature gulf views, one of the main reasons it has been found that over 80% of first-year students choose to live on campus. The grounds feature many extra facilities you wouldn't find at every university, such as a boardwalk, sand volleyball court, hammocks, and fire pits. The dormitories offer games rooms, community kitchens, movie theatres, and even study rooms making FGCU one of the best campuses to live and study.
Indiana Wesleyan University
The dorm rooms at Indiana Wesleyan University constantly change as students progress through the school. Initially, first-year students live in traditional multi-person residence halls, but by the end of their second year, they can upgrade to more luxurious suites. As students progress through junior and senior years, they have more housing options that are more independent. The university claims each apartment is designed to "allow an increasing independence for upper-division students as they prepare for independent living after college."
Saginaw Valley State University
Although it's not a necessity to live on campus when attending Saginaw Valley State University, close to 70% of students still decide to do so because of just how excellent the living standards are. There are many accommodation options, some of the most comfortable being the suite-style apartments that include a living room, full-sized kitchen, and your own bedroom. On top of having these luxurious amenities, most of the buildings in Saginaw Valley are connected, allowing students to break away from the cold winters of Michigan.
The University of Northwestern
Often confused with the much bigger Northwestern University in Illinois, the University of Northwestern is a religious liberal arts school in St. Pauls. Minnesota. You're guaranteed to get your kitchen and bathroom no matter the dormitory you choose at the University of Northwestern, something not always given at other universities. A full kitchen at home is a great way to save money compared to dining out each night. Having your own facilities isn't where the perks stop at the University of Northwestern; campus housing is filled with amenities with some dorms, including hot tubs, pools, and fitness areas.
Regent University
The first-year students that attend Regent University, it is required to live on campus. While that is not the most enticing option at many other universities, those who study at Regent love their 'freshmen' living situation. Regent has two main dorms, both with fully furnished, spacious rooms equipped with a full-sized kitchen allowing you to cook all the new recipes your parents never made at home, plus cable television. The dorms don't stop on the inside either, there are grilling areas outside, and the major malls are just a few minutes away if you ever need some retail therapy.
Santa Clara University
The majority of first and second-year students that attend Santa Clara live in the university-proclaimed 'Residential Learning Communities', but considering how luxurious these accommodation options are, it is no wonder. There are eight Residential Learning Centers, each with its specific themes, such as:
Service and Community
Innovation and Integrity
All the dorms will be infused with these themes so that each will feel like a part of a community and possess an identity. You'll never have to travel far to get to class. The school has luxury University Villas for juniors and seniors, so you won't have to drive far to get to class.
Conclusion
Accommodation is essential for everyone when starting the next journey in a student's life. From parents to the student themselves, the new and updated amenities and facilities are in place to elevate the experience compared to the traditional shared living scenarios that are so synonymous with dormitories. The changes being made throughout the country are significant for students and entice many to stay on campus even after their first year of studying, showing how great they can be.
Other posts you might enjoy:
Dorm Life: Creating a Cool College Dorm Room
Tips to Secure Yourself and Your Things In Dorm Room Living
Share This Story, Choose Your Platform!