When building your dream home, you want the best design possible so that the rest of the construction and home design will come easy. This article will provide a few tips for designing a good floor plan when building a home.
① Know The Basic Floor Plan Elements
A floor plan is created to show the floor space that will be available before anything else is built in the space. Some floor plans are created for homeowners to create the best layout of the rooms of an already existing house, while other floor plans are made before construction of new houses.
A standard floor plan usually has the following basic components:
Size Lines: These are the dimensions of the room in question, such as the width of doors, to name one. For instance, narrow home designs must be planned carefully so that the floor plan dimensions and space needs are aligned for maximum space utilization and ease of movement inside the room.
Scale: This element refers to the degree at which the room can fit onto a piece of paper or a computer screen when creating a floor plan.
Positioning: It refers to how the rooms are connected and positioned in a floor plan.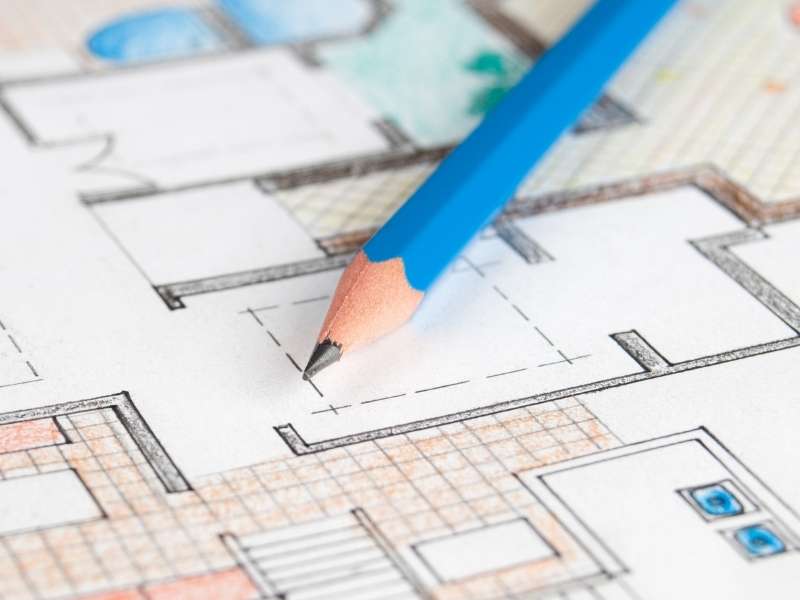 ② Think About Individual Room Layout
One of the very first tips for designing floor plans is to think about the layout of the room. A good layout should follow the flow of the room.
Here are the important tips when thinking about the layout of a room when designing a good floor plan:
You need to plan the space for windows, doors, stairs, and other areas so that they can fit into the room without being overcrowded.
You also need to think about the way in which rooms connect with one another.
You need to think about how the rooms connect together. For example, if you are planning to have a family room, you might want to have a corner as children's play area and a connected room for entertainment or a study. It all depends on how many people the room is going to hold and where the rooms connect.
③ Check Where Doors And Windows Go
You also need to plan where the doors, windows, and other parts of the room go. You need to think about where the doors open and close, too.
④ Consider The Type Of Room
You need to think about what kind of room you need to build. Will it be a master bedroom, a family room, a playroom, or something else?
⑤ Ensure Adequate Space
The room you choose needs to have adequate space for activities. If you build the room too small, then you'll have problems with space. A large a room provides more space to accommodate furniture, such as cabinets, tables, chairs, home gym equipment, and appliances. For homes with limited space, an open floor plan is a good idea.
⑥ Think About Lighting
The next tip for designing a good floor plan is to think about the lighting in the room. You want to make sure that the room is properly illuminated so that it would be easy to navigate the space. You also need to think about how it looks in the daylight.
Ideally, the room you design should have light coming in from all the windows, doors, skylights, and any other parts of the room.
⑦ Ensure Proper Flow And Organization
A good floor plan for your home should have the rooms flow seamlessly. It should be easy to navigate and follow. It should be easy to find everything that you need in every room.
⑧ Think About Furniture Placement
A room should be made with the furniture in mind, so you also need to think about the proper placement of these pieces.
Here are the important things you need to keep in mind when it comes to furniture placement:
You should be able to properly arrange your furniture so that you don't have to move them around in order to see what's in one part of the room.
You should be able to organize your furniture so that you'll have an easier time finding what you need in the room.
Consider the size, shape, and height of the furniture as these may affect the flow of air and visual elements in the room.
Conclusion
When designing a floor plan, it's crucial to think about the amount of space, furniture placement, interior design, lighting, and individual room layout. By doing so, you'll be able to plan the best flow of home décor elements, ensuring proper ventilation, ease of movement, and great overall look for your home.
Images Courtesy of Canva.
Other Posts You Might Enjoy:
7 Tips for Choosing Replacement Flooring
Things You Need to Know Before Installing a New Floor
Share This Story, Choose Your Platform!