Remodeling your kitchen will make a world of difference in how you feel about your home and selecting new countertops is an important step. Picking counter material is not difficult, however, there are several things to consider other than looks and what's trending.
So, before you make a final decision, here are some things to consider when selecting new countertops for your home.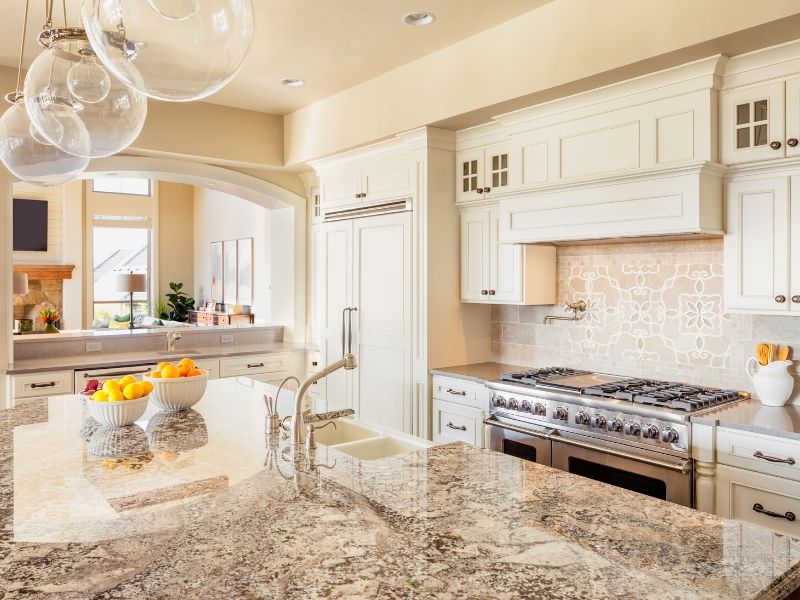 Appearance
The way a material looks is typically a homeowner's number one concern. So, you may be completely sold on the way a certain material looks. However, the material may not work with your lifestyle. But, no worries! There are many materials on the market made to look like other materials with different characteristics (i.e. quartz that is designed to look like marble).
Some designers urge you to first find a material that you want for your counter and design from there. On the other hand, others encourage you to find a material that fits your design. The bottom line is that when selecting new countertops, you want a material that is visually appealing and functional.
Usage
When shopping for new counters, keep in mind how you use your kitchen. Does your kitchen see a lot of traffic? Are you naturally quick to clean up spills? Does your kitchen rarely get used? The way you use your kitchen can determine which material is best for your remodel. For kitchens that see a lot of use, a resilient material like marble, quartz, or granite is your best choice.
If you find you do a lot of baking, you may choose marble since it stays cool and is good for kneading bread and pastries. If your kitchen doesn't see much use, then you may be able to get away with simply using laminate. Therefore, it's important to think about how you use your kitchen when selecting new countertops.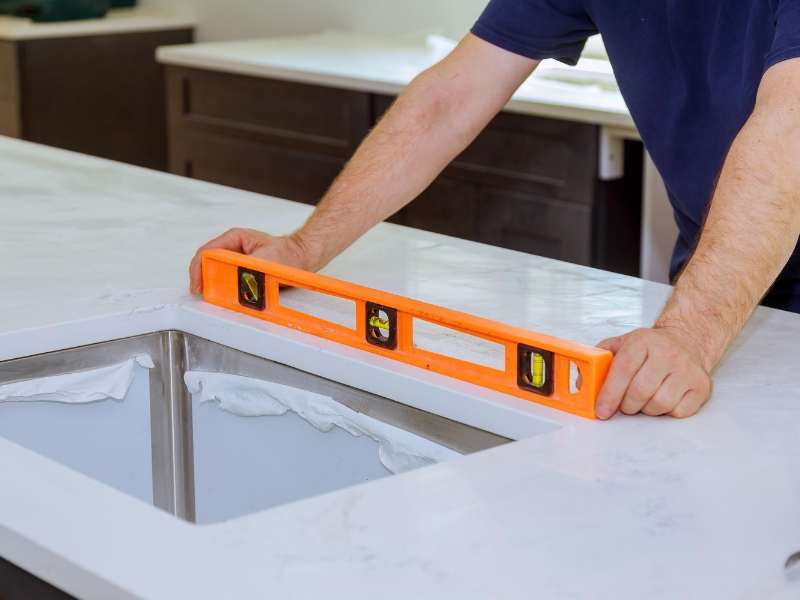 Maintenance
Be realistic about the type of maintenance you want to deal with when picking out your counter material. Some materials, like marble, are more porous than others. This means that you need to be quick to clean up spills.
For instance, granite counters are notorious for needing to be sealed regularly. The good news is that there are sealants on the market that can extend the length of time between seals. Just make sure you know how long your seal is anticipated to last so you don't stain your counters. That's, unfortunately, a mistake you'll have to live with until your next remodel, so choose wisely.
Durability
Every counter material has different levels of durability. Materials that have higher levels of durability are natural stones and engineered quartz as they are less prone to damage from heat and wear. Laminate, on the other hand, has low durability as it can easily be melted, stained, and scratched.
The amount of durability you need from your counter depends largely on how you use your kitchen. If your kitchen sees a lot of traffic and messes, then a material with high durability (such as quartz, marble, or granite) is a good choice.
Edging
You'll also want to consider the type of edge you want on your counters. Edging is primarily an aesthetic feature of your counter. But some materials are more difficult to work with than others. For this reason, more complex edging styles like an ogee edge is more suitable for materials such as marble, which is a softer stone than granite.
You may also want to consider your cleaning habits when selecting edging for your counters. A smooth edge like a bullnose edge or a half bullnose edge can be easier to clean than a waterfall edge.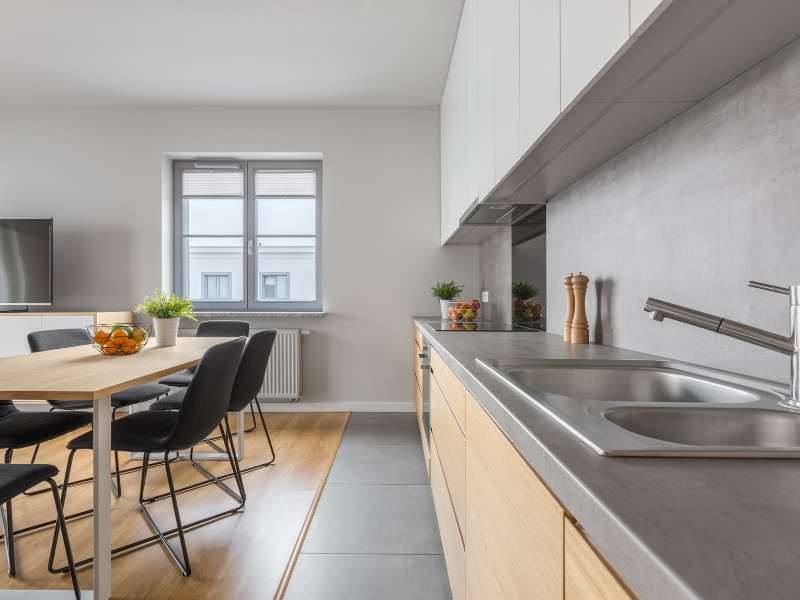 Eco-Friendly
Going "green" is trendy and something for which many people strive. If this is you, then keep this in mind when selecting your counter material. If you want to go with traditional natural stones, then focus on finding a stone that is sourced locally such as White Danby marble or Blue Eyes Granite.
Other eco-friendly counter materials to consider are recycled glass and concrete counters. These options tend to be more expensive than other materials on the market, but are more environmentally friendly since they use recycled materials.
Picking from Samples
This is something that often gets overlooked. You want to be careful when selecting a counter material from a board of samples. If you are considering a solid surface or laminate as your counter material, then your overall counter will look like the sample you see in the store. However, if you are considering a natural stone or quartz for your counter then you will want to see the entire slab in person. This is because it is difficult to see the actual veining and nuances in the slab of stone from a small sample.
Therefore, it is highly recommended to go to the stone yard to pick out your exact slab before moving forward with a particular material for your counters.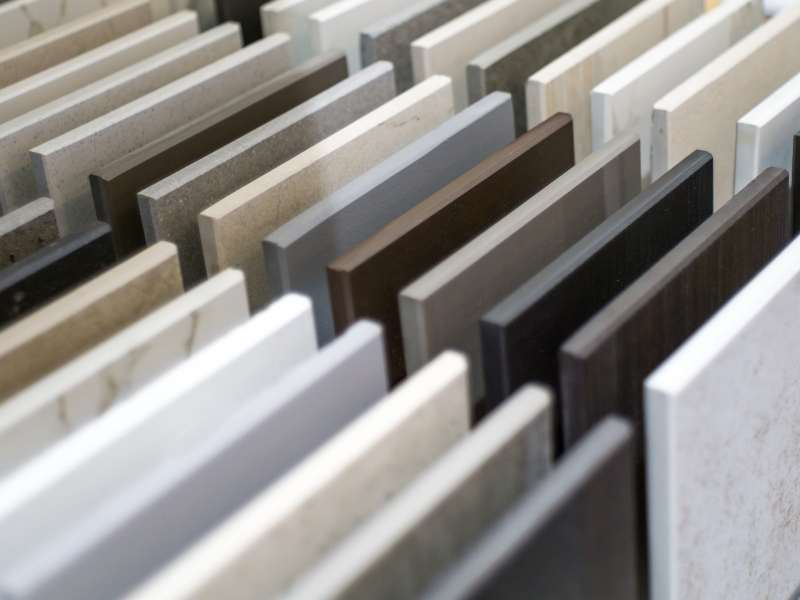 Tile vs. Solid Surface
When you think of counters, a solid surface is often the first thing to come to mind. However, tiling is another option for your counter. Selecting tiles can allow you to get the look from a more expensive material at a more affordable price. Another benefit of opting for tiles is that it can be easier to repair if there is damage.
If you are worried about the joints and seams, there are materials with lots of speckling and busy patterns that can help hide them; using dark grout can also help camouflage seams as well as any dirt.
Cost
Your budget will be a determining factor in what counter material you can afford. Laminate is some of the cheapest counter material you will find on the market and the cost of natural stone can vary drastically. Even within the same material, you will find different prices. For instance, a marble that is sourced locally will be more affordable than a marble that is imported from Africa.
Determining what you are comfortable spending on counters will ultimately direct you towards what materials you can consider for your remodel.
Work with a Professional
Being armed with this information can help you know where to start your search for the counter material that is perfect for your design. Working with a professional contractor can help you make sure you are making the right choice for you – both aesthetically and functionally.
A professional will be able to inform you about the nuances of each material and help guide you towards those materials that are suited for your needs. If you are like most homeowners, you'll want something durable like natural stone or quartz, if your budget allows.
How will you remodel your kitchen countertops? Will you select marble, quartz, or cement? But, that's only a few examples of the decisions you need to make so continue to do your research for the perfect kitchen countertops for your beautiful home. We've also included some pertinent links below for your further enjoyment!
All Images Courtesy of Canva.
Other Posts You Might Enjoy:
12 Advantages of Choosing a Quartz Countertop
6 Inspiring Glass Countertops for Your Kitchen or Bathroom
The Best Marble Designs for Room Interiors
Share This Story, Choose Your Platform!