Sleep is an essential part of everyone's life. A person usually sleeps for eight hours a night, which means that sleeping habits significantly impact the quality of life, just like other activities such as exercise and eating. However, finding the best pillows for side sleepers is an important part of feeling good all day long.
Before you purchase a pillow, there are some important things to consider. First, know which side you usually sleep on and if you currently have pain in your back, shoulders, or neck. Your entire bed, the sleeping position you prefer, and pillow all contribute to the quality of your sleep.
You can get soft pillows if you sleep better with a cushion that molds into your head. Pillows made with cotton, down, or feathers are usually softer. On the other hand, Designer Buckwheat Pillows are good if you are looking for a firm pillow that supports your spine and head while you sleep.
If you often sleep on your side, you should pick a pillow that fits your preferences and will not cause you discomfort while you sleep. Here are tips to help you find the best pillows for side sleepers.
Tips and Tricks for Finding the Best Pillows for Side Sleepers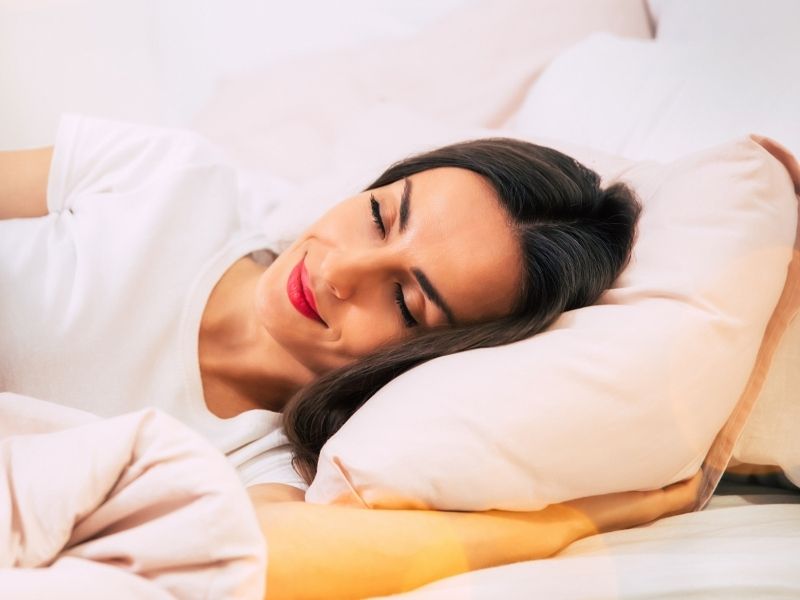 ① Find the Right Height for Your Pillow
Your shoulder creates a gap between your head and your pillow when you sleep on your side, which doesn't happen for back sleepers. People who sleep lying on their backs can comfortably sleep even with a low pillow, but that's not the case for side sleepers. You should find a cushion that won't be too low for your head when you lie sideways. Get one that is as thick as the distance between your shoulder and ear. That way, you'll be sure that it will fit your body perfectly when you lie on your side.
Your spine should be aligned with your head and neck, and there shouldn't be any curvatures when you're in bed since that can cause you discomfort and pain in the morning.
② Choose the Perfect Material for Your Pillow
There are many different types of pillows with all kinds of fillings. Pillows can be stuffed with materials such as feathers, polyester, cotton, wool, memory foam, and buckwheat hulls. Your choice of pillow material depends on how soft or how firm you want it to be.
Softer pillows curve into the shape of your head, while firmer materials retain their shape even when pressure is applied. Side sleepers may fare better with a firm pillow made with buckwheat hulls since it retains its form, even with pressure. A firm pillow will provide support on the head and shoulder when you lie on your side and won't deflate, unlike softer ones. There are firm pillows like the Sobakawa Pillow Collection available if you're leaning towards a supportive option with buckwheat fillings.
③ Get the Right Pillow Shape
You need more support when you lie on your side, so choose a pillow that will comfortably cradle your neck and nape when you sleep. A standard rectangular pillow is sufficient for most people, but you can get pillows customized if you want more stability for your upper body.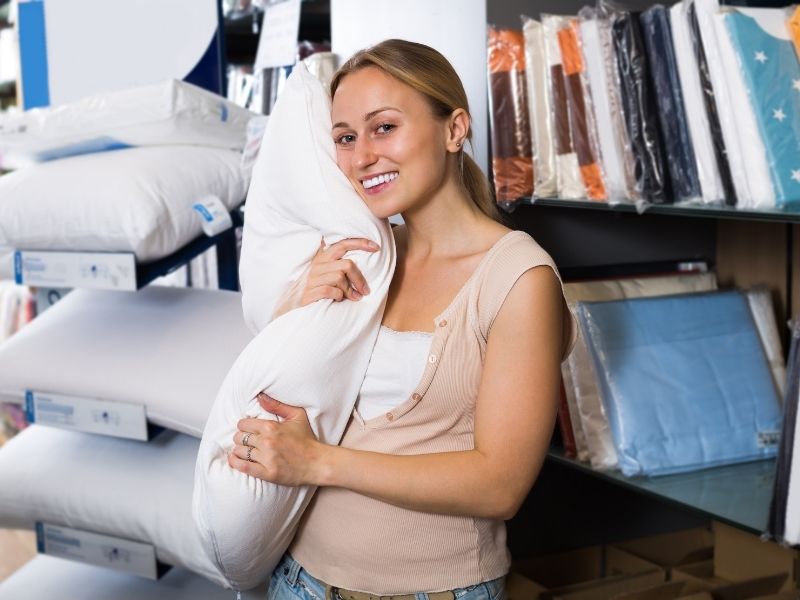 There are cervical and contour pillows that provide extra support on the head, neck, and spine, perfect for those who experience pain when they sleep. It's also suitable for pregnant women who sleep on their side or people who have spine-related health conditions.
If you're having trouble visualizing a buckwheat pillow, check out the video below to see how it looks.
a
④ Test the Pillows
Before you settle on a specific type of pillow, be sure to test it first. Try to lay your head on it, and make sure that the firmness feels just right and the size fits your preference.
Compare pillows made with different materials to see which one feels more comfortable. Make sure that your choice can support your head and neck well when you lie down. Choosing the right pillow is one of the most important steps to sleeping better.
⑤ Check the Pricing
Of course, you should also consider the price of the pillow before you buy it. Handcrafted or specialized pillows may cost more than regular ones, but they may significantly improve the quality of your sleep.
You may encounter further sleep problems if you purchase a cheap product. Once you decide which product to buy, consider it as an investment, since you'll use the pillow for a long time.
In Conclusion
It only takes a little bit of research to decide which pillow will best suit your sleeping style. Think of pillows as a health investment since you spend a significant amount of your day in bed. If you choose the wrong pillow, you may suffer from pain every time you wake up or find it challenging to get a good night's rest.
If you have questions or suggestions, we'd love to hear from you in the comments below. Also below, you will find links to other fun articles about ALL things DESIGN for your home or business.
Images Courtesy of Canva.
Other Posts You Might Enjoy:
Recliners; 3 Great Reasons to Sleep in Yours
9 Tips to Design Your Bedroom for a Peaceful Sleep Experience
Bedroom Improvements to Prevent Sleepless Nights
Rising with the Sun: 10 Charming Things About Living a Farm Life
Share This Story, Choose Your Platform!