Interior design, like any creative practice, is subjective and all about tastes and opinions. What looks good to one person might not to another, and at the end of the day, how you choose to design your home is entirely up to you. One big question people want an answer to is do I have to match all the wood in my home?
The Rule for Matching Wood Materials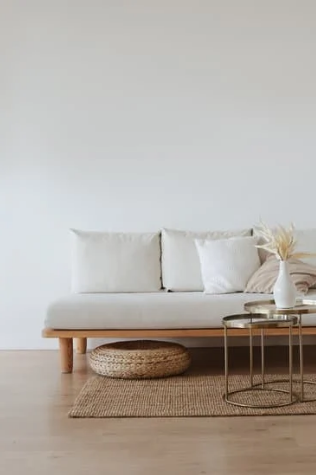 However, there are some basic design rules and principles that it's essential to be aware of. While these aren't hard and fast laws that must be followed at all times, they can give you a foundation to build. If you are bringing different elements into your home, such as oak laminate flooring and wooden furniture, does it all need to match? Let's find out.
Why Use Wood?
To the uninitiated, wood may seem like an old-fashioned, even archaic, material to use. With all the convenience and benefits offered by modern materials such as plastic, why use wood at all?
This material has been popular for centuries and continues to be to this day. First and foremost, it looks fantastic. The warm tones are incredibly unique, with incredible depth of color and hue and wonderful patterns that catch the eye.
It is also a durable material; it can withstand bumps and scrapes and is extremely long-lasting. It's sustainable, too, producing less waste and emissions than many alternative materials.
Finally, wood can allow designers and homeowners to bring a bit of the natural world into their space. This is incredibly important in today's world when so much of our lives are lived through digital screens and devices.
What can Wood be Used For?
When bringing wood into the home, there are several different options available. Wooden floors are what we might think of first, but there are several different ways wood can be incorporated into our home décor.
Wooden furniture is incredibly popular, while exposed wooden structural elements can create a rustic and natural feel akin to that of a log cabin or a cozy countryside cottage.
Does Wood Need to Match?
Matching and combining different elements is what interior design is all about. It's how spaces are given character and personality, and it's how designers can make spaces unique and personalized.
The good news is that wood is incredibly neutral. This means that it is difficult, if not impossible, to create clashes with different wooden elements. It's a natural material that works well with just about anything.
This is an interior designer's dream. It opens up a host of possibilities and opportunities for creative design practices.
How to Combine Wood
While it's difficult to clash when combining different types of wood, that's not to say that some pairings won't work better than others.
However, rather than an immediate and tangible clash that you might see with conflicting colors, wood clashes are far more subjective and will depend entirely on your own tastes and creative sensibilities.
When it comes to matching and combining wood, experimentation is the key. Try out various pairings and combinations and see what works best for you and your décor.
Wood tones are all unique. Even wood from the same tree can differ from piece to piece. Look at how the tones and colors complement each other, and pay attention to the different patterns and swirls in the material to figure out which combinations work best.
Conclusion
Interior design is a subjective art form that has no real rules or regulations. To make your home unique, experimenting and trying out different things is the key. Wood is a versatile material that can be used and implemented in various ways with no real risk of clashes. However, trying out different combinations is the best way to find out which pairings suit your home best. 
Other posts you might enjoy:
Cocoon: The Art of Nature Used in Home Design
Living Room Design Style – How to Choose One
Living Room Design – How to Get a Designer Look
How to Incorporate Vintage and Modern Home Décors
Share This Story, Choose Your Platform!