Cookware with SMART handle Design
I just LOVE reviewing products, because it's usually a great product I get to keep. I recently was sent a cookware, 7- piece nylon kitchen tool set by Crucible Cookware to review. I thought it was the perfect product for me to review because I entertain a lot. Of course, I roped Lee in for this project and asked him to cook up one of his fantastic weekend breakfast using this kitchen tool set. As you can see from the video, he's not shy and couldn't wait to show off his culinary skills.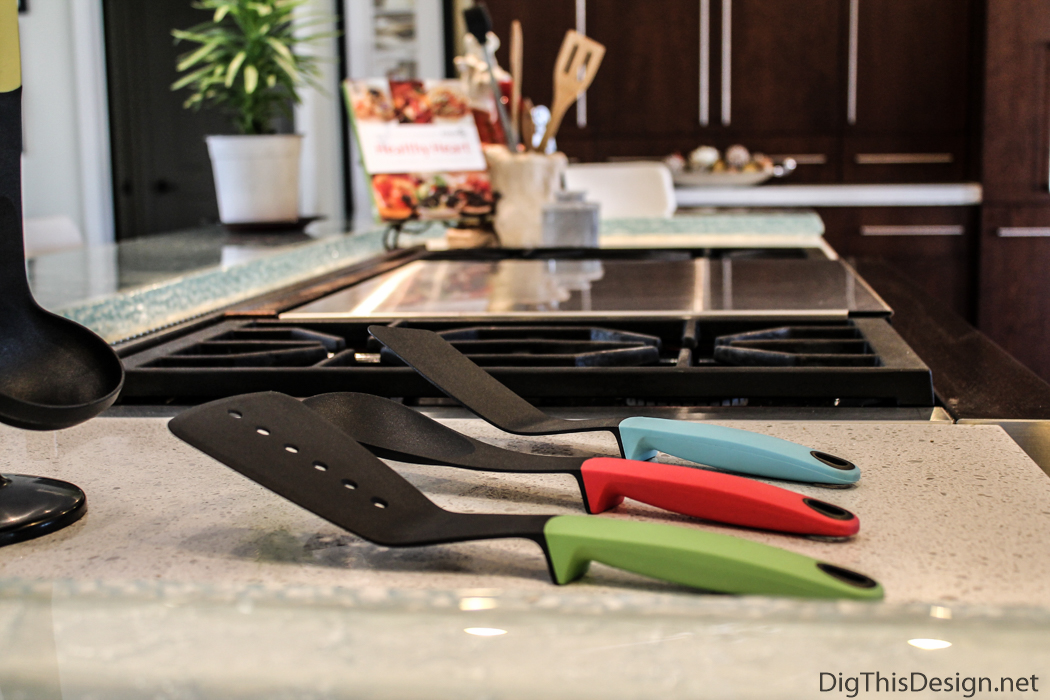 I first want to talk about the cookwares smart handle design. With the built-in kickstand. I no longer need to have a spoon rest to set my utensil on, to keep food from getting on the counter top. The kickstand design allows me to eliminate the counter clutter around my cooktop, leaving my counter open for more prep space. Also, worth mentioning is the colorful handles that make them visible for all ages to find against any color counter top, the perfect choice for universal design.
The cookware comes with a carousel that rotates 360 degrees, making it easy to access whichever tool you need. The set comes with a spatula, slotted spoon, slotted turner, ladle, spaghetti server, and solid spoon, everything you will need to prepare food at your cooktop.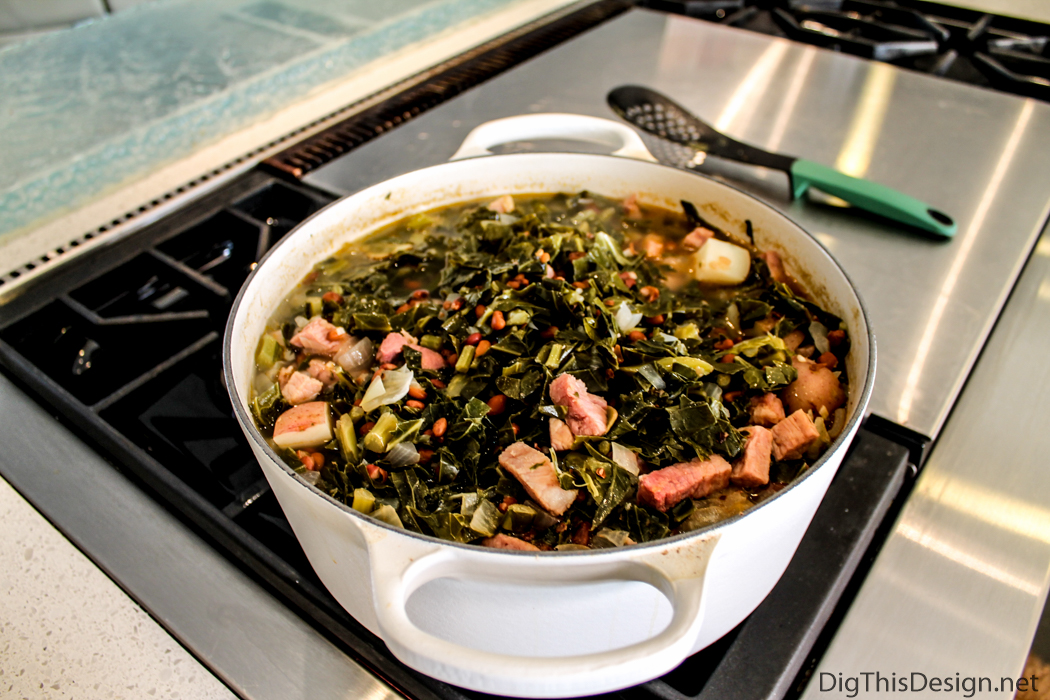 To demonstrate the slotted spoon I had to make my bowl of, Southern Collard Greens with Ham recipe that's a favorite at my house.
Southern Collard Greens with Ham
2-lbs. organic collard greens (I like to use triple washed in a bag)
1 (2-lbs.) Ham steak, chopped
2 tablespoons hot sauce
3 tablespoons olive oil
3 medium onions, chopped
1 garlic clove, minced
7-red potatoes, diced
3 (16-0z.) cans organic chicken broth
2 (16-oz) cans of field peas, drained
2 (16-oz) cans crowder peas, drained
2 cups of water
1/2 cup white cooking wine
1 tablespoon white vinegar
1 teaspoon salt
INSTRUCTIONS
Bring collards and water in a large pot to a boil.
Drain collards and repeat procedure once more.
Toss together ham and hot sauce.
Cook ham in hot oil in a Dutch oven over medium-high heat 8 to 10 minutes or until browned.
Add onion and garlic and sauté until tender.
Stir in collards, potato, and remaining ingredients: bring to a boil.
Reduce heat and simmer, stirring occasionally, 45 minutes.
MORE RECIPES:
CLEAN DRINK HAPPY HOUR – HOT BUTTERED RUM, TURKEY – CHICKEN CHILI & CORN BREAD
GINGER BLOSSOM & SEARED TUNA & TROPICAL FRUIT SALSA
Share This Story, Choose Your Platform!