Planning to install a new sink in your home or upgrade to a more efficient model? Attempting a DIY approach or relying on a handyman for a quick fix may seem tempting, but it often leads to costly mistakes. Unlike simple tasks like replacing a door or a light bulb, installing a new sink involves a level of complexity that requires professional expertise.
Fixtures, however, are definitely in the realm of home construction, and an avoidable mistake can be very costly, as well as eventually needing professional help to fix. Imagine opening a pipe and the water feed main to the house hasn't been turned off. It happens.
It's better to have a professional handle the installation of a new sink from the start and avoid the headaches altogether. This also helps avoid pitfalls with local code compliance as, a tricky landscape of rules and building requirements that change periodically with new updates.
A New Sink Can Require a Professional Plumber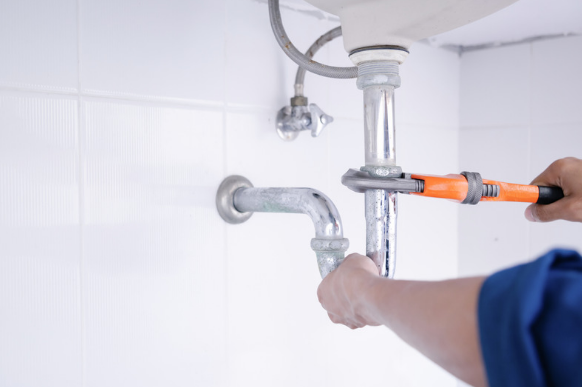 Why is a New Sink Installation Such a Hassle?
A lot of the issue has to do with the fact that time has gone by. In many cases, an old fixture was installed with parts and code requirements from that time. When a new sink replacement is brought in, the connection points may not even match due to old plumbing being present and new systems requiring changes. A do-it-yourself approach may try to just force things to work, which can be a recipe for big leak and disconnect problems sooner or later.
Additionally, a new sink has to be installed to update the code. Ignoring this fact could end up being a headache when a homeowner tries to sell the home, being required to do the fix all over again at that time.
Benefits of a Licensed Plumber
Having a professional fixture installation provided as a service ensures that not only is the new fixture installed correctly in mechanical terms, but it is also done according to the current code. Additionally, if the plumber does make a mistake, as a bonded professional his or her service is on the hook for the related repairs. The same can't be said with a do-it-yourself approach or a basic handyman install.
There is also a level of experience involved with a professional plumber. Given the number of years of work specifically associated with plumbing, many licensed professionals know how to deal with variations or "surprises" as they get discovered with a particular job. A general handyman may not have the depth to deal with unexpected challenges, especially those involving critical plumbing areas like feed lines and junctions where water under pressure has to be connected properly. An improper seal or the wrong connection approach used can leave a crack that turns into a devastating leak hidden by walls or furniture.
Combine Professional Plumbing With Renovations
Where a homeowner is involved in a major renovation, don't go with a general contractor alone when it comes to plumbing installations. Some project managers might cut corners for added profit margins by just having one of their "staff" handle the connections. Always make sure that a licensed plumber is handling the actual work.
If your project manager isn't specific, then insist on using your own hired professional plumber, knowing exactly who is doing the work and their certification for doing the job correctly. Don't leave this kind of detail for someone else to take care of in a renovation. What you don't know can hurt your home and your wallet, especially after the project team is gone and no longer around to repair their work.
Conclusion
When it comes to installing a new sink, it's vital to prioritize professional assistance to ensure a seamless and efficient process. From addressing the complexities of fixture installation to adhering to current building codes, the expertise of a licensed plumber cannot be overstated. Avoid the potential pitfalls and headaches that can arise from DIY attempts or inexperienced handyman work. By entrusting the task to a skilled professional, you can safeguard your home from costly mistakes and ensure a reliable, long-lasting installation for your new sink.
Other posts you might enjoy:
Check Out These Amazing Types of Kitchen Sinks for Your Next Remodel
How To Avoid Plumbing Issues During Your Bathroom Renovation
What to Consider When Choosing Decorative Plumbing for Your Kitchen Design
Share This Story, Choose Your Platform!