So, you've decided to take the big step of moving in with someone—be it your partner, a friend, or a family member. That's super exciting, but let's be real; it's also a bit nerve-wracking, isn't it? You're not just combining your lives; you're merging styles, two distinct living spaces into one. Think about it.
You both have your furniture, wall art, and even those quirky trinkets that you're emotionally attached to. Now, how do you make all these pieces fit together in a way that feels like home for both of you? That's what we're here to chat about. Don't worry; it's not as daunting as it sounds. All you need is a bit of planning, some compromise, and a dash of creativity.
Tips for Merging Styles and Combining Home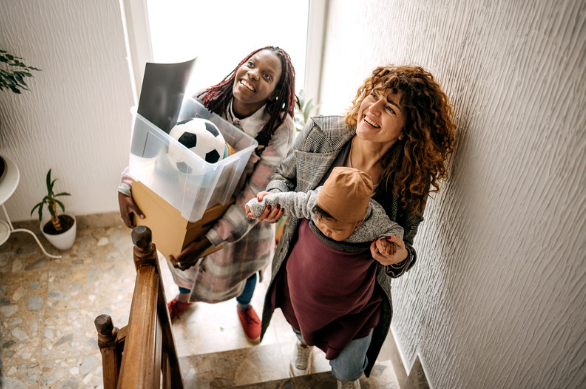 Stick with me through this blog post, and we'll explore how to make merging styles easy, so your new home reflects both of your personalities. Trust me; it's gonna be a fun ride!
Getting Your Belongings There Safely
Okay, so before we even get to combining lampshades and wall colors, we have to tackle the nitty-gritty—the actual moving process. It can be a hassle, I know, but guess what? It doesn't have to be! A smooth move sets the tone for a harmonious life in your new shared home. So how do you ensure that your prized possessions reach your new abode without a hitch? The answer is simple; choose a reliable mover. I have a friend who recently used Safebound long distance moving service and couldn't be happier. 
Their stuff arrived in mint condition, and they had peace of mind throughout the entire journey. That's the gold standard, isn't it? You want a service that understands the sentimental and monetary value of your belongings. It takes a massive load off your shoulders and lets you focus on the fun part—merging your styles and making your new place yours. So take your time, do your research, and opt for a mover that aligns with your needs. Your future self will thank you!
Choosing the Right Color Palette When Merging Styles
Alright, let's get to the fun part—colors! I'm a big believer that colors can make or break a room. They set the mood, show off your personality, and can even affect your mental state. I mean, who doesn't feel happier in a sunny yellow room or more relaxed in a soothing blue space? So, picking the right color palette for your shared home is crucial for merging styles. Trust me; it's the silent language that can either harmonize or clash with the vibes of the people merging styles.
Blues for a Calm Atmosphere

Greens for an Earthy Feel

Bright Yellows for a Cheerful Home

Neutrals for a Sophisticated Look

Pinks for a Romantic Aura
Before diving in, consider these choices and how they might mesh with your personality and lifestyle. According to the Color Psychology Organization, different colors can evoke specific emotions and behaviors. Pretty cool, huh? Imagine choosing a color that not only looks good but also keeps both of you in good spirits! It's like your walls are quietly rooting for your relationship. Now, you and your partner should sit down, probably over a cup of coffee or a glass of wine, and decide what emotions you want to dominate your living space. Take your time; it's not a race! And remember, the goal is harmony.
Finding the Perfect Furniture Pieces
Oh, furniture shopping! Whether it's your thing or not, picking out the right furniture can be like dating. You're looking for something that fits your merging styles, comfort, and functionality. And it gets even more intricate when you're merging styles and moving in together. Now you've got to think about what works for both of you. You don't just need a couch; you need a couch that's going to be your mutual happy place for Netflix nights and lazy Sundays.
Imagine coming home to a chair that's so cozy, it's like getting a warm hug as soon as you sit down. You and your partner need those kinds of pieces in your shared home. This isn't just about what looks pretty in the catalog; it's about creating an environment where both of you feel comfortable, where each item has its little story or a funny shopping tale to tell. It's those quirks and mini-adventures that make the home truly yours together.
And hey, don't stress too much over merging styles. While it might seem like a big decision, remember that furniture isn't forever. Tastes change, lifestyles evolve, and that's entirely okay. The essential part is starting this journey together and making mutual decisions that bring joy and comfort. Happy furniture hunting!
Designing Together for a Harmonious Home
So, you've moved in together, and the place is starting to look like a home. That's fantastic! But let's face it, clashing design styles can make any home feel like a mismatched puzzle. To avoid that, it's a good idea to collaborate on the design elements for successfully merging styles.
Start with color palettes

: Agree on a color scheme that pleases both of you.

Choose a theme

: Whether it's rustic, modern, or a blend, decide on a general vibe for your space.

Incorporate personal items

: Family photos, artwork, or even some well-placed knick-knacks can bring life to your design.
There's an art to balancing different styles and tastes, and the key is collaboration. For additional design inspiration, you might want to check out the Smithsonian Design Museum. They've got some truly jaw-dropping exhibits that could spark ideas for both of you.
Just like a relationship, a home is a continuous work in progress and merging styles together can make you more connected. The main thing is, if both of you are involved in shaping your shared space, it'll feel a whole lot more like "our home" rather than "my place" or "your spot." Happy decorating!
Little Touches that Make a Big Difference
You know, it's often the little things that can breathe life into your home. Think about it like this—you and your partner are each a unique shade of color, and when you merge styles together, it creates a masterpiece. Kind of poetic, huh? So, why not infuse your collective spirit into the spaces you share? A handmade centerpiece for the dining table, a cozy reading nook, or even a wall decal with a quote that means something to both of you could go a long way.
When it comes to making a place feel like home, don't underestimate the power of small, meaningful changes. For inspiration, dive into the world of interior design. Whether it's color, texture, or lighting, the possibilities are endless. In this quest to make your house a harmonious home, you'll find you grow closer as a couple, understanding each other's tastes and preferences more with each choice you make. A win-win, if you ask me!
Final Thoughts for Your Journey
And there we have it! These are just a few ways to make moving as a couple more smooth, connected, and downright fun. The key is to communicate, get creative, and enjoy the journey. By facing this transition together, you're building a foundation for a life filled with mutual respect and shared adventures. So here's to new beginnings, both in merging styles and in your relationship!
Other posts you might enjoy:
Moving in Together – 7 Tips for Merging Styles
Decorating Tips for Moving In Together
Share This Story, Choose Your Platform!