In previous years, some homeowners' front porch has not gotten the attention they deserve. We have viewed them more as an architectural detail instead of a useful addition to your home. However, that is changing and your front porch is making a comeback. From early 2020 until now, the dollar amount that a well-manicured front porch adds to your home has increased by 61%. With front porches coming back into style and getting more attention, it's time to upgrade and really make it shine.
How To Make Your Front Porch Usable and Inviting For You and Your Guests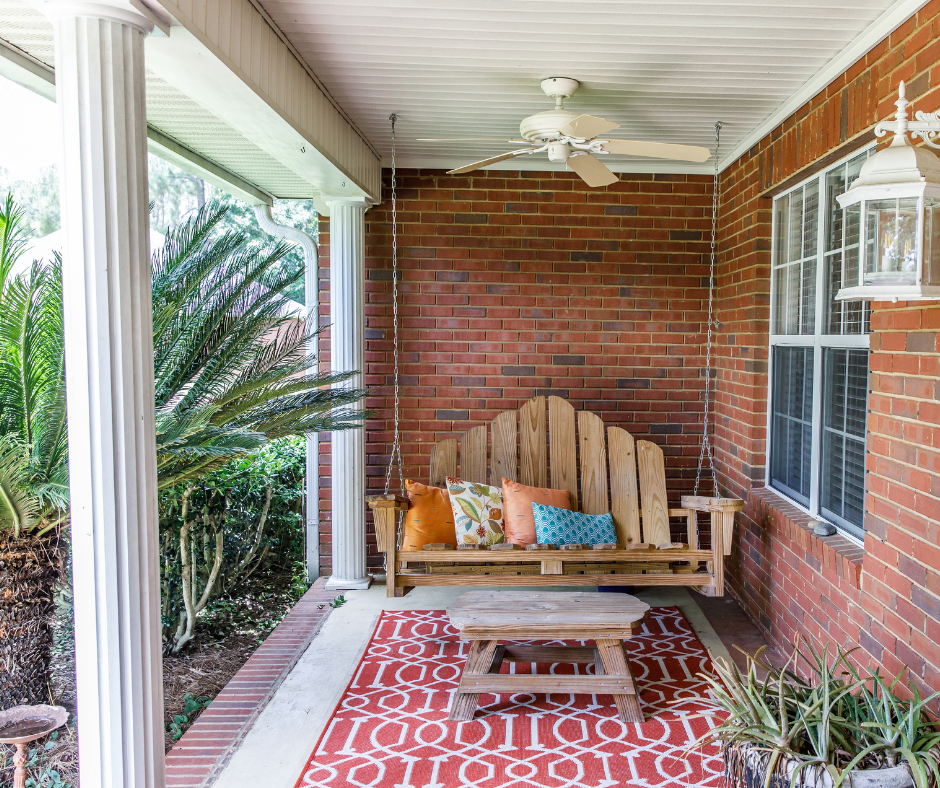 Add a Seating Area
The most popular front porch pastime is sitting with friends and family, sipping a cup of iced tea, and watching the world go by. Therefore, no front porch is complete without a comfortable yet stylish seating area. The most popular choice of outdoor chairs is Adirondack chairs. These sturdy chairs come in a variety of colors and wood finishes. Second popular to Adirondack chairs are rocking chairs followed closely by a front porch swing.
These seating options come in hundreds of different colors and wood finishes. Not only can you add a few chairs, but you can also personalize your seating by adding outdoor chair cushions and throw pillows.  Outdoor chair cushions can be bright colors, ornately decorated, or simple and classic. Whatever color or design you choose should match the style of your home and your design style. Outdoor cushions add the same amount of personalized style to your front porch seating area as the chair cushions. With a variety of sizes, colors, and design options, you can add more style to your front porch seating area.
Illuminate Your Front Porch
Nights on the front porch can be just as exciting as day. But not when it is impossible to see more than a few inches in front of you. In order to create a nighttime front porch area that is both safe and enjoyable, you need to add a few light sources.
Luckily, this is easy with solar-powered outdoor lights. These types of lights do not require any electrical wiring and are at any home improvement store. Pathway lights are smaller but can illuminate your driveway and walkway when several are along the area. Large solar-powered spotlights are perfect for lighting large areas such as above the garage door or along the side of your house. For an inviting glow around your seating area, you can add hanging lanterns or string lights. Adding lighting to your front porch will not only illuminate your stylish decor, it will also make your home more marketable.
Add Greenery
Nothing says a return to warm weather like the smell of freshly blooming flowers. Their bright petals and vibrant green foliage are a burst of color that can brighten up even the dreariest areas. You can take full advantage of spring and summer flower's colorful and cheery effect by positioning them around the area. Of course, some flowers require more sun than others, so you should consider the flowers' sun requirements before adding them.
You can place full sun planters in front of your porch or on your stairway. Perennials such as marigolds, coneflowers, and Black-Eyed Susan are easy to care for and provide color all summer long. Partial shade flowers such as lilies, hostas, and peonies are great additions for areas of the front porch that receive less than six hours of sun per day. Full shade plants are harder to come by, however popular easy to care for plants are ferns, coleus, and petunias. Choose plants that grow well in your area and those that will not require constant attention.
Conclusion
Your front porch is an extension of your home, which means you should make it your own. With added seating and a touch of additional decor, you take your front porch from rarely used to a cozy and inviting area to enjoy.
Other Posts You Might Enjoy:
6 Top Tips To Give Your Home Excellent Curb Appeal
Design For Coastal Patios and Porches
Five Great Ideas To Make Your Porch Inviting To Guests
Share This Story, Choose Your Platform!