Organic, design elements in the home give us the feeling of nature inside our homes. For thousands of years, humans have sought out elements of our surroundings to bring into our homes because it makes us feel calm and welcome.
The fact is, we can't live outside, but we can bring a few things in. Bringing the outside in not only benefits us with a cleaner, healthier environment but natural elements are also aesthetically pleasing beyond measure.
If you've been trying to think of ways to add more organic materials to your decor, keep reading for a few examples and suggestions. You're sure to find something that sparks your organic design senses.
7 Types of Organic Design Materials
Wood Elements
Built in natural finish woods shelves are a great option for any dining room. Add the canned lights for spotlighting your treasures and you've got a wood element in your beautiful space that is so instinctively elegant that it makes a statement all by itself.
Natural Stone and Marble
With this amazing design, it's hard to tell if you're inside or out! This is also a great example of natural stone for the wall and a wonderfully coordinating shade of marble for the counters. Moreover, the mirrors reflect natural lighting all over the room for an even greater feeling of the outdoors.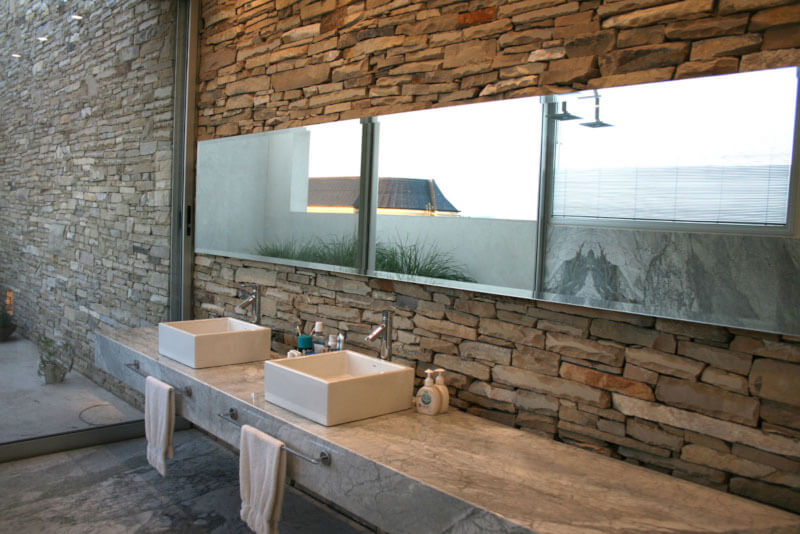 Industrial Brick Walls
It doesn't 't get more organic than this industrial finish brick wall for an aura of elemental strength. I like the way the Morrocan design motif is carried from the large lampshade of wood to the earthy colors in the patterns on the bed linens. The earthy red clay color of the brick walls is brought out in the brightly patterned and multi-colored round ottomans.
Woven Materials
Connecting with nature is easy when you live near the ocean and organic materials fit right in with this design. Inspired by elements from nature in the woven ottoman coffee table along with woven textures in the sofa, rug, and lampshade, this decor sweeps us away from our noisy lives to a place of peace.
Natural Sunlight
Natural sunlight warms in a way that no artificial light is able to do. When you emphasize natural lighting in your home it increases your family's ability to think more clearly, see more clearly, and it gives an overall feeling of warmth and security. So, wash the windows and let the sun in for the most brilliant organic element of them all.
Organic Wall Mural
Fool your senses with this gorgeous polished cut of agate wallpaper mural with its natural yet modern look. This is an easy and inexpensive way to bring the "feeling" of natural elements into your home which is also a highly effective designing tactic.

Ceramic Decor
Ceramics add style and earth elements to your decor. Moreover, ceramics come in every shape and size imaginable for every design style. Search until you find just the right earthly ceramics to add to your natural organic decor. This glazed stoneware set of three vases are perfect for a balanced arrangement.
Organic materials are endless and you are sure to find just the right combo of earthly elements for your home. Consider all the organic materials described above for your own interior decor that brings years of health and enjoyment to you, your family, and friends.
Other Posts You Might Enjoy:
How Important is Graphic Design for Your Business?
How to Add Graphic Art Designs to Your Home or Business
3 Skillful Tips to Add Art to Your Home Design